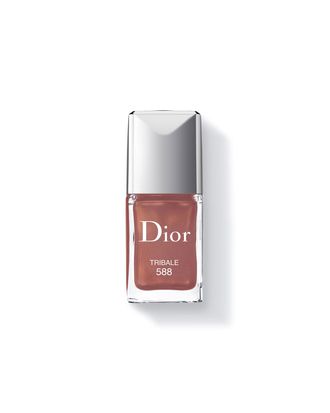 Dior nail lacquer in Tribale.
Photo: Dior
Tribale, Dior's iteration of a rusty-brown shade, feels like a time warp of a color. Part of the brand's fall lineup of nail lacquers, the polish picks up on the brown and brassy tones that made the beauty looks of TLC and Cindy Crawford iconic. The shade looks like a soft mishmash of maroon and mahogany, with an added pearlescent effect for glamour. It's warm, blends well with any skin tone, and reminds me of the color of a red sun setting. Because it's a Dior polish, the color won't chip before the week is up, and it pairs well with fall's earth tones. You can wear it just about anywhere, even while, say, taking comfort in a '90s throwback film.
Dior Nail Lacquer in Tribale, $27 at Sephora.