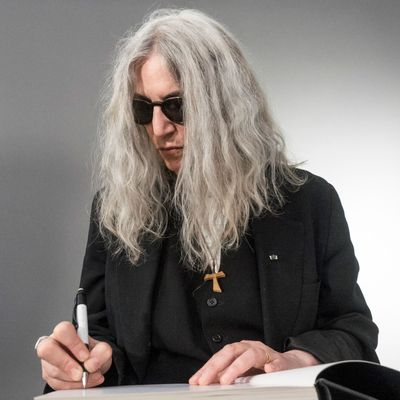 Patti Smith feels alive.
Photo: Courtesy of Pirelli/Alessandro Scotti
Patti Smith and Pirelli, fashion's sexiest calendar, may not sound like a natural pairing, but the 68-year-old author and singer is one of the subjects in this year's calendar, shot by Annie Leibovitz, as part of its theme of celebrating female achievement. Back in May, the Cut and a few reporters sat down with Smith to talk about her experience sitting for a calendar portrait. She talks about being unconcerned with gender, how positivity can affect your skin, and whether she's been conflicted about previous NSFW Pirelli calendars.
What was the experience like shooting today with Annie Leibovitz?
It was fantastic. I've been shooting with Annie since the '70s. Every time we work together I feel all the different years, like when she shot me for the cover of Rolling Stone and album covers. It's been a few years since we've done something, so it felt just great.
Why did you want to be a part of the Pirelli calendar?
I was very surprised I was asked, and very proud. Annie's doing something unique and different. Pirelli is making a bold move, and I was really happy to be part of that. Also, I trust Annie, so I know any time I work with her that she'll make certain that I do my best.
What women have inspired you?
My mother, who was simple, strong, hardworking, struggling, brave, open-minded, and compassionate — my greatest inspiration — and my sister. My daughter is one of my greatest inspirations. She's an environmentalist, she plays piano, she's raising money for the earthquake victims in Nepal. Every day she surprises me and teaches me something. I work with many women. My editor is a female, my agent is a female. When I was young and working on the road, my guitar tech was female. Also, women in history, whether it be Madame Curie or Joan of Arc or Lee Krasner or Joan Mitchell.
I'm inspired just to see people do good work. America has such wonderful young actresses. Kristen Stewart, I like her very much. Karen O, I like her singing. I'm friends with Ann Demeulemeester. I have a high regard for a range of women; it could be a novice or a nun or a gardener. Sometimes I see women in a hotel cleaning my room … I'm not very good at cleaning, and they do it, making the bed so beautifully. I look at them with admiration; they know just how to make my messy room perfect. How hard people work and what each person is gifted at. It might seem funny that I would sit and admire how someone puts a sheet on a bed, but I do it so badly.
With the calendar's theme being female achievement, how do you think it affected the outcome of the photos you took today?
I've always felt strong. I was a sickly child, not very strong physically. I wasn't really the greatest in school. I didn't really excel in anything particularly. But I was happy with who I was. I was skinny, I had some pimples, I had long braids and wasn't particularly popular.
But I was happy to be alive and happy with who I was. I'm still like that. Every day I feel just happy to be alive. Male or female, you know? I'm 68 years old, I'm not so concerned with my gender, probably because I'm a mother; I have a son and a daughter, so I'm interested for all people to feel empowered.
Where do you think that feeling of strength comes from?
I think from the joy of being alive and relatively free. When I was young, I used to watch all of my friends, my girlfriends, struggle worrying about how they looked all the time. I would be like, "What are you worried about?" Don't worry. If you feel good about who you are inside, it will radiate.
Sometimes people say they have trouble with their skin. One thing you can do is to radiate positivity, and that glow will come through your skin. I know it sounds very simplistic, and it's very difficult because our world has so many problems, from economic to disease to poverty. All of these things are true things that we have to be concerned about. But if you face every day feeling good about yourself and happy, you can find solutions for whatever you can do. Small things.
You can't change the world; you can't fix the whole environment. But you can recycle. You can turn the water off when you're brushing your teeth. You can do small things. A lot of strength just comes from joy and being, feeling positive. If you're negative, you pull yourself in. And if you're positive, you expand.
When you were approached to be a part of the Pirelli calendar, did you feel any conflict about being asked to be a part of something that in the past featured women's sexuality and their nudity?
I don't have a problem with that type of calendar. If the model is happy, feels proud about what she's doing, and people get pleasure, I'm not opposed to that. I'm opposed to women being exploited. I'm opposed to young girls being exploited. I'm not opposed to physical beauty being shown artistically. I don't have a problem with that.
When I was young, my father always loved this type of calendar. He loved the human form. I was raised to appreciate the human form. I was proud that I was asked. Now, at this time in my life, obviously, I'm not going to be able to fulfill that kind of image, but I was happy that Pirelli wanted me. I look at Annie's project not as a protest but as a celebration. It's a bold move by Pirelli as well, to do something that's not expected. And I've seen some of the photographs, and they're very powerful and they're not lacking sensuality.
How did you and Annie decide on what you would wear and how you would be portrayed in the photo?
I always pretty much wear the same thing, so I wore my clothes. I was just performing at Glastonbury two days ago, and this is what I was wearing. I have a tendency to wear the same thing over and over until it gets so frayed that I need the same thing again. I was very lucky because some friends made me some clothing, a new vest and new boots.
We tried some other things. But after many things, we wound up with what I always wear and kept it straightforward. Annie has the capability to do very lavish pictures, but in our shoot she was looking for the essence, like trying to get the projection of who I am at this time of life. Our photo shoot was very simple, honest, straightforward.
How do you think the recipients of this year's Pirelli calendar will react when they see the pictures and hear about the theme?
I don't know. I've seen a few of the photographs, and they're striking. I have no idea what the average recipient of the calendar would be, but I think they would appreciate a bold move. So we'll see what they say.
This interview has been condensed and edited.