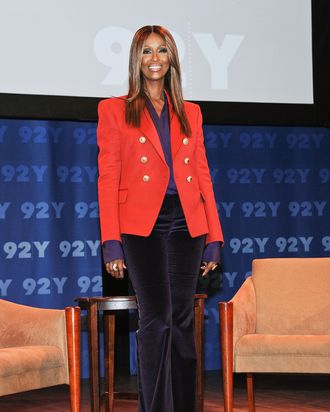 Iman.
Photo: Daniel Zuchnik/Getty Images
Tuesday night at the 92nd Street Y, Iman told Fern Mallis that she was now 60 years old, and the full theater burst into applause. The latest installment of Mallis's Fashion Icons talk series delved into the legendary Somalian model's life story in all its richness, from crossing the Kenyan border as a refugee to marrying David Bowie. Read on for some of the night's highlights.
On being a black model:
When she first started, "there was an unsaid but written rule: One black model at a time." Inviting Beverly Johnson to join her on a shoot for Vogue in Italy was her first move to change that. Though Johnson couldn't make it, she was touched, and Iman says she responded: "That was a first. Let's keep that up." Iman also refused to accept the lower pay rate for black models: "People would tell me, 'You work for me.' No, I didn't work for you. You hired my services … Somebody had to say it, and thank God I was the person to say it." It wasn't even until she got to New York that she considered herself black — in Somalia, she took it for granted. But she embraced her identity as a black woman proudly, and when Essence called her a "white woman dipped in chocolate," she was deeply offended and confronted editor-in-chief Marcia Gillespie in her office.
On refugees and immigration:
Her family had to cross the Kenyan border on foot at night when the life of her father, a diplomat, was in danger. They left behind all of their belongings, and Iman only has two photos of herself as a young girl. "I am the face of the refugee," she said Tuesday. "Refugees are 99 percent most of the time people who have left their countries for fear of their lives. It's not people who just want to come to other people's countries and just be polite." As for Donald Trump: "Don't get me started."
On her successors:
Tyra Banks has said she used to have photos of Iman all over her room, Mallis mentioned. That prompted Iman to say, "That's what people say to me nowadays, they don't read anything. They see me on the street, Tyra, Tyra, Tyra! I say, no, I'm not Tyra. But you look like her. No, I don't. She looks like me."