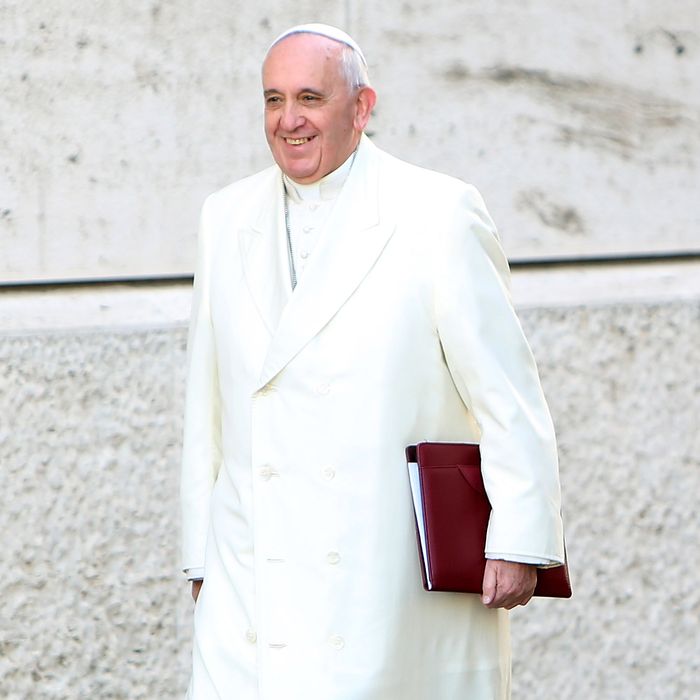 Pope Francis.
Photo: Franco Origlia/Getty Images
It's easy to look at the pope and think: Okay nice, Pope — papal robes, nothing special but they look pretty comfortable. But look again, urges Women's Wear Daily. It might be that unlike his predecessor — Pope Benedict XVI, who loved his Prada shoes — Pope Francis's simple, non-frilly style is actually quite chic, and not simply the garb of a devout man of faith.
Here's what he likes to wear: "Unlike his predecessors, the current pope prefers austere white cassocks to the red velvet 'mozzetta,' a short hooded cape trimmed with ermine … Cassocks in heavier, warmer woolen cloth during the winter and lighter woolen fabrics during the summer."

And he approaches his accessories with the same anti-frill policy: "Pope Francis only wears sensible black leather shoes, understood to be made by a friend, Carlos Samaria, in Buenos Aires. His basic black watch with a white dial, reportedly a Swatch priced at around $56, has no particular functions. According to one report, when the strap broke, it took some convincing to buy a new one as Francis simply wanted to replace the strap."

Finally, when asked, here is how he describes his look, WWD reports: "It's normal. We must be normal … We must get used to being normal. It's the normality of life."

Is it just us or does the pope's wardrobe represent the holy trinity: caftans, cultcore, and normcore?