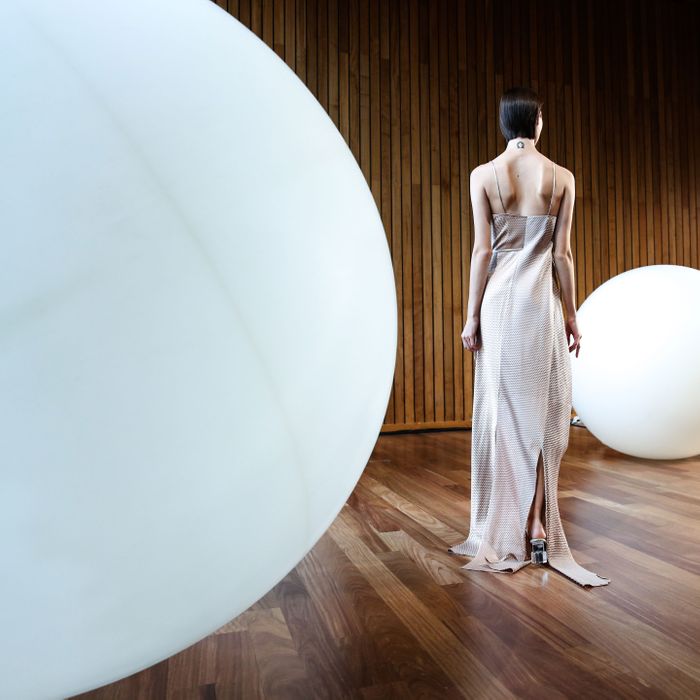 Photo: Kelly Taub.com/BFA
Huge white spheres, so big they dwarfed the models, were scattered through the Standard's High Line room this morning at Area's debut presentation. If they call to mind the slightly surreal quality of classic fashion photographs, there's a reason. Co-designer Beckett Fogg explained that she and design partner Piotrek Panszczyk looked to "the shine and gloss" of Irving Penn's photography this season. In particular, his still-life shots of makeup smears — striking images of splayed lipsticks and thickly coated lashes on a bloodshot eye. Those smears translated into painted "stains" on the fabrics of their airy, light designs, made with the duo's signature embossing technique. That obsession with shine also came through in car-rim motifs that were hand-drawn, then screen-printed, onto a dress, and in disco-fever lamé dresses in glitzy pastels.
Also standout were their first accessories — spherical earrings and glittery buckled court shoes modernized with clear heels. "We were at the Met and we were looking at their old Victorian shoes — you can kind of see a hint of that in the shape," explained Fogg. "They actually display the shoes on Lucite cubes, so that's where the idea for the heel came about."
A punk edge came through, as they emblazoned many of the pieces with screen-printed slogans. "We always pull from so many different references in the library, on the internet. Words kind of stick with us," Fogg told the Cut. The slogan "AMERIKANER" came from an image Panszczyk took in Berlin years ago. And "HIGH ANXIETY" — well, given that it was their New York Fashion Week debut, that one seems self-evident. But with a collection this strong, they shouldn't have too much to worry about.