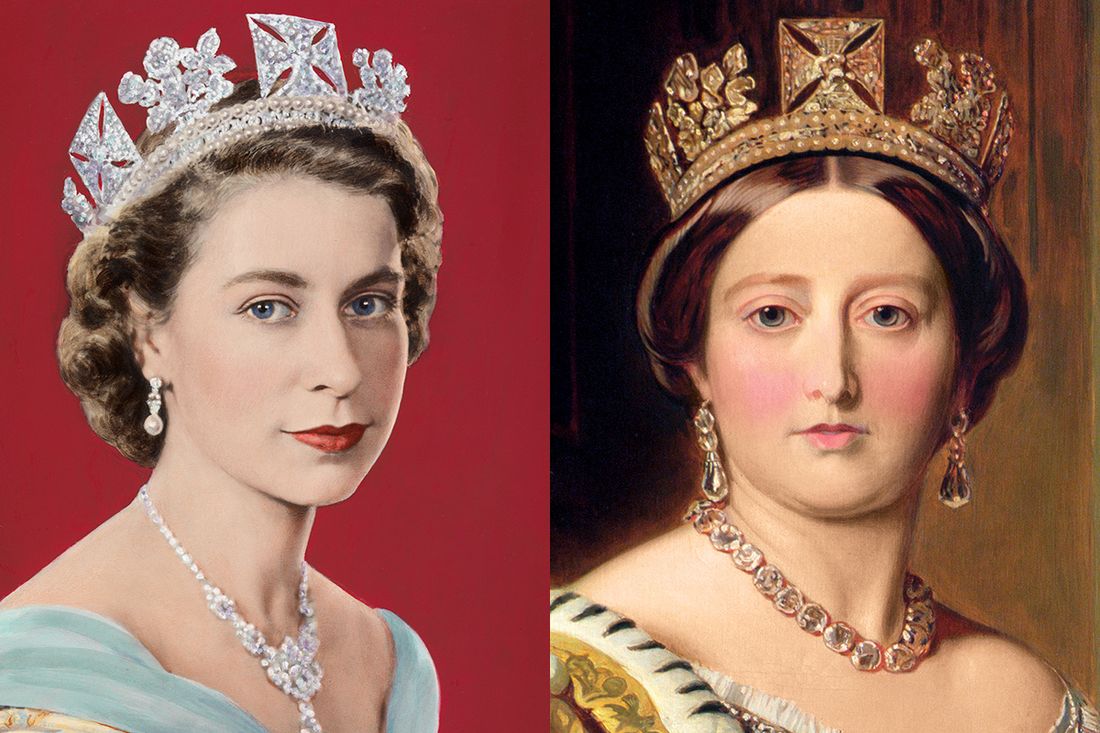 From left:
Queen Elizabeth II and Queen Victoria.
Photo: The Stapleton Collection/Art Resource, NY/William Hustler and Georgina Hustler/National Portrait Gallery, London
On September 9, 2015, Queen Elizabeth II became the longest-reigning monarch, surpassing Victoria's rule of 63 years and 216 days. That day, the Cut first published this piece — which also ran in the September 7, 2015, issue of New York Magazine — looking back at the two royals, their 127 years, and their many, many pets.
Today, just shy of seven years to the day, we've updated our side-by-side in honor of Elizabeth's death. She ended up passing Victoria by a long shot — earlier this year, she became the first monarch to celebrate 70 years on the throne, making her the world's longest-reigning monarch.
Rule: 1837–1901
b. Alexandrina Victoria, May 24, 1819; fifth in the line of succession.
m. Prince Albert of Saxe-Coburg and Gotha, 1840.
During her reign: Charles Dickens's A Tale of Two Cities, the best-selling novel in British history, is published (1859) • Launch of the longest ship in the world, the Great Eastern (1858) • The Cleveland Street scandal, in which a male brothel in London is raided and rumors circulate that the queen's grandson Prince Albert Victor is a client (1889) • Britain effectively annexes Egypt after buying up Suez Canal  shares (1875).
Assassination attempts: Edward Oxford fires two shots at Victoria as she rides out of Buckingham Palace, and misses (1840) • John Francis runs at the queen and fires a pistol one Sunday morning; misses and escapes, then tries again the next day and is caught (1842) • Retired army officer Robert Pate runs up and beats her with his cane (1850) • Roderick MacLean fires a shot at her and misses (1882).
Children: Victoria (b. 1840) • Albert Edward (b. 1841) • Alice, (b. 1843) • Alfred  (b. 1844) • Helena (b. 1846) • Louise (b. 1848) •  Arthur, (b. 1850) • Leopold  (b. 1853) • Beatrice (b. 1857). 42 grandchildren, 87 great-grandchildren.
Pets: A King Charles spaniel named Dash • a greyhound, Nero • a deerhound, Hector • a parrot, Lory • a collie, Noble ("guardian of the queen's gloves").
.

Year 1
1837: Awakens to learn that William IV, her uncle, has died, making her queen at 18. At her coronation, wears the newly rebuilt Imperial State Crown.
1838: The first of several incidents involving "Boy Jones," a weirdo who snuck into the queen's dressing room and stole her underwear.
1842–44: The queen is photographed and travels by train, each a royal first.
.

Year 15
1852: Albert buys Balmoral Castle. Unlike other royal properties, it's purchased with personal funds. (Today, Queen Elizabeth II summers there.)
1853: National Association for the Vindication of Scottish Rights, the first group campaigning for Scotland's independence, founded.
1858: The government grinds to a halt because the Thames smells so bad. Victoria and Albert try a boat ride but quit within minutes.
1861: Albert dies of typhoid fever. Victoria, in mourning, stays out of public view for several years, and wears black for the next 40.
.

Year 30
1867: Grants Canada semi-independence (it can govern itself, but is still part of the empire), amid fears that America is about to invade.
1868: William Gladstone's first of four terms as prime minister. Victoria can't stand him; calls him "arrogant, tyrannical and obstinate."
1870: Near the peak of its industrial power, England produces one-third of all global output.
1877: Adds a new title, Empress of India. (Queen Elizabeth's father, George VI, cedes the imperial title in 1948.)
.

Year 45
1896: Surpasses George III to become the longest-reigning British monarch. The next year, marks her Diamond Jubilee.
1900: Victoria's son Alfred dies. "It is a horrible year," writes Victoria, "nothing but sadness & horrors."
.

Year 64
1901: Dies on the Isle of Wight at 81. Albert Edward (Queen Elizabeth's great-grandfather) becomes King Edward VII.
Rule: 1952–2022
b. Elizabeth Alexandra Mary, April 21, 1926; third in the line of succession.
m. Philip Mountbatten, 1947.
During her reign: The Lord of the Rings, Britain's second-best-selling novel of all time, is published (1954–55) • Christens the longest passenger ship in the world, the Queen Mary 2 (2004) • Homosexuality is decriminalized in England (1967) and same-sex marriage is legalized (2013), a change the queen reportedly calls "wonderful" • Britain loses control of the Suez Canal after Egypt tries to nationalize it (1956).
Assassination attempts: During a trip to Australia, a log is rolled onto the tracks ahead of her train, where it was presumably intended to cause a derailment (1970) • At her annual "Trooping the Colour" birthday celebration, Marcus Sarjeant fires six shots that turn out to be blanks (1981) • An assassination-by-knife plot by Islamic terrorists is foiled by Scotland Yard (2014).
Children: Charles (b. 1948) • Anne (b. 1950) • Andrew (b. 1960) • Edward (b.1964) • Eight grandchildren, 12 great-grandchildren.
Pets: More than 30 corgis, most descended from Susan, a dog given to Elizabeth in 1944. In 2018, the last of her bred corgis died, and though she said she didn't want any of her dogs to outlive her, two have: Muick, one of the puppies gifted to her while Prince Philip was in the hospital, and Candy, a corgi-dachshund mix born after one of her corgis mated with Princess Margaret's dog. She has also had cocker spaniels and Labradors.
.

Year 1
1952: On a visit to Kenya, she learns that her father has died, and, at 25, she returns to London as Queen Elizabeth II.
1953: Her coronation is televised, a royal first. Wears the Imperial State Crown, rebuilt for her father.
1965: Two decades after her stint in the army fixing trucks, makes the first official trip to Germany since 1913, in an unprecedented run of state visits.
.

Year 15
1969: Prince Philip suggests that being royal is not what it used to be: "We go into the red next year. I shall probably have to give up polo."
1974: Meets Margaret Thatcher, then a member of Parliament with a rising national profile. Mrs. Thatcher faints shortly afterward.
1977–81: Elizabeth's first grandchild, Peter Phillips, arrives. Victoria's last grandchild, Alice, Countess of Athlone, dies at 97.
1981: Charles marries Diana Spencer, and they soon produce an heir, the (likely) future King William V.
.

Year 30
1982: Awakens one morning to find a stranger named Michael Fagan sitting in her bedroom.
1980s: The prime minister and the monarch don't get along. Mrs. Thatcher hectors her about policy; privately, Elizabeth mocks her accent.
1992: After the collapse of three of her children's marriages and a fire at Windsor Castle, the queen calls 1992 an "annus horribilis."
1997: Diana dies, and the family's response is too stoic for the public. In one poll, a quarter of all Britons want the monarchy abolished.
.

Year 45
2002: Elizabeth's sister, Margaret (age 71), and her mother (101) die a few weeks apart.
2012: Diamond Jubilee, the first since 1897. Lately, when learning something of interest, she's been heard telling Philip, "You'd better Google that."
.

Year 64
2014: Scotland's independence referendum, which the queen had all but openly opposed, fails.
September 9, 2015: Elizabeth breaks the regnal record: 63 years, 216 days.
February 6, 2017: Elizabeth becomes the first British monarch to have a Sapphire Jubilee, marking 65 years on the throne.
2019: Elizabeth's son, Prince Andrew, steps down from his royal duties after being implicated in allegations against sex offender Jeffrey Epstein.
January 2020: Elizabeth's grandson, Prince Harry, and his wife, Meghan Markle, leave their royal positions and give up their titles.
March 2020: The COVID-19 pandemic sends Elizabeth into quarantine at Windsor Castle.
.

Year 69
April 9, 2021: Elizabeth's husband, Prince Philip, dies at 99. Later that year, Elizabeth's doctors reportedly advise that she stop drinking nightly martinis to conserve her health.
.

Year 70
February 6, 2022: Elizabeth's official 70th day on the throne. She becomes the only monarch to rule England for seven decades.
February 20, 2022: Elizabeth, now 95, tests positive for COVID-19, sparking concerns about her health. She resumes some of her weekly engagements remotely a few days later.
June 2022: England honors Elizabeth's Platinum Jubilee, celebrating her 70 years on the throne with a weekend-long festival throughout the U.K.
September 8, 2022: Elizabeth dies at her Scottish Highlands estate, Balmoral. Her oldest son Charles ascends to the throne, becoming King Charles III.