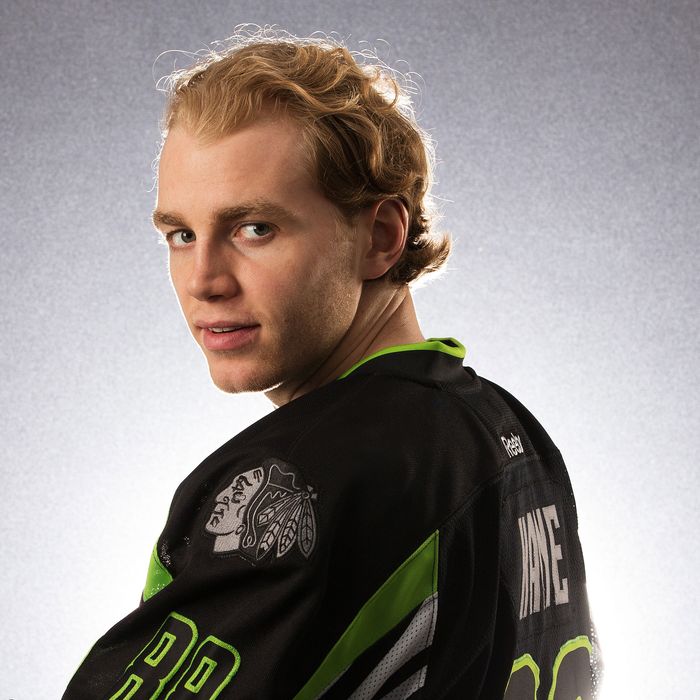 Patrick Kane.
Photo: Gregory Shamus/Getty Images
The attorney for a woman who says Chicago Blackhawks star Patrick Kane sexually assaulted her at his lake house in August held a press conference today and announced a startling new development in the already pretty bizarre case: On Tuesday, someone left the evidence bag that had held the rape kit on her mother's doorstep. The brown bag, marked with the accuser's name and the initials of the intake nurse, was torn open, indicating the evidence that it held may have been tampered with.
It's unclear how the bag ended up outside of police possession, but authorities have confirmed its authenticity, according to the accuser's attorney Thomas J. Eoannou. He's calling for an independent investigation into the case, after what he called "the worst case of victim-blaming I've ever seen."
"This is a classic example of why rape victims don't come forward," Eoannou said.
News of the alleged evidence tampering comes just days after a Buffalo News story published leaked information claiming the rape kit did not find any of Kane's DNA in the accuser's genital area. However, his DNA was found underneath her fingernails and on her back.
Kane's lawyer Paul Cambria appears unmoved by the discovery of the ripped-open evidence bag. "The evidence technician who works for the county tested it. He said there was no Patrick Kane, and that's all I needed to know," he told the Chicago Tribune. "We were told other DNA was found, but none of it was from Patrick."
Kane has yet to be charged with a crime as a grand jury investigation into the claims was postponed a few weeks ago amid rumors of a settlement. He's currently at Blackhawks training camp, preparing for the upcoming hockey season, as if nothing weird is going on at all.