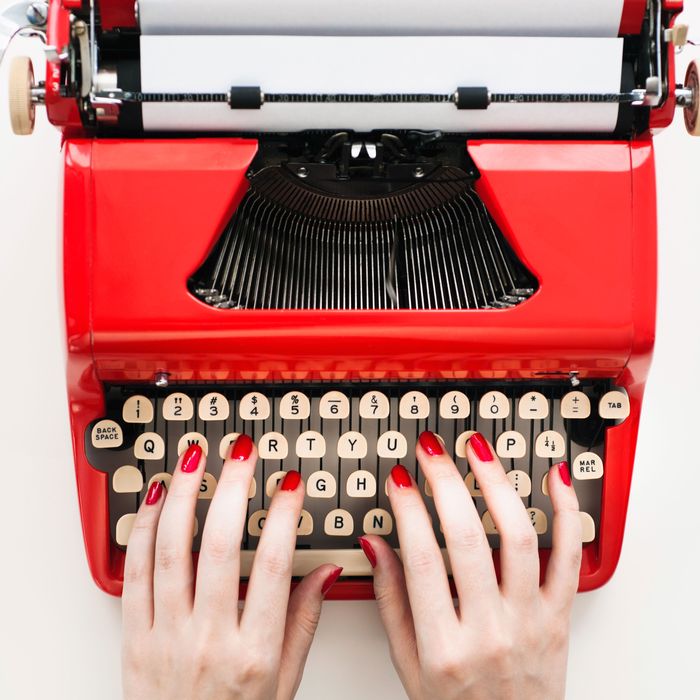 Photo: Tetra Images/Corbis
This week, the Cut reflects on self-reflection with a series of stories devoted to the art of memoir.
Long into the future, you'll remember where you were when you first heard that a gynecologist found a ball of cat hair in a writer's vagina. You'll remember your surprise, perhaps your involuntary gag reflex, and you'll certainly remember the place where the testimonial appeared: xoJane's It Happened to Me series of personal writing.
It Happened to Me is memorable not so much for its prose as for the consistently startling, highly readable, and brilliant syntax of the headlines that preface each overshare. They shock; they scare; in under 60 characters, they can start in one place and end up somewhere else entirely. They are a constantly evolving symbol of our memoir-obsessed time.
In tribute to the poetry of It Happened to Me, the Cut implores you: Can you tell a fake It Happened to Me headline from a real one?
!+[quiz]({ "type": "multiple choice", "subtype": "mc-img", "gid": "wi99dsz", "header": { "title": "'It Happened to Me': Real or Fake?" }, "slides": [ { "question" : "It Happened to Me: Doctors Surgically Removed Most of My Butthole", "img" : "https://pyxis.nymag.com/v1/imgs/661/91b/bd2824ae5c4898bbb5f88aba28ac3fa9cc-16-butthole.rhorizontal.w600.jpg", "answer": "Real", "options" :[ { "title": "Real" }, { "title": "Fake" } ] }, { "question" : "It Happened to Me: I'm Young, Rich, and Living in the Witness Protection Program", "img": "https://pyxis.nymag.com/v1/imgs/c7b/c68/402bf62a3a02c8b7ecb5c3e07cf7741868-16-witness-protection.rhorizontal.w600.jpg", "answer": "Fake", "options" :[ { "title": "Real" }, { "title": "Fake" } ] }, { "question" : "It Happened to Me: We Adopted a Special-Needs Cat and It Made Our Lives Better", "img": "https://pyxis.nymag.com/v1/imgs/1c6/395/81414654efd430613b8e8d4902c1c89d1d-16-special-needs-cat.rhorizontal.w600.jpg", "answer": "Real", "options" :[ { "title": "Real" }, { "title": "Fake" } ] }, { "question" : "It Happened to Me: My Mom Convinced Me to Go With Her to an Insane Clown Posse Concert", "img" : "https://pyxis.nymag.com/v1/imgs/73c/1ae/4ab7d595d5b6570ea6ef6a22a25b1c1cb5-16-insane-clown-posse.rhorizontal.w600.jpg", "answer": "Real", "options" :[ { "title": "Real" }, { "title": "Fake" } ] }, { "question" : "It Happened to Me: I Took Psychedelics and Mastered Needlecraft", "img" : "https://pyxis.nymag.com/v1/imgs/4c3/5ef/4aaa92c3607d3e3d835846906b42f24963-16-needlepoint.rhorizontal.w600.jpg", "answer": "Fake", "options" :[ { "title": "Real" }, { "title": "Fake" } ] }, { "question" : " It Happened to Me: Homemade Kombucha Ruined My Life", "img" : "https://pyxis.nymag.com/v1/imgs/0e1/0be/09bea93a3e94c6b6d511af967d79d683d2-16-kombucha.rhorizontal.w600.jpg", "answer": "Fake", "options" :[ { "title": "Real" }, { "title": "Fake" } ] }, { "question" : "It Happened to Me: I Was an Escort for 8 Years, Believing It Would Empower Me, and It Didn't", "img" : "https://pyxis.nymag.com/v1/imgs/2d7/c52/4c192ac5ad0cd4bfd06d7a156c55d4ab0f-16-escort.rhorizontal.w600.jpg", "answer": "Real", "options" :[ { "title": "Real" }, { "title": "Fake" } ] }, { "question" : "It Happened to Me: I Dated a Winklevoss Twin", "img" : "https://pyxis.nymag.com/v1/imgs/c33/a13/ac014d130e0ef2147a27a01e2b94ee9db8-16-winklevoss.rhorizontal.w600.jpg", "answer": "Fake", "options" :[ { "title": "Real" }, { "title": "Fake" } ] }, { "question" : "It Happened to Me: Alternative Medicine (and Poor Critical Thinking Skills) Almost Killed Me", "img" : "https://pyxis.nymag.com/v1/imgs/333/287/8e5a22df1bf4fbcd07a9df92bcc1dd1857-16-alternative-medicine.rhorizontal.w600.jpg", "answer": "Real", "options" :[ { "title": "Real" }, { "title": "Fake" } ] }, { "question" : "It Happened to Me: Pot Brownies Saved Me From an Emotionally Abusive Relationship", "img" : "https://pyxis.nymag.com/v1/imgs/1c6/7cf/143e50225876cbdb9879e1e7d8cc090ca9-16-pot-brownies.rhorizontal.w600.jpg", "answer": "Real", "options" :[ { "title": "Real" }, { "title": "Fake" } ] }, { "question" : "It Happened to Me: I Got a Large Tattoo of My Ex-Husband's Art on My Back, and I Don't Regret It", "img" : "https://pyxis.nymag.com/v1/imgs/f4b/591/8ed5650bbfa9e671d2c3a298010849ecf3-16-ex-tattoo.rhorizontal.w600.jpg", "answer": "Real", "options" :[ { "title": "Real" }, { "title": "Fake" } ] }, { "question" : "It Happened to Me: I'm a Libertarian", "img" : "https://pyxis.nymag.com/v1/imgs/869/819/dc8db5803efc57452b69aadb7ef1e8b647-16-libertarian.rhorizontal.w600.jpg", "answer": "Fake", "options" :[ { "title": "Real" }, { "title": "Fake" } ] }, { "question" : "It Happened to Me: My Huge Face Tried to Kill Me", "img" : "https://pyxis.nymag.com/v1/imgs/256/ba5/b187eeb4d26ce6e1151376b176b3b3d2c2-16-huge-face.rhorizontal.w600.jpg", "answer": "Real", "options" :[ { "title": "Real" }, { "title": "Fake" } ] }, { "question" : "It Happened to Me: I'm Living With a Rare Disorder That Makes My Sweat Carbonated", "img" : "https://pyxis.nymag.com/v1/imgs/0f5/094/dfeaee15532d44e36d56043f6ba36e4b1f-16-sweat.rhorizontal.w600.jpg", "answer": "Fake", "options" :[ { "title": "Real" }, { "title": "Fake" } ] }, { "question" : "It Happened to Me: I'm the Forgotten Heir to the Staples Office Supply Chain", "img" : "https://pyxis.nymag.com/v1/imgs/a9b/7f4/4dfdd0b5dc75a011a7aa8b2a57ae052517-16-staples.rhorizontal.w600.jpg", "answer": "Fake", "options" :[ { "title": "Real" }, { "title": "Fake" } ] }, { "question" : "It Happened to Me: I Blacked Out at a Party and Woke Up Dressed As Dolly Parton", "img" : "https://pyxis.nymag.com/v1/imgs/858/1ce/bf2d21aae3cc22ff9b5790224037c985ad-16-dolly-parton.rhorizontal.w600.jpg", "answer": "Fake", "options" :[ { "title": "Real" }, { "title": "Fake" } ] }, { "question" : "It Happened to Me: It Took Falling 11 Stories and Almost Dying to Get Me to Leave a Bad Boyfriend", "img" : "https://pyxis.nymag.com/v1/imgs/b03/c43/43d49b4cb280de508a7627e100fff13afd-16-fall.rhorizontal.w600.jpg", "answer": "Real", "options" :[ { "title": "Real" }, { "title": "Fake" } ] }, { "question" : "It Happened to Me: I Was Street-Harassed in My Muumuu", "img" : "https://pyxis.nymag.com/v1/imgs/17a/478/672c9032bcd70a4e40e818c38dba3dfbdb-16-muumuu.rhorizontal.w600.jpg", "answer": "Real", "options" :[ { "title": "Real" }, { "title": "Fake" } ] }, { "question" : "It Happened to Me: I Was Catcalled by My Brother", "img" : "https://pyxis.nymag.com/v1/imgs/3cd/88e/f456b50e6beba32b245a13363b11926e51-16-catcall.rhorizontal.w600.jpg", "answer": "Fake", "options" :[ { "title": "Real" }, { "title": "Fake" } ] }, { "question" : "It Happened to Me: When I Confronted My Boss About Unequal Pay, He Told Me to 'Shove It'", "img" : "https://pyxis.nymag.com/v1/imgs/799/783/f25599ba68c81201ee2ae032fce77f6729-16-angry-boss.rhorizontal.w600.jpg", "answer": "Fake", "options" :[ { "title": "Real" }, { "title": "Fake" } ] }, { "question" : "It Happened to Me: I Had Sex After Cutting a Jalapeño and Burned My Vagina", "img" : "https://pyxis.nymag.com/v1/imgs/b75/ba5/f11b3d6c2616a0ca9d0a2b63dad7105e59-16-jalapenos.rhorizontal.w600.jpg", "answer": "Real", "options" :[ { "title": "Real" }, { "title": "Fake" } ] }, { "question" : "It Happened to Me: I'm Living With Retrograde Amnesia", "img" : "https://pyxis.nymag.com/v1/imgs/7b6/8c0/9e29f93fcba94ac3d010099e7a738e75c4-16-amnesia.rhorizontal.w600.jpg", "answer": "Real", "options" :[ { "title": "Real" }, { "title": "Fake" } ] }, { "question" : "It Happened to Me: My Name Is Also Elon Musk", "img" : "https://pyxis.nymag.com/v1/imgs/39d/f10/e9667388b0bfd6649e574e7cf3ec21af2d-16-elon-musk.rhorizontal.w600.jpg", "answer": "Fake", "options" :[ { "title": "Real" }, { "title": "Fake" } ] }, { "question" : "It Happened to Me: I Was Gluten-Shamed in the Liquor Store", "img" : "https://pyxis.nymag.com/v1/imgs/8b4/e41/670b475205a69696815b96feba23ffb39d-16-gluten-liquor.rhorizontal.w600.jpg", "answer": "Real", "options" :[ { "title": "Real" }, { "title": "Fake" } ] }, { "question" : "It Happened to Me: I Thought I'd Be Liberated After My Breast Reduction, But I Miss My Huge Knockers", "img" : "https://pyxis.nymag.com/v1/imgs/904/214/00defa44dc8d31215a0f61c78143b8d17c-16-boob-job.rhorizontal.w600.jpg", "answer": "Fake", "options" :[ { "title": "Real" }, { "title": "Fake" } ] }, { "question" : "It Happened to Me: My Male Roommate Wore My Miniskirts While Drunk and My Female One Encouraged Her Dog to Poop on the Carpet", "img" : "https://pyxis.nymag.com/v1/imgs/1ed/eef/b368b76bd30fd980861176bef13b7591e4-16-man-skirt.rhorizontal.w600.jpg", "answer": "Real", "options" :[ { "title": "Real" }, { "title": "Fake" } ] }, { "question" : "It Happened to Me: My Grandmother Age-Shamed My 2-Year-Old Cousin and I Did Nothing", "img" : "https://pyxis.nymag.com/v1/imgs/4df/4a0/7ddec636dfd5a7146599daa22edae91feb-16-two-year-old.rhorizontal.w600.jpg", "answer": "Fake", "options" :[ { "title": "Real" }, { "title": "Fake" } ] }, { "question" : "It Happened to Me: I Was Guac-Shamed at Chipotle", "img" : "https://pyxis.nymag.com/v1/imgs/fbe/5c1/b232a01cd682b539cbc63962d499b7b78e-16-guacamole.rhorizontal.w600.jpg", "answer": "Fake", "options" :[ { "title": "Real" }, { "title": "Fake" } ] }, { "question" : "It Happened to Me: I Eat Garbage to Save Money and Help Reduce Food Waste", "img" : "https://pyxis.nymag.com/v1/imgs/efc/673/c1b3ac17c520df600dc8a6390b7a92e466-16-eat-garbage.rhorizontal.w600.jpg", "answer": "Real", "options" :[ { "title": "Real" }, { "title": "Fake" } ] }, { "question" : "It Happened to Me: I Heard the Nurse Practitioner Trash-Talk Me From the Hallway", "img" : "https://pyxis.nymag.com/v1/imgs/145/f82/bb6f189faf482cc7cd1949973511b6a7b2-16-nurse-practitioner.rhorizontal.w600.jpg", "answer": "Real", "options" :[ { "title": "Real" }, { "title": "Fake" } ] }, { "question" : "It Happened to Me: I Went for a Ride in a Cessna and Ended Up Watching a Guy Run Marijuana Through a Wood-Chipper", "img" : "https://pyxis.nymag.com/v1/imgs/dbd/ea2/bc0e73ead1e7e33393cb6d5ab468acf193-16-wood-chipper.rhorizontal.w600.jpg", "answer": "Real", "options" :[ { "title": "Real" }, { "title": "Fake" } ] }, { "question" : "It Happened to Me: My Best Friend Broke Up With Me When She Found Out I Was a Virgin Who Did Anal", "img" : "https://pyxis.nymag.com/v1/imgs/4a4/9fd/6caa6dae940390d21c131d2e03a52b3500-16-friend-breakup.rhorizontal.w600.jpg", "answer": "Fake", "options" :[ { "title": "Real" }, { "title": "Fake" } ] }, { "question" : "It Happened to Me: The Surgeon Told Me I'd Live One More Day; That Was Yesterday", "img" : "https://pyxis.nymag.com/v1/imgs/fae/fd3/b9d7edcac6a34d75486d12da86c91ae916-16-one-day-to-live.rhorizontal.w600.jpg", "answer": "Fake", "options" :[ { "title": "Real" }, { "title": "Fake" } ] }, { "question" : "It Happened to Me: I Got Cancer on My 10th Wedding Anniversary", "img" : "https://pyxis.nymag.com/v1/imgs/b16/5fa/5cd07f7e320d7ec6a32cb7062373143ce7-16-cancer-anniversary.rhorizontal.w600.jpg", "answer": "Real", "options" :[ { "title": "Real" }, { "title": "Fake" } ] }, { "question" : "It Happened to Me: My Son Was Born With a Rib Cage That Was Too Large and I Gave Him Up for Adoption", "img" : "https://pyxis.nymag.com/v1/imgs/2b5/7b2/528241a763c08314f9b5913a154a97832b-16-adoption.rhorizontal.w600.jpg", "answer": "Fake", "options" :[ { "title": "Real" }, { "title": "Fake" } ] }, { "question" : "It Happened to Me: I Didn't Wear Shoes for a Month and My Boyfriend Dumped Me", "img" : "https://pyxis.nymag.com/v1/imgs/0ee/632/0c1e0df627fa6eaffe2db4071c3acfdc39-16-bare-feet.rhorizontal.w600.jpg", "answer": "Fake", "options" :[ { "title": "Real" }, { "title": "Fake" } ] }, { "question" : "It Happened to Me: I Have a Medical Condition That Makes Me Tan and Skinny", "img" : "https://pyxis.nymag.com/v1/imgs/203/dae/ff05ea2d9acaa0337eca04a5c68ea626e8-16-tan-skinny-sick.rhorizontal.w600.jpg", "answer": "Real", "options" :[ { "title": "Real" }, { "title": "Fake" } ] }, { "question" : "It Happened to Me: I Don't Love My Cat, and It's Making Him Depressed", "img" : "https://pyxis.nymag.com/v1/imgs/51e/3bc/3d5e7f9baa6b9fc17655e748c69e1dcadd-16-sad-cat.rhorizontal.w600.jpg", "answer": "Fake", "options" :[ { "title": "Real" }, { "title": "Fake" } ] }, { "question" : "It Happened to Me: A Guy I Was Dating Hurt Himself Masturbating and Accused Me of Giving Him an STD", "img" : "https://pyxis.nymag.com/v1/imgs/bc4/b03/030858f4011c356391216a850912299a64-16-masturbation-std.rhorizontal.w600.jpg", "answer": "Real", "options" :[ { "title": "Real" }, { "title": "Fake" } ] }, { "question" : "It Happened to Me: I Don't Have a Heartbeat — the Doctors Checked", "img" : "https://pyxis.nymag.com/v1/imgs/3fb/892/0ad2bc0111afb04d0f4d3648ae331446c7-16-flatline.rhorizontal.w600.jpg", "answer": "Fake", "options" :[ { "title": "Real" }, { "title": "Fake" } ] } ], "promos": [ { "title": "Take the Cut's Fashion Week Style-Personality Quiz", "link": "http://www.thecut.com/2015/09/take-the-cuts-style-personality-quiz.html", "img": "https://pyxis.nymag.com/v1/imgs/d0c/2ad/d9e129677dc9b4046e2419ebc561e44509-11-fashion-style-quiz.2x.rsquare.w190.jpg" }, { "title": "Take Vulture's Taylor Swift Emoji Quiz (Vulture)", "link": "http://www.vulture.com/2014/10/take-our-taylor-swift-emoji-quiz.html", "img": "https://pyxis.nymag.com/v1/imgs/1d5/7f2/deadeb42deb89337a33e0363ff48b9aba7-27-taylor-swift-emoji-quiz.rsquare-zoom.w190.jpg" } ] })