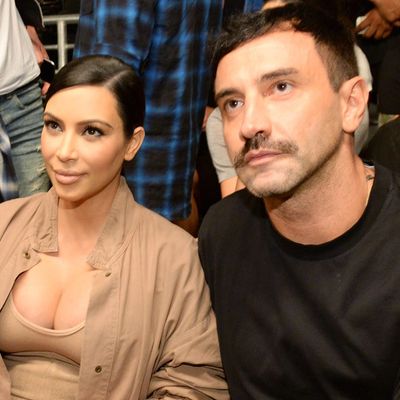 Riccardo Tisci at Prada, left, and at Yeezy with Kim Kardashian, right.
Photo: fashiontomax/Instagram, Getty Imags
Much like that one kind of smug kid in college who finished his exams earlier than everyone else, Riccardo Tisci is officially off the clock, and he is enjoying himself immensely. After his momentous Givenchy show in New York (he swapped out his usual Paris Fashion Week showtime), the designer has been seriously making the rounds. In New York, he took in Alexander Wang's tenth anniversary celebration (but did he eat the Hooters wings?) and his pal Kanye West's Yeezy Season 2 collection. He's proven ubiquitous at Milan Fashion Week as well, making Seinfeld-style pop-ins at both yesterday's Prada show and today's Versace show, where he was joined by fellow designers Fausto Puglisi and Christopher Kane. One question remains: Which Italian is having more fun (and making more stops) this weekend — Tisci or Pope Francis?