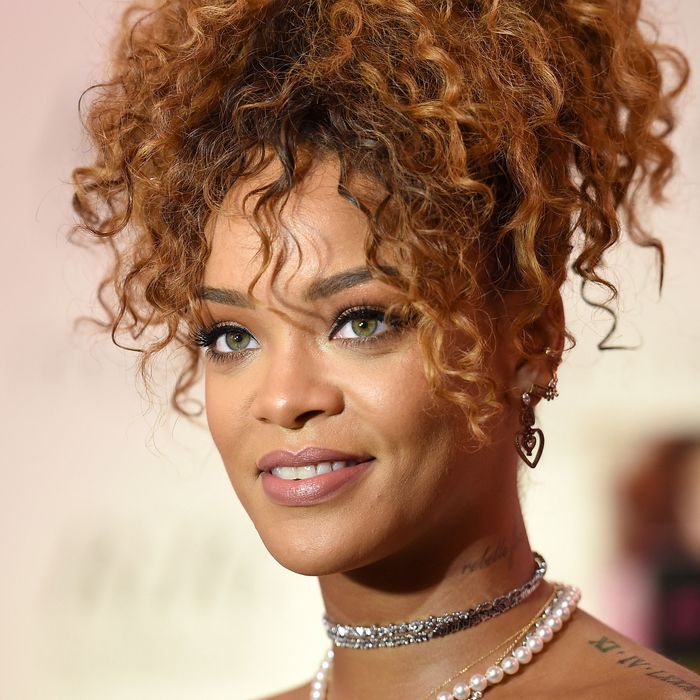 Rihanna.
Photo: Dimitrios Kambouris/Getty Images
Rihanna is doubling down on her nascent fashion and beauty empire and launching her own makeup line, reports Refinery29 — as soon as she finds the time. The singer, who registered the business with the U.S. Patent and Trademark office as Fenty Beauty, explains:
"That is definitely something I am going to have my hands on and would love to do. It's something that I've always wanted to do, but I've always had so much on my hands. But, this time, I'm going to make sure it happens. I'm going to find some time between albums and fragrance to do that. I promise."
This isn't Rihanna's first foray into beauty. In 2013 she took part in a yearlong collaboration with M.A.C that produced four distinct color campaigns and the best-selling Ruby Woo sister shade, RiRi Woo. Most recently she grew her fragrance catalogue with RiRi, a fruity and floral rocket to the nose. As for what the makeup range will include, Rihanna's eyeing some high-tech options, such as "lashes that could just put themselves on" and "lipstick that doesn't move." Just don't ask for an exact date for when all of this will come to fruition.