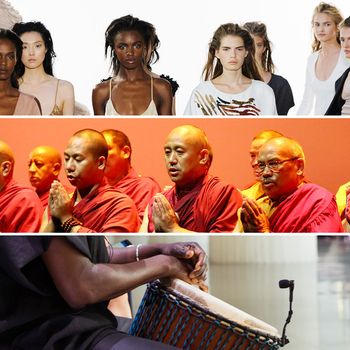 Photo: Imaxtree, Getty Images, BFAnyc
The monks were waiting for the C train. After Prabal Gurung's dramatic, stirring show on Sunday night, which opened with said Nepalese monks chanting a prayer of gratitude, I noticed them on the opposing track. They were a vision of self-possessed calm in the urban jumble of Fashion Week: irate Post Office customers confused by the goings-on at Moynihan Station, looky-loos trying to get a glimpse of Tyga outside Jeremy Scott, fashion assistants standing outside parties pulling "Don't you know who I am?" tantrums to everyone's secondhand embarrassment.
Gurung's statement was a profound and personal one, spurred by his affection for his home country and the tragic earthquake it suffered this year. But he wasn't the only one to assert something a bit deeper than the gloss and sheen that coat most runway shows. More than a handful of New York designers seemed to be aiming for a new kind of depth and even transcendence. Marcus Wainwright and David Neville elected to have a choir perform at Rag & Bone. At Givenchy's show, Riccardo Tisci paid tribute to the victims of 9/11 and made a powerful statement with music from a variety of religious traditions, including the traditional Jewish song "Shalom Aleichem." (A devout Catholic, Tisci has often incorporated the imagery of his own faith into collections, but this qualified as his most wide-ranging spiritual statement to date.)
Why all this grasping toward the sacred? Perhaps it's because the very notion of luxury has changed. In the go-go '80s and the blingy early '00s, it was about logos, jet-setting, and high gloss. Now, luxury brands seem to be courting a customer who's got more on her mind than this season's fur loafers, who's well-traveled, well-read, socially conscious, locavore, and spiritual. Think, for example, of the fashion ads that have minted public intellectuals — notably Joan Didion and Gloria Steinem — as campaign stars. (The writer Hazel Cills joked on Twitter that Renata Adler for Marni can't be far behind.)
Or the huge luxury conglomerates that tout their embrace of sustainability and women's rights. Edun and Maiyet, two relatively young luxury brands, continued to expand their M.O. of drawing from a variety of world cultures and their traditional handicrafts, while striving to employ and empower those communities. Before Edun's show — which featured Kuba drummers from Guinea performing and pieces made in collaboration with weavers from Morocco and Madagascar — designer Danielle Sherman told the Cut, "We wanted to incorporate that kind of ceremonial procession in the show, so it's kind of linking all of those worlds together." As for locating the drummers, "We found them on YouTube," in true global-village-with-Wi-Fi fashion.
Watching these shows, I found my mind circling back to Maslow's hierarchy of needs, developed in the 1940s. Atop the point of his pyramid sit self-actualization and esteem, suggesting that once physical needs are met, we turn to more ethereal goals. Later on in his career, Maslow added the category of "self-transcendence," by which he meant spirituality and altruism. And it seems everyone these days is sounding Mariana Trench levels of depth, whether they're luxury CEOs who meditate or designers who want to push their collections beyond the aesthetic. Even supermodels, who used to lounge in bed if a $10,000 day rate didn't materialize, are now philanthropists who code.
I don't think that these collections are necessarily coming from an inauthentic place or that designers are trying to cash in on an overall mood in the air — though cashing in on moods is what the fashion industry often does. I think these designers themselves are weary of the kind of surface existence that being in this industry often brings with it. But whether it's the desire to channel a higher power or to give back, luxury customers seem hungry for something more than a transaction, and, if this past week is any indication, plenty of people are eager to feed that impulse.