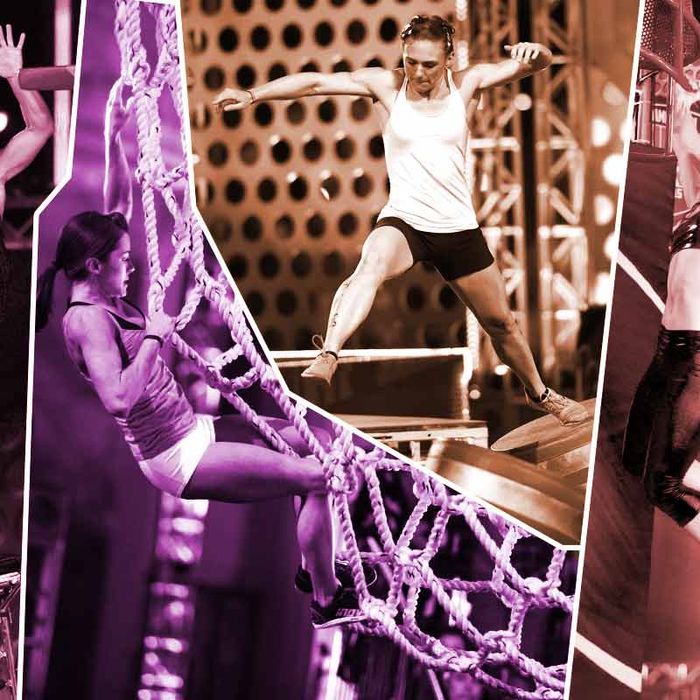 Meagan Martin, Kacy Catanzaro, Michelle Warnky, and Jessie Graff compete during season five of American Ninja Warrior.
Photo: NBC
This weekend marked the conclusion of the U.S. Open, a championship event where men and women athletes compete on the same stage, appear on the same TV channel, and are eligible for the same prize money. Tennis is one of the few athletic pursuits where that's true. American Ninja Warrior — the successful sports competition show whose season-four finale aired last night on NBC — is another.
The American Ninja Warrior vibe is CrossFit meets American Gladiators, with competitors in singlets climbing red, white, and blue obstacles in front of a screaming crowd. (When someone falls off an obstacle and into the water pit below, an air horn sounds.) Yet despite the seemingly testosterone-soaked ambiance, the show has become a surprising hotbed for gender equality. Following competitors as they move from qualifying rounds to the finals in Las Vegas, the show offers men and women the chance to run on the same course and compete for the same $1 million prize. Until last night, no one had ever finished the course, but millions of people still watch athletes of all sizes and walks of life try. ANW averaged 5 million viewers in 2014 and climbed to 7.1 million this year, according to The Hollywood Reporter. NBC recently renewed the show for its fifth season on its network and eighth overall (it aired on G4 from 2009 to 2012).
Obstacles like the 14-foot Warped Wall and curtain-on-a-zip-line Silk Slider are challenging for sure, but they're certainly not as sadistic as, say, those on Wipeout. The athletes can and do get past them: You have to imagine that people watch because they want to see the Ninjas slap the buzzer at the end of the course. And increasingly, those elated Ninjas are women. Executive producer Kent Weed of A. Smith & Co. Productions says applications from women have increased every season, especially so after last year when a five-foot former gymnast named Kacy Catanzaro became the first woman to scale the Warped Wall, finish a qualifying course, attempt (and finish) a city finals course, and qualify for Vegas. The YouTube clip of Kacy finishing the 2014 Dallas Finals course has nearly 11 million views and is still the most popular video on the show's channel.
Catanzaro didn't fare as well this year (she fell in the qualifying round and earned a wildcard entry to Vegas), but she's made her mark. Weed says her success has helped other women competitors believe that they can do as well as — or better than — the men. "Kacy opened a new door for them and gave people more confidence," he said. "When you have confidence, your abilities take you the rest of the way." To wit, after Kacy climbed the wall last season, two more women accomplished the feat: personal trainer Michelle Warnky and rock climber Meagan Martin. This season, we saw stuntwoman Jessie Graff conquer the wall and complete a city finals course, becoming the second woman since Catanzaro to qualify for Vegas outright. Martin equaled her 2014 Vegas performance by reaching the Warped Wall before timing out, and Graff joined her as the only other woman to get that far in Vegas.
When Kacy got up the Warped Wall, she was also the shortest person to do so, Weed says. In the spirit of equality, the producers do take height into consideration when designing obstacles: One test, the Body Prop, has three different settings. But otherwise, it's just everyone versus the course, and people may be surprised by the Ninjas who do well, says Kristen Stabile, co-executive producer of ANW. For instance, former NFL players and Olympic gymnasts have come and fallen. "When you see a guy who's well-built, maybe 220 pounds, go down on the third obstacle and then the 145-pound, five-foot-seven athlete comes up and whips right through the course, that's exciting," she says. "We've given a forum to an athlete that's not necessarily celebrated in traditional sports."
Women have advantages in certain sections of the course, Stabile says. "Women traditionally have better balance than men so that's something that's always benefited them on some of the earlier obstacles." And Weed says that women's height-to-weight ratio can serve them well on the later, hanging obstacles because they have less force pulling them down. But ANW is as much mental as it is physical. As Weed says of the single course, "We felt that the true nature of American Ninja Warrior was that anybody could come, anybody could compete — and anybody could fall on any given day, too."
After moving from G4 to NBC, the show's viewership began to shift from predominantly male to slightly more female. (Weed says it was about 52 percent versus 48 percent this year.) Part of that change is the result of going to a major network, but it's also likely that women are tuning in as more and more female athletes break ground on a platform where they're equal to men. "We are so excited about women in this sport," Weed says. "I love that we created something that can actually be an equalizer between men and women."