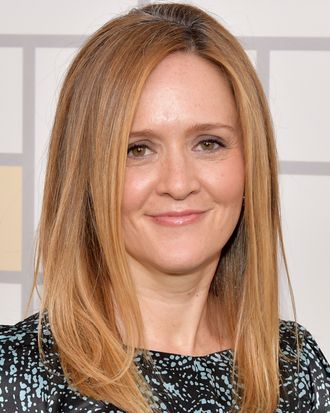 Samantha Bee.
Photo: Theo Wargo/Getty Images
Today, Vanity Fair delivers us the majesty of manly dominance over the night-time talk-show landscape, all in a single eloquent image. The story that goes with it, "Why Late-Night Television Is Better Than Ever," by writer David Kamp, dedicates some words to the lack of women in late night, citing improvements by way of Chelsea Handler and Samantha Bee, who will both have shows in 2016. 
The latter comedian, after catching wind of the highly male, predominantly white image, took necessary steps to correct history with a nice nod to Tina Fey's self-proclaimed centaurism:
Comedian Eric Andre also added his own take to Instagram:
What was it like in the VF writers' room as they put this shoot together? What was on their vision board? "Men Laughing With Suits On"? "Socks Are Back in Style"? "Joke's on You: Men Are Still on Top"? "Aggressive Whiteness"? Is there a reason Jimmy Fallon wasn't entrusted to swish and swill a tumblerful of whiskey? These are the mysteries of our time.