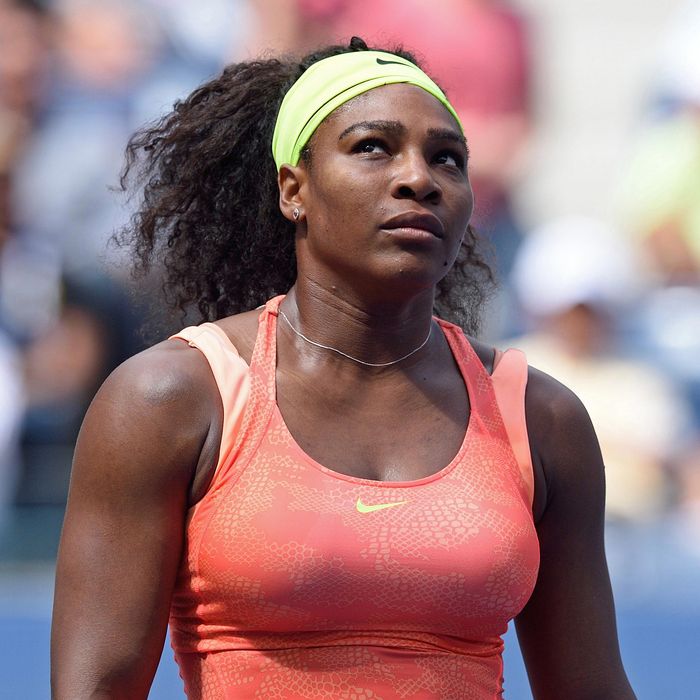 Serena Williams.
Photo: Don Emmert/AFP/Getty Images
Serena Williams may have failed in her quest to win a calendar year Grand Slam, but 2015 is by no means a wash for her. She now has 21 Grand Slam Tournament titles, and has inspired countless people with her frank responses to body shaming. In an interview with Time, which was conducted in early August, she noted that she is in it to win it when it comes to body talk as well:
"It's important to touch on the body image issues … I literally was born with this most amazing body, and to be historic, and to be amazing, and to be badass. And if anyone doesn't like it, then they don't have to. Because at the end of the day, I like it. And I know a lot of other people who like it too."
In fact she lets other people's drama over her fit physique fuel her workouts. She told Time that, following a tone-deaf New York Times story that asked female players to weigh tennis performance against not wanting to look too muscular, "I went to the gym after that, and I started doing more flips. I'm like, you know what, I'm going to make people get angry and get more fit."
She's interested in furthering conversations about racial injustice, too. In March, not only did she return to the Indian Wells tournament where she was jeered and booed in 2001, she used the opportunity to help raise money for the nonprofit Equal Justice Initiative, which provides legal representation for people treated unfairly by the justice system. Whether it's Indian Wells or tweeting about police violence against black people, she says, "I don't know if I can impact change. But I do know it's better than me being quiet." After all, she was born to be badass.