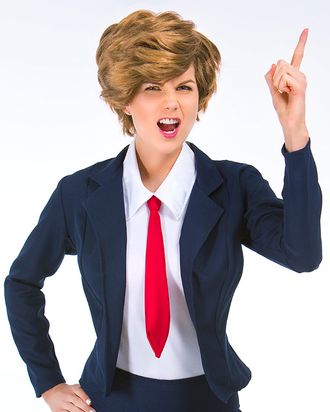 Donna T. Rumpshaker costume.
Photo: Yandy.com
Oh my God, there are barely five weeks until Halloween, which means cuffing season, PSL season, and the winters of our discontent are all coming up fast. Have you figured out what you're going to be for Halloween? If you haven't considered Donald Trump to be a viable option, might we suggest "Sexy Donald Trump" instead?
Of course, as the witching hour before October 31 approaches, novelty Halloween companies far and wide will attempt to out-cornball and out-offense each other in their dress-up offerings. Not sure why Donald Trump would ever warrant a "sexy costume," but its proprietor Yandy.com claims that by wearing the Donna T. Rumpshaker costume, you'll "Make America Great!" since "Make America Great Again" was trademarked by the Donald himself.
The price to look this topical is $69.95, but that big ole comb-over is sold separately.