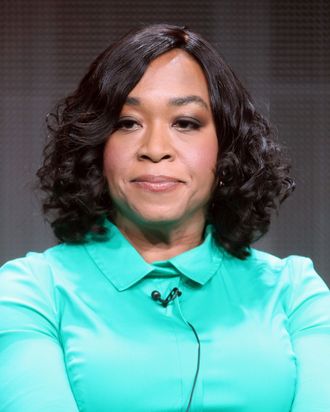 Shonda Rhimes
Photo: Frederick M. Brown/Getty Images
Shonda Rhimes is a woman of infinite wisdom, and that wisdom is the gift that keeps on giving. In an interview in October's Women's Health magazine (in the Power Issue, no less), Shonda explains that the way sex is portrayed on TV is not actually helpful to young people who want to learn what getting it on is.
"I have three daughters," she says in the interview, "and I find it fascinating that you can shoot someone in the face on network television, show the whole thing, watch their brains fly out of the back of their head, and no one blinks. But people are shocked when you show anybody having sex." Rhimes goes on to say that she hopes her daughters "grow up to have amazing sex." 
And that's why Rhimes does what she does (namely, TV featuring empowered women): "I feel like there are ways to represent women owning their sexuality and having a strong point of view about it and it not being this taboo thing that's hidden in some closet somewhere." Hear, hear.