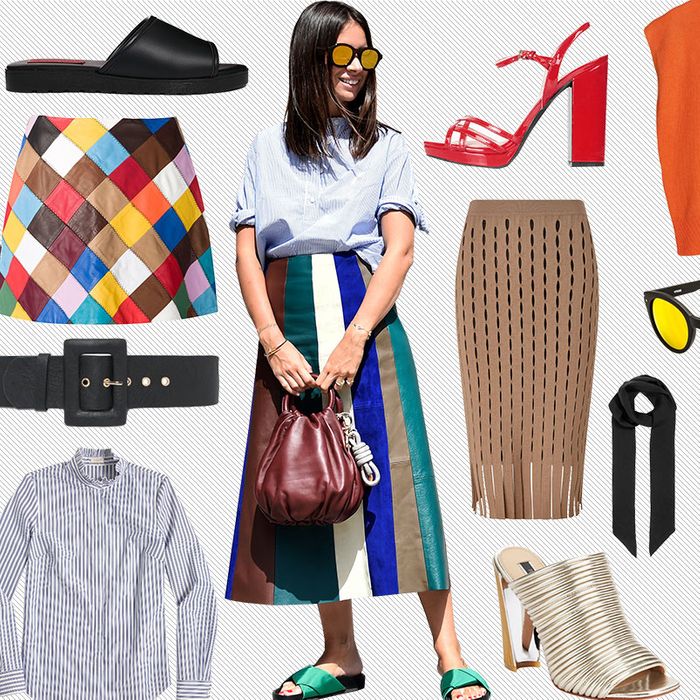 Fashion month is well under way, but we're still dreaming about our favorite looks from the NYFW Golden Peacock street-style competition. The winning looks this year were less costume-y and, ironically, stood out all the more because of it — they were wearable, while still being witty and chic. Whether it was a perfect pairing of shoe height and pant length, the casual yet deliberate drape of a jacket over the shoulders, or the surprise proportion of a detailed mini bag, there was a certain personalization and attention to detail that feels new — and we've been taking notes to scour the best ensembles to shop from. Click through the slideshow to copy the most captivating looks of NYFW.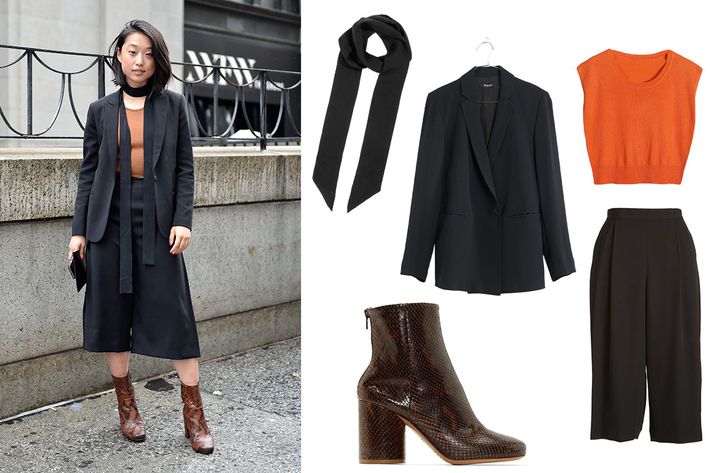 The perfect example of how to layer light fabrics on a chilly fall day. Take note of the proportions and color combo — an orange cropped sweater paired with black culottes and a tailored blazer and, for texture, the snakeskin ankle boots.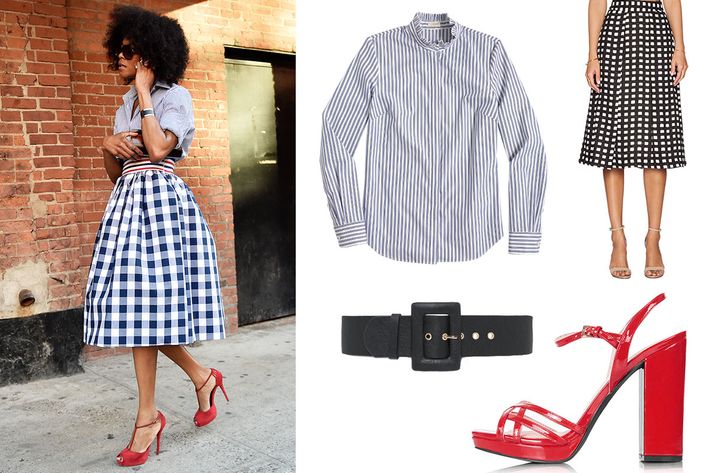 Mixing prints isn't as hard it seems; the key is go light on the accessories and pay attention to the scale of the print. The small stripes of the J.Crew shirt complement the larger gingham-printed skirt, so it doesn't feel like it's competing. No need for a big bag or jewelry — a wide belt to accentuate the waist, and strappy sandals will do the trick.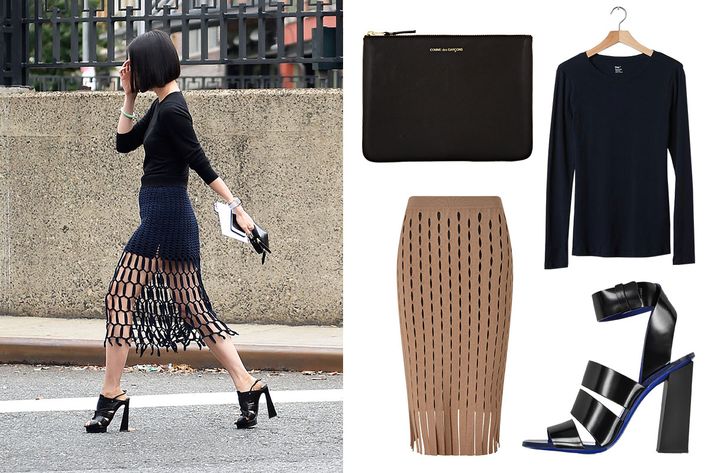 With a skirt like this one that has open panels and lots of detail, go simple with everything else so that it can be the focal point. A cotton top and black sandals with a plain clutch is all you need to complete the look.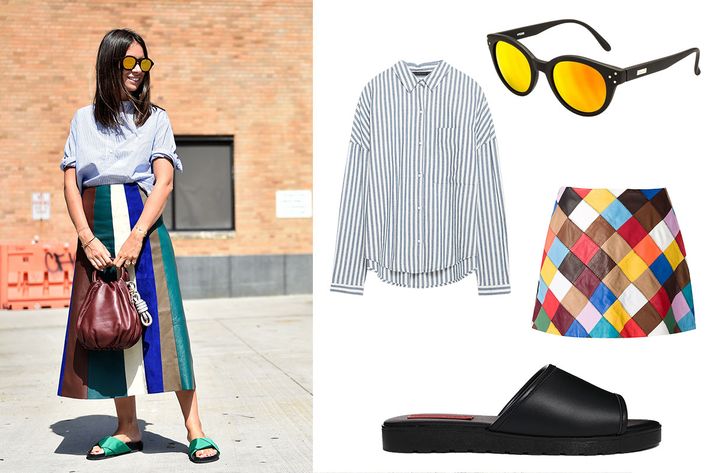 A skirt like this one from Jeremy Scott is definitely a statement piece, so try to resist the urge to pair with a plain T-shirt. A collared shirt adds a little texture and gold mirrored sunglasses to brighten it up. Since the skirt is so short, flat slides are best — or sneakers if you prefer.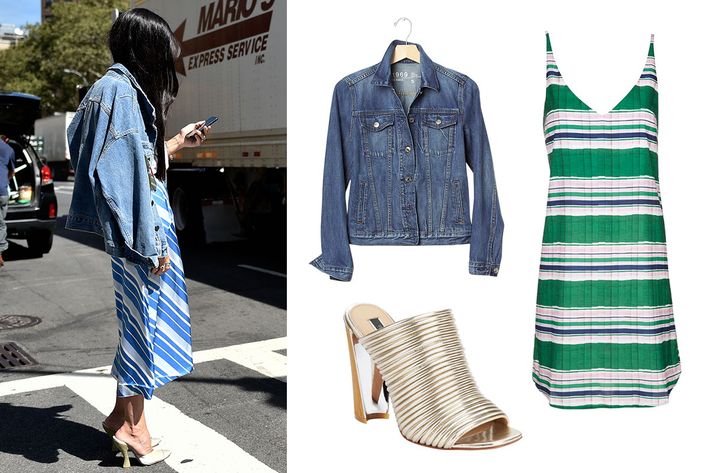 A very easy look that's one of the best to transition from work appointments to dinners at night. Try a striped or patterned slip dress— the solid-colored silk versions look too much like a nightgown. Dress it down with sandals and a worn-in denim jacket.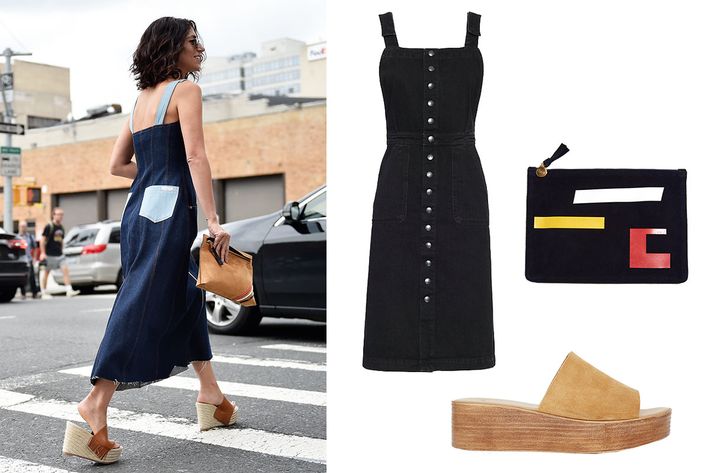 Yasmin Sewell always seems to get it right — the denim dress with button or zip detailing is a flattering fit (not to mention comfortable), paired with neutral sandals, and a clutch with just the right amount of detail.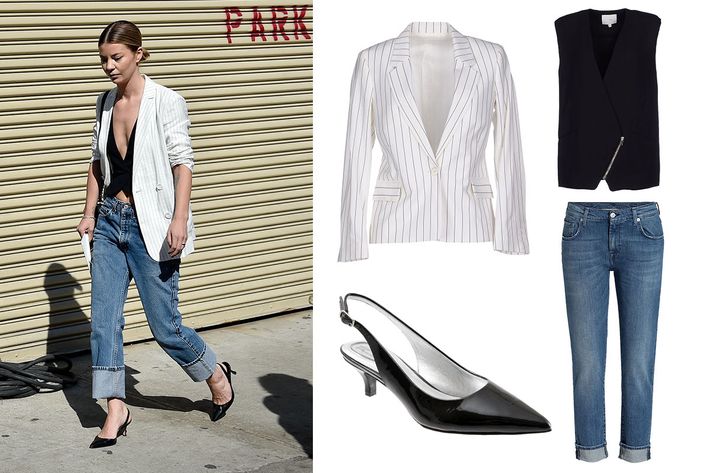 This look is by far the most realistic but works because the mix of lengths of each piece. The blazer is just a little longer than the vest worn as a top underneath, with boyfriend jeans slightly cuffed at the bottom and a modest slingback heel.