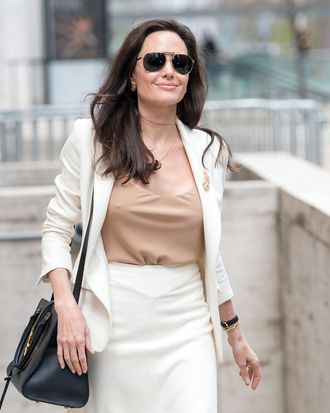 Angelina Jolie had a preventive double mastectomy in 2013 after learning she carries the BRCA1 gene mutation. She has a family history of breast and ovarian cancer.
Photo: Michael Stewart/GC Images/Getty Images
Testing for the BRCA1 and BRCA2 gene mutations is recommended only for women who have a family history of breast, ovarian, tubal, or peritoneal cancer, and that makes sense from a health-care perspective since the mutations are rare and screenings cost $2,000 to $4,000 each. But as biotech companies develop at-home tests for a fraction of that price, could it be worthwhile for all women to get screened?
In short: No, according to two University of California Los Angeles experts writing in JAMA Oncology. Patricia Ganz, MD, a director of cancer prevention and research at the UCLA Jonsson Comprehensive Cancer Center, and Elisa Long, PhD, assistant professor at the UCLA Anderson School of Management, acknowledge that women with either BRCA mutation have a higher risk of developing breast or ovarian cancer than the general population, but they estimated that for every 10,000 women screened, the test would prevent an additional four cases of breast cancer and two cases of ovarian cancer versus screening based on family history of those diseases. The faulty genes only account for 5 to 10 percent of the 233,000 breast cancer cases diagnosed annually — meaning a woman with a negative test result could still get breast cancer and is not exempt from getting regular mammograms, they said.
It's estimated that one in 400 to one in 800 people (men included) have a BRCA mutation, which Long compared to "looking for a needle in a haystack." And at up to $4,000 per test, it could cost more than $1 million to detect a single mutation. But Ganz and Long determined that expanded screening could really benefit certain high-risk groups like women of Ashkenazi Jewish descent, for whom prevalence of these mutations is between one in 40 and one in 50. They said that for every 10,000 Ashkenazi Jewish women tested, doctors could prevent an estimated 62 breast and 34 ovarian cancers.
The question is a personal one for Long, who carries the BRCA1 mutation and was treated for aggressive breast cancer last year. She said in a release, "I would have benefitted tremendously from universal BRCA testing, because I had no family history of breast cancer. But as a health services researcher, I must also consider the relative value of different medical interventions." Long said that as more companies introduce genetic tests — including Color Genomics's controversial saliva-based screening (price: $249) — universal testing could become an affordable policy. But such tests aren't crystal balls: They can't tell you for certain if you will or won't get cancer, though they can help you make treatment decisions with your doctor.