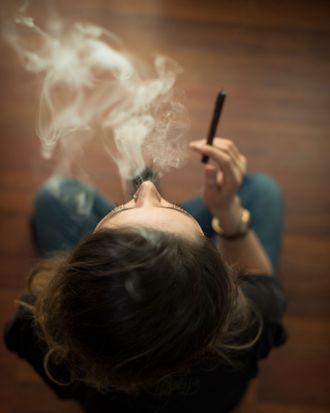 Photo: Arda Savasciogullari/Getty Images
Because there's no such thing as a dumb beauty question, we're reviving our beauty Q&A series.
Question: I smoke. Yes, I know it's bad for me and I'm trying to quit. But that doesn't mean I don't want great skin. What should I do?
Answer: Well, you already know that smoking, like the smoky eye, is not always the best beauty decision. But that doesn't mean you don't deserve a customized skin-care regimen while you're attempting to beat the habit.
Let's begin with the bad news: Smoking speeds up the aging process. On the phone, dermatologist Dr. Emily Wise rattled off the five ways that smoking negatively impacts your skin: (1) Smoking robs your skin of oxygen. (2) It causes more broken capillaries and dilated blood vessels, leading to uneven skin tones and redness. (3) It makes collagen and elastin, the essence of youthful skin, break down much faster. (4) Squinting and pursing your lips causes increased lines around the mouth and brows. (5) It decreases vitamin-A levels in the skin, creating drier skin. To put it more succinctly: womp womp.
The good news is that traditional skin-care advice still applies, even if you're a smoker. Everyone should be wearing an SPF of 30 every day, but it's especially important if you head outside to smoke. "That's going to help with not worsening issues like dilated blood vessels, and uneven tone," Dr. Wise explains.
Also, Dr. Wise suggests changing up your serums for day and night. "Using an anti-oxidant serum with help with the free-radical damage encountered from the smoke chemicals blowing back in your face." Apply the serum under your sunscreen and it will help rebuild and plump up the collagen in your skin. The cult favorite among beauty editors is SkinCeuticals CE Ferulic. Just be prepared for the smell, which resembles an old bacon pan rinsed with hot dog water.
For nighttime, Dr. Wise suggests trying out a retinol, since smoking decreases vitamin A and all retinols are vitamin-A derivatives. You want increased levels of vitamin A so that your body turns over skin cells faster, rather than clinging to old, dull skin. As a plus, retinol helps to reduce wrinkles and acne, which no one wants, regardless of whether you smoke. To combat the flakiness that can come with the retinol skin turnover and drier skin, Dr. Wise also suggests using a very hydrating moisturizer and a non-comedogenic night cream, rather that cocoa butter or any face oils. Non-comedogenic is basically a fancy term for "won't make you break out," so anything with this label will be lighter, with an oil-free or water-based formula. You can try something like Olay Complete All Day UV Moisturizer for Sensitive Skin, RoC Deep Wrinkle Night Cream (which also contains retinol), La Roche Posay's Effaclar Mat for more acne-prone skin, or CeRave Skin Renewing Night Cream.
Because smoke can also clog pores, Dr. Wise also suggests that you wash your face thoroughly twice a day. You can try a brightening cleanser with glycolic acid, which also helps to speed up cell turnover. Dr. Wise likes Revision Skincare's Brightening Wash, which contains glycolic and other beta-hydroxy acids. You can also try Peter Thomas Roth's Glycolic Acid 3 Perfect Facial. Now don't let the smoke get in your eyes.