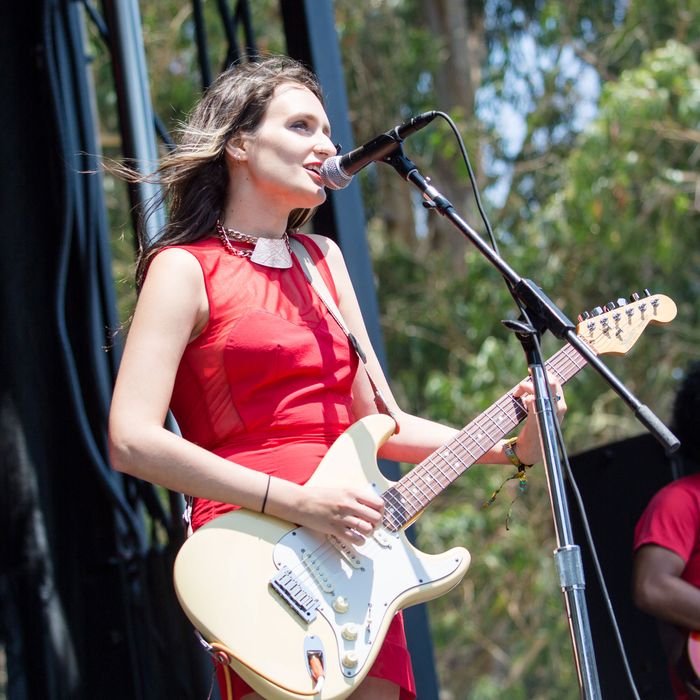 Photo: Splash News/Corbis
Speedy Ortiz, a four-piece punk band from Massachusetts whose lyrics are as sharp as their guitar lines are noodly, will embark on a world tour to support their third album, Foil Deer, beginning this week. In an effort to combat aggression and harassment at their upcoming shows, the band has launched a hotline and an email address that attendees can reach out to in the event that they feel unsafe. A flyer appeared on their Facebook page on Monday night, which read:
Harassment and intolerance will not be permitted at tonight's show or at other Speedy Ortiz shows. Prejudicial, aggressive language and aggressive behaviors of any kind are unacceptable to us. This includes, but is not limited to: racism, sexism, classism, homophobia, transphobia, ableism, & all other oppressive and marginalizing actions and microaggressions.
If anyone at a Speedy Ortiz show is feeling victimized, they may text a hotline set up by the band at 574-404-SAFE, and the group says they will "work with venue security to try and get you out of harm's way." An email address — speedyortizhotline@gmail.com — has also been set up to receive messages. Though the system is new, and could face initial speed bumps, the hotline is a step in the right direction.
On a phone call with the Cut, Sadie Dupuis, the band's guitarist and vocalist, explained that the idea for the hotline was inspired by seeing people in the crowd being harassed, as well as personal incidents of harassment she had experienced. At one of her recent shows, Dupuis "went out in the crowd for like an hour and a half and there were so many different issues of people harassing or touching me, and I was ranting about it to my bandmates. It got me thinking."
The hotline, which debuted at the band's show on Monday night in Ithaca, New York, was an idea that Speedy Ortiz brainstormed as a way to protect their fans. "I've never seen anything like this before," Dupuis explained, "which sort of surprised me. We've had a few people reach out to us from bands that are much bigger than us." After one night in, there have been no emails or texts — which Dupuis says is ideal.
"It could be possible we do this entire tour and nobody will use it. That's great. That means nobody needs it." But even if they do, the hotline will help the band feel more involved in reacting to harassment. "We feel more comfortable knowing that if somebody is having a horrible time at the show, we can do something directly, rather than finding out about it in a Facebook comment later."
The responses to the initiative on Speedy Ortiz's Facebook page have been numerous, and the band dove into the comments to answer questions and concerns, like: What if a tall person had waited in line for ages to get into the show? (The flyer encourages taller people to make way for those with a height disadvantage.) Speedy insists that the whole thing is a "work in progress."
But Dupuis feels confident that the hotline is a good place to start, and other bands have been in contact with them about borrowing the idea for their shows. As for the hardened punks who will claim that all of this is too p.c., Dupuis isn't worried. "Common sense and decency prevails," she told me. "We're not responding to the people that say that punk rock should be about whatever. Don't come to the show. We want our shows to be open to people who care about each other."