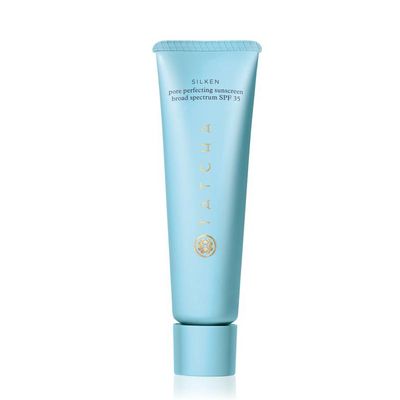 There's not much pleasure to sunscreen: No one really luxuriates in massaging a fine layer of chalky white UVB-ray protectant onto their skin. Is it even possible for a sunscreen to be elegant? If so, Tatcha's new sunscreen might just be the Cate Blanchett of sunscreens: It's sleek, silky, and elegant in its functionality, making the experience of applying broad-spectrum sun protection as enjoyable as it can be.
The sunscreen's light gel formulation feels neither greasy, chalky, creamy, nor oily. And it lacks the ghostly cast of many sunscreens, going on the skin with total translucence. (It also has a light, pleasingly innocuous smell that doesn't come from synthetic fragrances.) It took over 100 formulations before Tatcha CEO Vicky Tsai and her team were satisfied with the product, which doesn't contain mineral oil, aminobenzoic acid, homosalate, oxybenzone, or octinoxate. Best of all, it doubles as a primer, smoothing skin without silicone and giving a powderlike finish that still contains oil and provides a nice grip for your foundation or BB cream to follow.
Tatcha Pore Perfecting Sunscreen, $68 at Barneys and Tatcha.