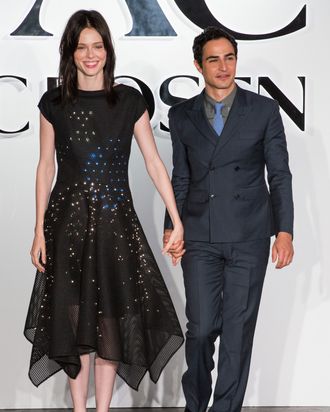 Photo: Presley Ann/Patrick McMullan
"I'm missing my first AP physics class to be here. I told my teacher it was for a fashion show. He was kind of like uhhhh," 17-year-old Brianna Genova told me while snapping pictures with her friends at the ZAC by Zac Posen show today. As far as playing hooky goes, this was actually a noble reason to miss the first official day of class. Genova, who spent seven weeks mastering code at Girls Who Code this summer, was one of the teen girls who contributed to the overall technology that powered the final look at Posen's show today.
In conjunction with Google's Made With Code program, Zac Posen, and several other code academies in the city, like Girls Inc, girls ranging from 11 to 18 were given an opportunity to collaborate on a fashion-tech project. Using technology developed by Maddey Maxey, the first fashion-oriented Peter Thiel Fellow, students could log onto Made With Code and select a mysterious LED-based project. They had one day to master the necessary skills, and complete and submit their work.
The girls had no idea what they were contributing to but were hugely excited to find they had helped design a surprisingly attractive piece of wearable technology: a dress that combined Posen's inspiration (Los Angeles city lights on Sunset Boulevard) with their coding skills. And, bonus: Not only did they get to have a hand in designing the LED patterns, but several lucky students got to attend the show and witness the moment when Coco Rocha sauntered down the runway in the dress they had helped create.
"This was simple compared to what we had to do all summer," joked Aviva Wong, a 17-year-old in the same Girls Who Code class.
Many of these girls consider coding part of the necessary toolkit, and weren't intimidated by learning it. "People think coding sounds so hard. I kind of did too. But I found that coding is not that hard! It's just like math or English, you just have to learn it," said Jenny Zeng.
"And," added Wong, "there are so many fields where coding is relevant. I can do so many things."
"I never considered fashion and coding, though," added another girl. "If coding continues to be a part of fashion — and I think it will — I would totally do it. I never thought I was creative enough."
Attendees seemed to agree that the question wasn't whether girls should learn to code, but where they should take their skills once they've developed them. New York First Lady Chirlane McCray, who says her own coding skills are "pretty good," said, "There is so much potential here. They could feel it. They look ready to go off and code more."
For his part, Posen said he wanted his design to act as a showcase for the "magical possibility of young women's creativity." He partnered with Google because he wants to help inspire girls to get involved with tech. "It's crazy that there is such a discrepancy" between men and women in tech, he said.
After speaking to several of the young women in attendance, it sounds like that discrepancy might be shrinking. "There are so many programs that are inspiring girls to become coders. In the next 10 years, girls are going to dominate. I'm so okay with that," said Genova.