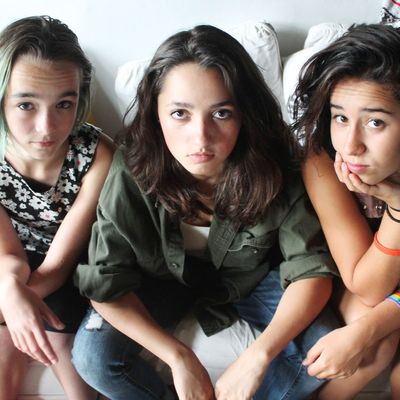 Kalliope Jones.
Photo: Kalliope Jones/Facebook
Kalliope Jones, a three-piece rock band based out of Pioneer Valley, Massachusetts, took third place in a local battle of the bands —  which they were fine with. But they did have an issue with one of the judges telling them to "use the sultry to bring in the crowd" while at the same time docking them points for showmanship. As the band noted on their Facebook page: "WE ARE CHILDREN! WE ARE 14-16 YEARS OLD."
The Facebook post goes on to say, "We then asked if they had made similar comments to any of the bands that were made up of only boys. They said, 'Oh, no. It is a completely different thing.'" The young women noted, "This conspicuous act of sexist and stereotypical thinking was deplorable and pathetic." The anonymous judge's score sheet had concluded with an eye-rolling "Chicks rock!" 
The following day, the band clarified that they didn't want to stir controversy or "demonize" the event. "This is actually the first time we have encountered any of the stereotypical objectifying sexualization of women that is so common," the band wrote. "We had been warned about it, but never experienced it. We wish to be judged solely on our musicality, and not on our appearance or sexual appeal." 
A report on MassLive says a spokesperson for the organization behind the battle of the bands could not be reached for comment, but the three young musicians — Isabella DeHerdt, Alouette Batteau, and Amelia Chalfant — have since written a formal letter of complaint and are awaiting a response. The judge was right about one thing: Girls do rock.