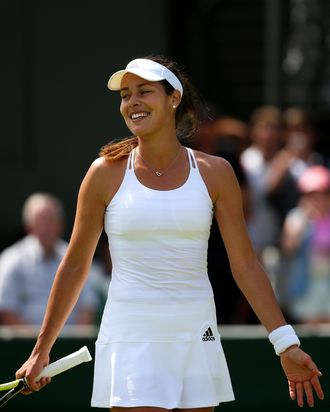 Ana Ivanovic.
Photo: Ian Walton/Getty Images
Serbian tennis star Ana Ivanovic started playing when she was 5, after watching Monica Seles. Rumor has it that she used to practice in an abandoned Olympic-size swimming pool because no tennis facilities were available during the Kosovo crisis. She's now seventh in the word, according to the WTA rankings, and she just signed on to be the new face of Shiseido's WetForce Ultimate Sun Protection. The Cut spoke to Ivanovic about how she recovers after a match, her favorite protein bars, and her tips on coping with jet lag. 
How I start my day: I wake up, put music on, and make a coffee for myself. I like it black in the morning and then later on, more like a soy cappuccino. Then I come back to bed, check my phone, and catch up with people in different time zones. After having coffee, I'm ready to get up and wash my face, brush my teeth, get dressed, put on some sunblock, and go out for breakfast or training.
For breakfast, on a match day, I will obviously take more care because I don't want to get an upset stomach or have too much heavy food. So I just keep it simple: eggs, or toast or porridge. Typically, for breakfast, I eat oatmeal most of the time. I like eggs Benedict, so like poached eggs, or an egg-white omelet.  
How I sweat: I don't like weights much even though I know I have to do it for my sport. I love to run. When I'm with my friends, I love to play volleyball so that's like cross-training. I like biking, too. Many times when I'm in the city, I rent a bike and just go around a little bit. It's a good way to see the places.
Wellness to me means: Taking care of my body. It means a lot to me because I have a lifestyle where I travel to a lot of different time zones and food conditions and have to compete on a high level. You really have to take care of your body, your mind, your food as well. It's very important to listen to my body, to what I need. But I always try to find time for myself.
When it comes to recovery and rest, I've learned how much I can push my body and mind and how much I can't. Sometimes it's much better taking a half an hour or an hour rest than pushing and doing things that are going to be counterproductive. As far as food goes, I always try to be healthy. But if it's something sweet, I always try to allow myself, because if you block yourself, it has the opposite effect. You become angry and cranky, and we all get angry if we are hungry and deprived of food.
On food: I can't obsess about food. I know some people are counting and thinking, Oh my God, I can't have that. It actually takes more out of me than not doing that. I just go by what I feel. There are periods when I have maybe a little bit more, a little bit less. But it's all about moderation. I drink water. I don't drink any like soft drinks. I like natural juice, like freshly squeezed grapefruit juice.
When I'm competing I like to have simple foods like rice and fish with only a little bit of sauce because we're competing in heavy and humid conditions. You need to have electrolytes in your body. I just avoid too much sauce or anything that is fried or heavy. Also, sweets are usually not so good because they spike up your blood sugar and then they bring you down.
When I'm playing, I always have an apple, bars, and energy gels next to me. If the match before went on too long and I didn't have enough to eat, a bar gives me more substance. I like the Vega One bars. I wouldn't use Quest bars on the court, but more when I travel. They're yummy — they're like a dessert. I like the new Oreo and banana nut one.
How my wellness journey has changed: I've become more aware about certain diets or recovery. With age, my body doesn't recover as well now as it did ten years ago. We are constantly under lots of pressure, so I take lots of time to recover and do all the things I need for my body to be in the perfect state to compete the next day.
After heavy matches and sessions, I do ice baths for muscle recovery. It's scary to start with but it feels good after. We have them in the locker room at most of the tournaments, but if not, I do it with my trainer or my physio when I'm back at the hotel. I get massages almost daily. Sometimes I fall asleep during the massage, but it's very important to have deep-tissue massages because that type recovers muscles best.
My wellness struggle: When competing a lot and traveling, I have problems with my lower back because I'm always on the plane or sitting. That's something that does bother me from time to time, but I try to stay on top of it.
On beauty: I start by putting on  Shiseido's WetForce Ultimate Sun Protection as a first step; it's usually the first thing I do when I wake up. Before a match, I also apply my sunscreen so it has time to absorb. Then I will do my hair and start warming up for the match. If I have an event, I will wash it every day. If not, I will just dry it and then wash it the next day. Because sometimes a match ends up finishing so late, I have no energy to wash my hair.
I normally use Moroccanoil, so it keeps my hair moist and not too frizzy. I also like to do face or body scrubs. It gives a little circulation and makes me feel more relaxed. Sometimes I take baths but there isn't always a bathtub at the hotel, so it's not always possible.
On coping with jet lag: It's important the first few days to try and stay up until at least nine in the evening, so at least you can sleep until 4 a.m. or 5 a.m. the next day. Also, get on the meal schedule. Even if you feel like dinner when it's breakfast time, you should eat breakfast, and you should get straight onto the meals of the time zone you're at.
My wellness advice: It's very important to take care of yourself. Everyone's lives are so busy. Take at least an hour a day to recharge and do whatever makes you better. For grown-ups, whether it's a spa, sitting in a park with a book, or coffee, take time for yourself.
This interview has been condensed and edited.