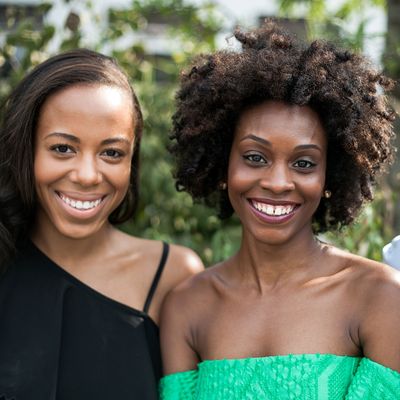 For over a decade, Parisian makeup brand Black Up has been providing French women of color with luxury beauty products, and starting today, it's officially available at Sephora. While brands like Milani and Iman have concentrated on foundation shade matching, Black Up is the first makeup company solely dedicated to enhancing darker skin tones.
Black Up offers an assortment of primers that target oily and combination skin — crucial for women of color, who often need more mattifying and skin-tone-evening products to help with pigmentation. Their contouring stick is specifically designed for darker skin and comes in five different combination shades ranging from light to rich ebony. Their blushes also come in warm pigments, but with a high concentration of color to better show up on darker skin. And unlike major makeup brands, which often make the mistake of formulating darker and lighter shades in the same way, Black Up has perfected over 30 foundation shades tailor-made for women of color, with luminous undertones of red-copper, orange, and yellow-gold to give you radiance without ashiness.
To welcome this French import to the States, the Cut's editors and a friend — all with different skin tones — tried out a variety of Black Up products. Here's what we learned when we tested them out.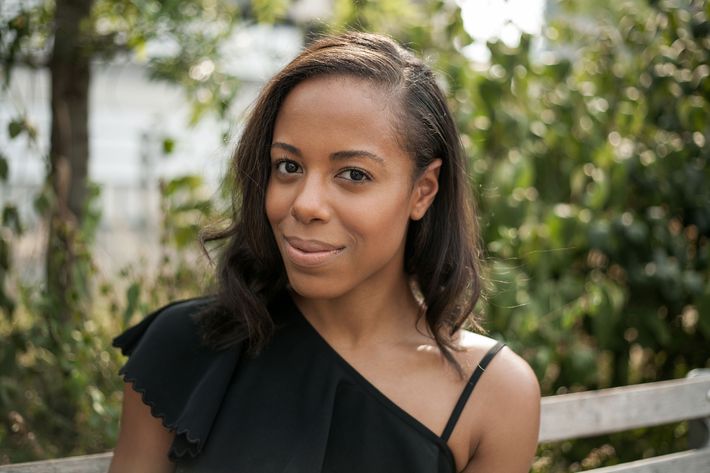 Ashley Weatherford, Associate Beauty Editor: Ignoring nearly every bit of professional makeup advice offered on the Cut, I decided to try contouring my face. Black Up's Contouring Stick made it easy enough that I no longer believe the technique should be left to the pros. The contour (dark) side of the stick blended so seamlessly into the nook under my cheeks and around my forehead that I virtually became one with the Kardashians. And in a common theme among the Black Up cosmetics that I used, the undertone of the contour stick fell more to the yellow or golden side, avoiding the rusty-red undertone that's routine in makeup for women of color, but never actually matches my skin.
I always camouflage the dark circles under my eyes with a color-correcting formula, and today was no different. Picking up Black Up's Magic Concealer Palette, I patted the yellow-colored wedge under my eyes. The yellow is perfect for my tone since it has a golden-brown base that warms up my natural yellow undertones. Creamy but light, it didn't creep or cake like some under-eye concealers, and it made my circles vanish.
But I think the crown jewel of the line is the Mattifying Fluid Foundation. An ultralight liquid that dries somewhere between a matte and satin finish, it glided over my helplessly oily skin with such precision that I couldn't tell where my skin ended and the product began. It's the kind of invisible foundation that makes people compliment your skin instead of your makeup. To set the foundation on an especially balmy day, I dusted a small amount of Black Up's light-as-air tinted Loose Powder over my shiny spots, mainly my forehead, nose, and chin.
Rodebjer Top, $400 at Rodebjer.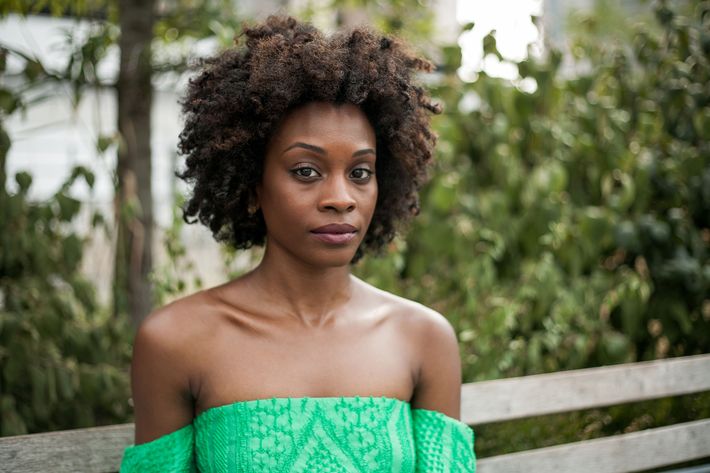 Alyssa Francois, Freelance Fashion and Beauty Editor: For coverage, I started out by applying the Mattifying Fluid Foundation in 14 all over my face. This foundation is great and a little goes a long way. I liked that the foundation had a slight orange tint instead of the harsh red undertones that most makeup companies go for. Then I blended a little of the Sublime Powder foundation in NPS 05 for a smooth finish. To contour and cover dark spots I used the Contouring Stick, applying the darker shade below my cheekbone to contour and the lighter shade under my eyes to highlight my eyebrows as well as my nose bridge. This contouring stick glides on very smooth, and kind of melts onto your skin like a butter, making it very easy to blend in.
For my cheeks I used the Color Splash Blush in 10, which is a hard shade to find. It's a chocolatey-raisin hue that looks like brown with slight maroon undertones. I usually have to mix two or three blushes to get this hue, since I need a tone that enhances my skin but is bright enough to show up on my own chocolate complexion. To add a bronze glow, I used the Two Way Cake Powder in TW 15B on the bridge of my nose and my cheeks. This product is unique to Black Up since it combines a subtle bronzer with a matte foundation.
I'm not the biggest eyeshadow person because I never know which shades to mix, but the Eye Shadow Palette was a no-brainer. The colors perfectly complimented one another and could be used alone as well as together. To line my eyes I used the Waterproof Smoky Matte Pencil in MS03. It held up well in the heat — no smudges. My eyebrow process usually involves mixing dark brown and black eyebrow pencils to outline and shape, and an eye shadow to fill in. This Perfect Eyebrow Stick did both! It applies like a light lipstick, and I loved the creamy texture and the ability to set those unruly hairs in place.
To wrap up, I lined my lips with the Lip Crayon in JUM 16 and applied a fuchsia-hued Lipstick in 21 for a smooth satin finish.
Rosie Assoulin Top, for more information visit Rosie Assoulin.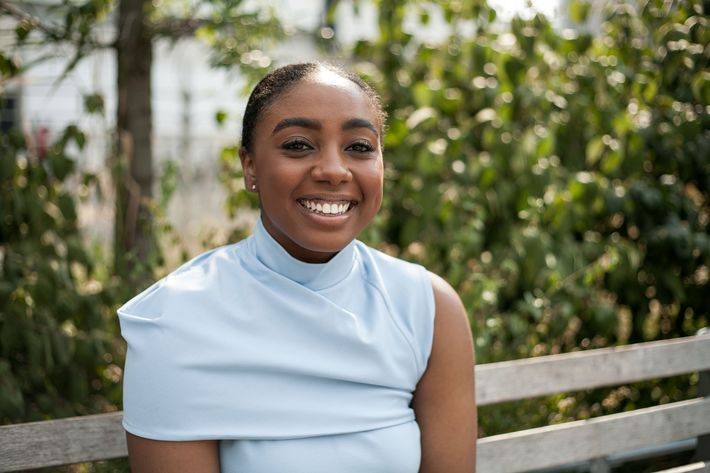 Lindsay Peoples, Associate Fashion Editor: I started out with the Perfect Mattifying Primer since I usually get shiny. I loved the texture and the fact that it made my pores look microscopic. It's more of a gel, which I prefer since it sticks to the skin without making me sweat more. Then I used the Radiance Concealer in NCOS 04 to cover up any blemishes under the eyes, and finished with the Loose Powder in PL14 to make everything blend nicely. Though I'm no beauty editor, I know my skin tone and have become very adamant about only using foundations that have a yellow base, since ones with a red undertone make me look sick and ones with brown undertones are too dark. Finding my right tone is still a process of trial and error, but I found the perfect Black Up shade for my skin within a couple of minutes.
I have no idea how to contour, but I like a little color on my cheeks so I used the Sublime Powder in NPS 03 in an upward motion, and blended with Color Splash Blush 07 to warm it up a bit. The blush is definitely one of my favorite products, since it's hard to find a bright enough color that doesn't make you look ashy or like a clown. This one had just enough pigment to boost the color on my cheeks.
For my eyes, I loved the Smoky Waterproof Eye Liner in black. It was easy to apply on both my top and bottom lids, and I liked that the black was actually charcoal — dark enough to pop against my skin without applying a crazy number of layers. I finished with another gem, the Perfect Nude Lip Balm in color 4. I have been searching for a lip balm that's somewhere between super glossy and dull matte, something that gives me just a hint of color and keeps my lips moisturized. I think this just may be the one!
J.W. Anderson Top, $240 at The Outnet.