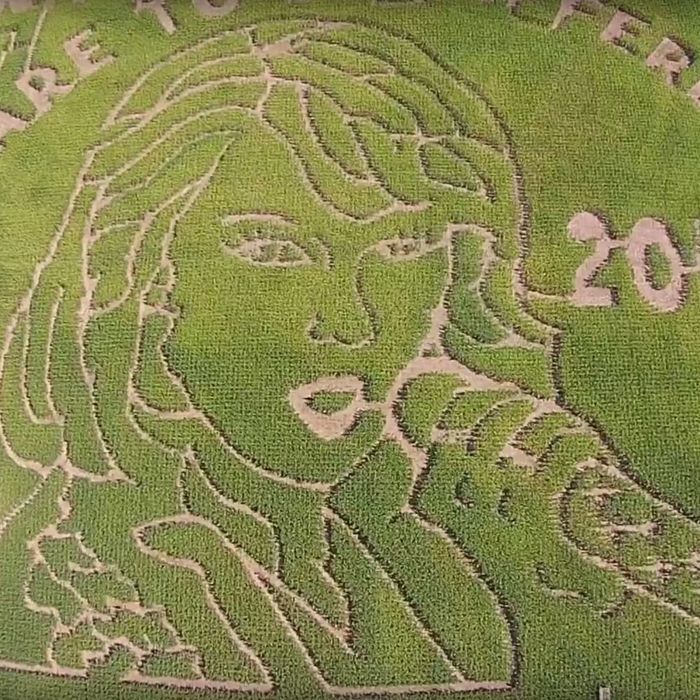 Each fall, when the leaves begin to turn and children start to dream up their Halloween costumes, Jeff Greenwood turns his farm into an Autumn Wonderland, complete with an epic corn maze. In fact, Summers Farm is known for the creations carved out in its 12 acres of cornfields. In past years, the farm has created sports logos, the American flag, and a portrait of President Obama. This year? Taylor Swift.
Greenwood told USA Today why T. Swift was this year's corn muse:
"She's a great role model, not only for the youth but for people in general," he said. "She's real and honest and does the right thing and she's true to herself. And we felt that she's a person that we felt really felt good [bringing to] our customers. So we thought, there's no better way that we could ever honor her and what she's done for the world than to put her in our corn maze."
Taylor has since Instagrammed her support of the corn portrait. But after watching this aerial video tour of the maze, we couldn't help but notice something:
Now, we don't mean to smut-up a great autumnal tradition, but when you look at this porn maze — I mean, soft corn maze — wait, that's not right — corn porn, no, I mean corn maze — what does that thing in Taylor Swift's hand kinda look like?*
* The answer is a penis.