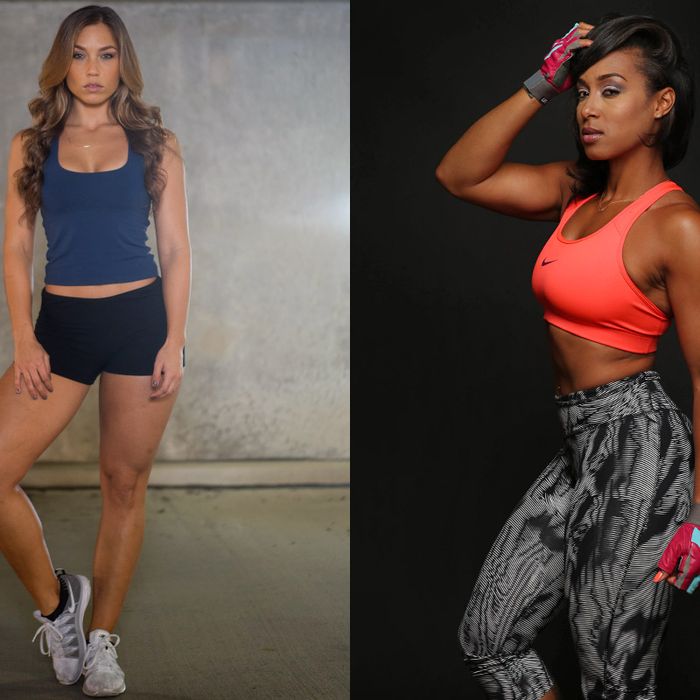 Photo: Courtesy of Nicole Mejia, Courtesy of Lita Lewis
The hashtags #ThickFit and #FitAndThick accompany thousands of Instagram posts: gym selfies, home-cooked meals, side-by-side progress pics, round butts in thongs, and ads for supplements, waist trainers, and slimming wraps. The juxtaposition of proud, curvy women sharing their personal journeys and Insta-marketers seeking to capitalize on lurkers' insecurities is jarring, even if it's unsurprising. Yet the fact that women are sharing these photos at all makes Brooklyn-based trainer Lita Lewis excited.
Lewis, a former bodybuilding figure competitor, said her muscular legs made it hard to fit into the judges' concept of the ideal female form. "My coach would always say, 'All right, baby girl, we just gotta keep fighting those genetics.' I hated that," Lewis says. After she stopped competing and was looking for inspiration for her workouts, she was sad and frustrated not to find anyone whose body she could relate to in magazines or on TV. While there were professional athletes she admired like Serena Williams and, more recently, Ronda Rousey, their bodies were often critiqued.
People reacted similarly to Lewis's early Instagram photos, calling her "manly" or "way too muscular." So she decided she would celebrate her muscles by adding the hashtag #ThickFit to one of her photos about two years ago. "It was announcing my own definition of self," she says. "It was owning my beauty and my body and my curves and my strength." In the process, she offered herself as another example of what being "fit" looks like, beyond tall, spindly models — which, as a woman of color, is a body type she says she can't identify with.
It seems that lots of women could relate to Lewis's body, or her message of self-acceptance, or both. She has amassed nearly 300,000 followers on Instagram and teaches outdoor boot-camp classes in Brooklyn and other cities around the country. Women are embracing the concept for themselves: There are more than 140,000 photos tagged #ThickFit, though Lewis recognizes that not everyone may want to look like her. "I'm not trying to preach that we should all look like superheroes or CrossFit athletes, but this notion of 'I've gotta be skinny' and 'I've got to fit in a certain size' is now somewhat in the shadows," she says.
Nicole Mejia felt those pressures as a model in Miami whose full hips and slim torso didn't fit any of the niches in fashion or fitness. She had no desire to lose weight, so one day she wrote on Instagram that she was #FitAndThick and proud of it. "It was just me saying, 'I don't give a crap about what you think of what I'm doing or my body type,'" she says. "For a Latin woman or a curvy woman [my shape] was definitely more of a realistic fitness goal."
Her follower count skyrocketed (it stands at 1.3 million) and Mejia, who was already pursuing a trainer certification, founded Fit and Thick in late 2013. The brand encompasses a fitness class, a nine-city tour, and merchandise like shirts that say "Thick But Quick." "It's really become an outlet for women to accept themselves," she says. "They'll say, 'Now that I see you rocking it, I can do this, too. I feel confident to go in the gym and work out.'"
It's that attitude that both women stress is more important than outward appearance. "A lot of people make the mistake of thinking it's just linked to what the physical is — being thick — but it's so much more than that," Lewis says. "It's about taking full ownership of the skin we're in and the bodies that we're born with, and really learning to love that body unconditionally.
"What I'm trying to teach is real athleticism versus trying to look cute in a skimpy bikini and talking about abs and waist trainers and creams, or teaching women that they can do 1,000 donkey kicks and grow a butt."
Loving yourself is not mutually exclusive with wanting to look good, but you'll never be happy if what you want is to look like someone else, Mejia says. "You can improve your body and you can get a great butt for your body but … it's about achieving the best possible version of yourself through health and fitness, not the best version of Kim Kardashian," Mejia says.
For Lewis, #ThickFit and her Body Blast Bootcamp is a larger platform to get more women moving, especially women of color who comprise the majority of her audience and face higher rates of heart disease and diabetes than their peers. "Some people think that in order to be an active person you have to already look a certain way. So a larger girl or somebody who needs to lose 20 or 30 pounds says, 'Oh, that's not for me.' Well, 'Yes, honey, it's actually more for you than anybody else.' We want to get out of that red zone of being high risk for diabetes and heart disease," Lewis says.
Speaking of who it is and isn't for: There's no minimum thigh circumference to take classes with Lewis or Mejia. Not only is thickness self-defined but the overarching idea is for women to accept themselves as a part of bettering themselves, no matter their size. "What #ThickFit is to you is different from me," Lewis says. "A woman half my size might say, 'Yeah, I'm thick fit,' and I'm like, 'Girl, yes you are. You are whatever you claim you are.'" Lewis says she's never surprised when objectively slim women join her workouts: "They're empowered by the movement."
Mejia also welcomes every body type. "We just came out with a shirt that says 'Tiny But Mighty' and a lot of girls were like, 'Yes, finally, a shirt that's about being small and awesome.'"
Lewis says women are embracing strength training and moving like athletes. "What that type of training translates into physically is a much more muscular [body], a sense of strength in one's physique, that is becoming somewhat normal. And that to me is really exciting."