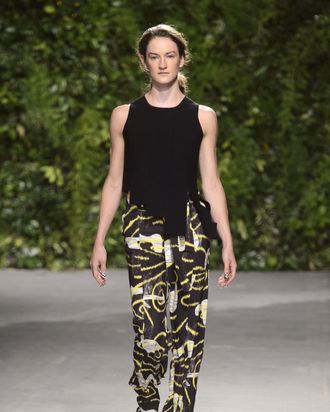 More than a few chivalrous audience members got faked out at Opening Ceremony's show last night. Humberto Leon and Carol Lim, never ones to shy away from the "put on a show" impulse, collaborated with choreographer Justin Peck and dancers from the New York City Ballet who were secretly embedded into their model lineup. As the show began, several of the dancers turned models executed fake falls, which then melded smoothly into balletic choreography. One of the dancers, Megan LeCrone, spoke to the Cut about how hard it is to fake a realistic fall and why being a model is easier than being a ballerina in at least one sense.
How did you get involved in the show?
Every fall the company will premiere new work, and we try collaborating with designers on the new ballets. Justin Peck — who is in the company and has done several ballets for New York City Ballet as a choreographer — has a new ballet premiering in a couple weeks, and he was matched with Humberto Leon for the costumes. And I think Humberto thought it would be cool to bring some dancers over for his show.
So was the idea, since models fall so often during these shows — at Givenchy just the other day a couple of people fell — was it a little bit of a play on that?
Yes — in any performance, even in ballet, that's the last thing you want to happen, and when it does it's kind of like that moment when the audience holds their breath or, maybe, in a fashion show, they try to help the girl up. I was actually one of the first fallers, and we had to make ours really, really realistic.
It's hard to do a realistic fake fall!
Right, because you don't want it to look safe, but then you don't want to hurt yourself. You're hovering on this balance, so we worked on it a lot, actually. The way we were spaced around the runway, if the first person fell, not everyone saw it, so they tried to give each part of the audience one person falling who just fell and got up, and then they didn't really know it was supposed to happen. Not until more people starting falling, and even more people starting falling, and then they would add a dance to it.
Were you able to gauge people's reactions as you were doing it or was it hard to pick up on what the audience was thinking? Did you see people going, "Oh no!"?
I was so focused that I didn't notice people trying to help me. I didn't even hear gasps or anything because I was just really focused on what I had to do. But I had a couple friends at the show who said they saw people trying to help me get up, but I got up so quickly they thought it was an accident.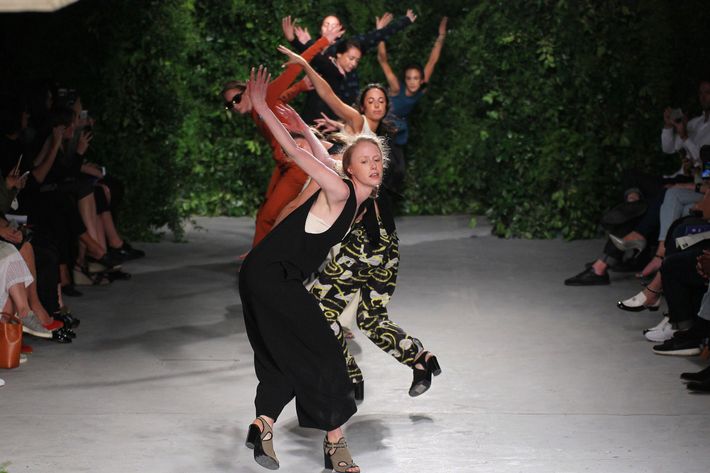 What were your impressions of the show? Is it your first time participating in a fashion show?
It was so much fun. All l the models were so nice and just really excited to have us there. They were cute, like teaching us how to walk and stuff.
Were you starstruck by any of the people there?
They told us not to look or make eye contact with people. They were like, "you just want to look straight ahead and ignore the cameras," so it didn't really faze me. I found out later this morning, because there was so much Instagram-posting, a video of me dancing and I'm in front of Kelly Osbourne and Kylie Jenner. At first, you can't tell if they like it or not, and then I start to do this little hip-hop move and then they start clapping. But we have a lot of well-known people come to the ballet so I think as a performer it's just something you get used to.
Was there anything that surprised you about how a fashion show works, or the atmosphere, backstage?
Because I'm coming from a theater — and not just any theater, a ballet theater — I was subconsciously making comparisons to what the backstage is like. We are taught to do everything on our own, so we sew our own shoes, we're trained how to do our makeup and hair, but once we know how to do it, we do it ourselves; we provide all of the products … we have one or two people that will help us, if it's an emergency, but we are getting ready for a show every night and we kind of have to do it. And for this — it was so nice — we didn't do anything! There was someone there to tell you exactly where you needed to be and when. I had a person doing my nails, while someone was doing my hair, while someone was doing my makeup and then someone else was doing a pedicure, and I was like, "This is so easy and amazing."
What did you think of the collection? Were you into the clothes?
I thought it was very functional. Some of my favorite pieces were the dresses — I mean, it's a New York collection, it's very everyday. It's not going to be something that you can't see yourself in on the street, and going out; and I knew that, so I wasn't expecting something totally crazy and over-the-top. But I loved some of the prints, and the looks that we wore — obviously, we had to be able to move in them. One thing that was really nice was the shoes. They were the most comfortable shoes I've ever worn. The accessories were cool — I think only one dancer wore sunglasses because there was kind of a discussion about whether they would fly off during the falls, and during the dancing, but I didn't wear any — but I changed right by the accessories people and all the sunglasses are really, really cool. So those are my favorite parts of the collection: the shoes, the sunglasses, and the prints.
Humberto and Carol really enjoy doing these atypical kinds of shows.
[Humberto] was like, "Sometimes I get criticized that my show overpowers the collection," and he was like, "You know, I can't please everyone and if I'm happy with my work, then I send it out and I know it's good." I was like, I'm going to think about that during my performances because we're also criticized. There's press, and you're constantly being cast for different roles, and it's kind of like a daily audition at New York City Ballet in a sense. 

This interview has been edited and condensed.