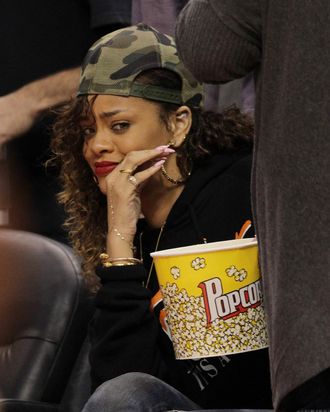 Rihanna.
Photo: Noel Vasquez/Getty Images
If you're a Rihanna stan (or even a passing admirer of her cool-girl attitude), it's likely that you've spent some time wondering what young Robyn Fenty was like as a teen nervously starting high school, or a preteen navigating the ills of middle school. It's fine, we have, too. Luckily, in a new cover story for NME, Rihanna gives us a little insight.
She tells the story of when she and her best girlfriend were 11-year-old army cadets, growing up in Barbados. "We'd have to give trouble in order to enjoy this discipline we were getting," she remembers. "And we'd refuse to do push-ups when we were punished. It was a question of: why just do it? It was so boring to follow the rules."
Man, it sure looks like our Robyn hasn't changed much. But did you know that her drill sergeant was Barbadian pop star Shontelle? The more you know.