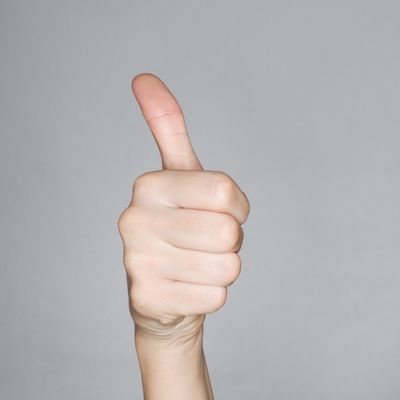 Photo: Gregor Schuster/Corbis
Every so often, a potential match appears on Tinder who is so remarkably attractive, so shockingly normal, and so totally non-despicable that a standard right-swipe will not do.
For these rare cases, Tinder is introducing a "Super Like"option — first in Australia and then in the rest of the world. Users are allowed one (1) Super Like a day. To activate, Tinder-ers simply swipe up, instead of right. Then, when the Super Liked person stumbles upon an admirer's profile, they will be notified by a blue banner at the bottom that basically says, HI HELLO I LIKE YOU SO MUCH I BET YOU SMELL GOOD WILL YOU LIKE ME PLEASE.
Presumably, when presented with this naked display of desire, users will be more inclined to swipe right.
The very eager Super Like, or "Swipe Up," is "a more powerful signal, conveying an especially high level of interest. People like to know that someone finds them special, and we think this will lead to even better matches," Tinder CEO Sean Rad told Wired UK.

High level of interest? Or extreme thirst?