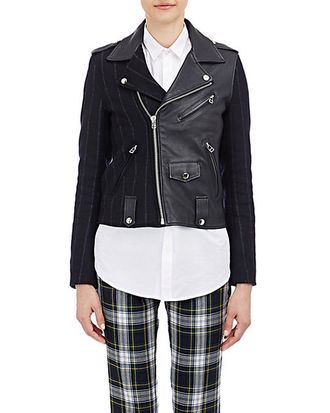 Every Friday at the Cut, we're highlighting one great purchase, for which it's absolutely worth eating ramen noodles for the rest of eternity. If you're looking for cheap thrills instead, check back every Monday for a fun pick-me-up that will still leave you enough cash for dinner.

In the rare event you're forced to choose between a leather jacket and a pinstripe blazer, why not compromise and wear both? The Paris-based multimedia art collective Each x Other has you covered. They've paired up once again with British artist Robert Montgomery to translate their relaxed aesthetic into a special collection of unisex items, including this felted-wool-and-lambskin motorcycle jacket, which features a photo print of Montgomery's artwork in the lining.
The jackets are limited-edition, so if you're able to get your hands on one, you can count yourself among the lucky few. Wear it over a white dress shirt and patent-leather loafers for a gamine appeal, or get one for you and your boo and rock them together.
Each x Other Robert Montgomery Wool and Leather Jacket, $1140 at Barneys New York