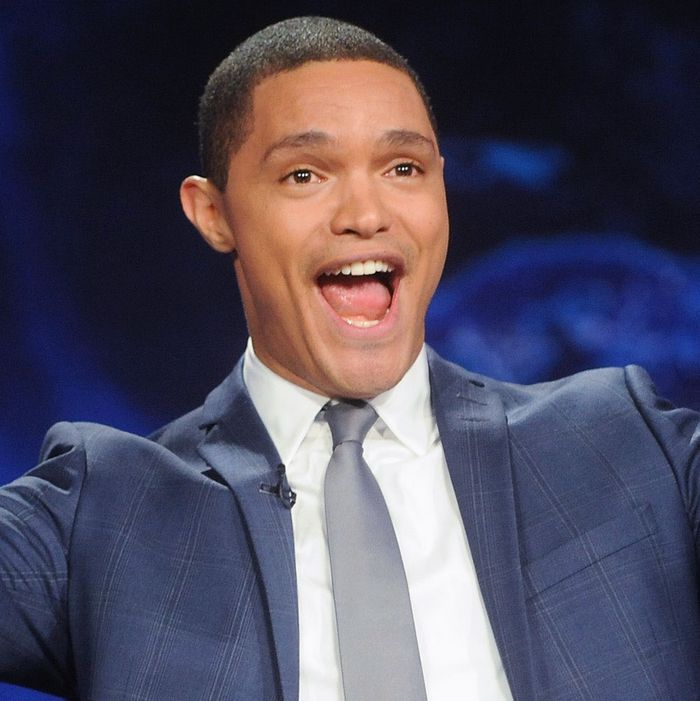 Trevor Noah.
Photo: Brad Barket/Getty Images
Last night was Trevor Noah's first official go as the new Daily Show host. He may think of it as a landmark in his career, but we will remember it fondly as the night we collectively lost our Trevor Noah virginity. His debut was successful — including a stellar interview with Kevin Hart — but was it hot? Was it sexy? Let's assess.
His South African accent was adorable. (I mean, did you hear the way he said Volkswagen? An eargasm.) His smile gleamed, and he made an unexpectedly sensual (to me) papal penis joke about five minutes in. Most important, this marks the first time we had prolonged exposure to Trevor Noah Dimple Display (TNDD) — a full 30 minutes of dimps. If I'd taken a shot for every time he sexily flashed those cheek-winks, I'd be in the hospital with alcohol poisoning this morning. Instead, I'm just drunk in love, Beyoncé-style.
In summation: This was a triumphantly hot start, Trevor Noah. Stay dimpled.