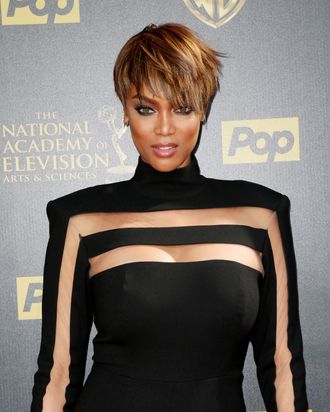 Tyra Banks.
Photo: Frederick M. Brown/Getty Images
Ready for this Tyramail? Tyra Banks is making a return to daytime television with a new talk show, FABLife, featuring lifestyle correspondents like Chrissy Teigen and Joe Zee. The show debuts September 14 on ABC, and in the meantime, Banks talked to the Cut about why she loves the morning, her favorite way to eat frozen dinners, and what it means to be a leader. 
How I do mornings: I start my day very early, around 5 a.m. I try to leave my phone in my kitchen downstairs so I'm not leaning over, blurry-eyed, looking for it first thing in the morning. Fifty percent of the time, I wake up and look at it. Fifty percent of the time I'm trying to think of something positive. I make sure I eat breakfast, which is usually two scrambled eggs and black coffee, which is what I've had for probably the last five years. Sometimes instead I'll do a Greek yogurt and a sprinkle of granola or some berries in a smoothie.
But I'm obsessed with the morning. When it's nighttime, I'm like, Time to go home. I can't wait to wake up. It's mine, it's my time. The world is not awake yet. Sometimes I like to go to breakfast alone. I do eat it in the house very often, but sometimes, I'll go eat at a restaurant — that's like a massage to me, almost. I'll do a similar breakfast to what I usually get, but I'll usually get some sausage, because I have to be a little naughty.
What wellness means to me: It means taking time for yourself. The world is not just about work and winning. It's a time to recharge, time to be very selfish and turn off. One of the ways I do that is with massage. I love massages and will have my masseuse come to my house. The only thing is that sometimes I'll be getting a massage and words, thoughts, and ideas will be coming in my head. Then I'll spend the entire massage clenching my body to not forget. Now I just tell the masseuse to make sure I have a pad and paper nearby. I might look like a crazy person but it helps me get into my Zen headspace.
On her new talk show: I'm ready to come back and help share and inspire women to start their own businesses. That's my passion, every day. I hunkered down and put my nose to the grindstone at Harvard Business School, learning more about the tools I needed to launch my business. At my new show, we're not going to come out of the box immediately with crazy innovation. The business side of me knows that something that is too crazy can scare people. It's about holding onto the core audience, and the more mature audience, but also shaking things up to get the younger viewers. I think we can confidently continue to push the envelope. For instance, our set has a lot of Pop Art. If Cirque du Soleil had a talk show, it would look like our set. There's a certain fun. But I'm sure a year from now, we'll be different. 
How wellness has changed for me: Wellness used to be a luxury. Now I see it as a necessity. It's everything from eating better to trying to work out. It's hard for me to work out. But I'm going to be able to again. I just took an hour back. On FABLife, we were doing early rehearsals but I'm a veteran, so I don't need to do that. I'm taking that time back to work out in the morning.
As a leader, it's also different. I used to feel like as a boss, it was all about work, work, work and having all the answers. Now I realize it's about hiring people smarter than me. It's still about looking, checking in on them, but empowering them to make the right decisions. Where we work, we have a full gym. I love seeing my team in their sweats and going to work out and hike. I've noticed that they're happier.
It's also important to talk about work/life integration and be honest about how we work now. I've accepted that I'm an entrepreneur so that means I will have to work all the time. But I'm going to go on vacation with my best friend and work with Wi-Fi on a beach. I might work like crazy but I'll take a conference call on top of a mountain with a beautiful view. That's how I'm going to be able to integrate wellness. I love to work and it makes me happy. But at the same time, it stresses me out. It's a demon and an angel.
How I sweat: I lack consistency. I definitely am going to need a trainer when I start again. Otherwise, I am just going to elliptical my butt for 30 minutes and be like, Whew, broke a sweat! But I've gone back and forth. Back when I was a model, I used to run six miles three times a week. But then I would also stop and get  Häagen-Dazs cappuccino ice cream. I would be at the Reebok Sports Club in Central Park and the Häagen-Dazs was right there. I don't know what was wrong with me! But I was just fine. I couldn't do that now. I go back and forth. Sometimes I would care if I did it and sometimes I didn't. I was not worried about being stick-thin. Now I'm the same. I work out a lot or I don't work out.
My biggest wellness struggle is: Eating right. I am very much attracted to food that is fatty and creamy, and it gives me pleasure. I don't have any typical outlets that other people might have — I don't do any recreational drugs or drink alcohol. I need something! So I love to indulge in food.
If I'm really healthy, I get too thin. My body wants a little juiciness. If I were to eat super-right, correct, I would be 50 pounds lighter. Some people like my fashion friends would be like, You look fabulous! Meanwhile others would be like, Girl, you need to eat a burger. It's a balance that I have to find.
How I eat when I'm alone: I like to do two things. I love a healthy, frozen dinner. I know that sounds weird but I like one with a good amount of calories. I then boost it up and add chili powder, oregano, and some steamed vegetables on the side and watch Netflix. Also, I love to raid the minibar in the hotel for anything not chocolate. I just did it last night. I like salt but I also love whipped cream and ice cream and caramel.
My shortcut is: Sometimes, discipline is more important than doing a whole hour workout. So I'll get on the treadmill for ten to 12 minutes. It's better than saying I don't have time to do anything.
My wellness advice is: To get your shape in shape and to try to be the best you. Some women might look at my body and want it, or look at Jennifer Aniston's or Taylor Swift's and want to look like her. See what is the best body you can be by looking at fit bodies that are close to yours. When you're looking at bodies that are totally different from yours, that creates unhealthy thoughts and actions.
This interview has been condensed and edited.