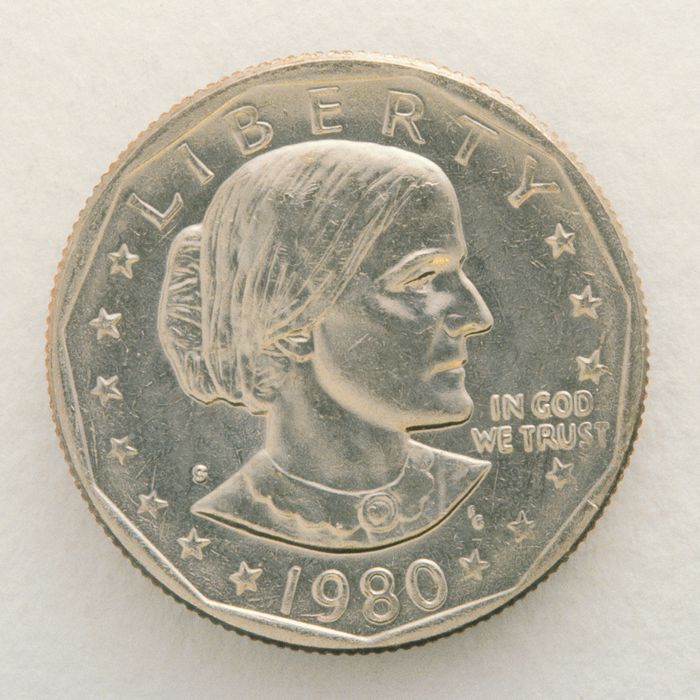 Susan B. Anthony coin.
Photo: 68/Ocean/Corbis
During last night's GOP debate, moderator Jake Tapper asked the candidates which woman they would put on the $10 bill; their answers revealed a lot about what kinds of female humans are considered laudable by the modern Republican Party. Many presidential hopefuls named members of their own families, which says something right there. But the candidates who named historical figures also provided insights into the GOP's priorities for women, as well as some lessons about the way women's history is politicized — and depoliticized — in this country.
Mike Huckabee, Ben Carson, and Donald Trump: My own wife/mother/daughter
All three felt that a member of their own family was worthy of placement on U.S. currency. "You have to be so incredibly deep in the family-values-pandering intestinal tract to do that with a straight face," writes Jia Tolentino at Jezebel. Or you're an aspiring dictator. But citing the stoic strength of women in one's immediate family is a tactic that Democrats have leaned on frequently, too, when they're faced with questions about their gender-equality bona fides.
Remarkably, most families contain women. And most of those women are beloved. And most of those beloved mothers, sisters, wives, and daughters have been expected, at some point, to subsume their own goals and careers in service of the male politicians to whom they are related. I'm not sure this sacrifice makes them worthy of placement on a $10 bill, but they do deserve more than the occasional shout-out when their male family members are looking to burnish their records on women's rights.
Donald Trump, Marco Rubio, and Ted Cruz: Rosa Parks
It was odd to hear Trump, Marco Rubio, and Ted Cruz all say they'd like to see civil-rights icon Rosa Parks appear on our currency, given that the modern-day social-justice efforts did not come up once during their debate. It was also a reminder of how popular history has rewritten Parks as a tired and stoic seamstress, rather than as the radical troublemaker she really was. After the bus boycott, she went on to join forces with members of the Black Power movement, vehemently protest the Vietnam War, and fight against apartheid. Her biggest hero, according to one historian, was Malcolm X.
Could it be that, in naming Parks, Trump, Rubio, and Cruz were trying desperately to signal to Tapper that they wanted to discuss issues of racial justice? Or is it that they don't know much about Parks's politics at all? I'm going to guess it's the latter. But Rosa Parks is still my favorite answer of the night.
Jeb Bush: Margaret Thatcher
Bush, paralyzed by the imperative to name an iconic conservative who is also a woman, managed to forget that we typically put Americans on our currency. He has since walked back his endorsement of the former British prime minister. But he has not named an alternative — he's gone populist. "I would give it up to — on the internet and let people decide this," he told NBC News. Can someone please notify Bush that people on the internet have already decided? Earlier this year, two women created the Women on 20s campaign, and opened it up to online voters, who chose Harriet Tubman. As Thatcher once said, "In politics, if you want anything said, ask a man. If you want anything done, ask a woman."
Rand Paul: Susan B. Anthony
Paul's choice was perhaps the safest because Anthony has already appeared on U.S. currency. Her profile was engraved on a short-lived run of silver dollars in the late '80s, which I vaguely remember from my childhood. (The only other woman who has appeared on American currency is Sacajawea, a Native American who helped explore the American West.) At the time, Anthony was selected for the coin with the support of feminist groups like NOW and the National Women's Political Caucus. When President Jimmy Carter signed the bill authorizing the creation of the silver dollar, he said, "It will be a constant reminder of the continuing struggle for the equality of all Americans."
It didn't quite pan out that way for Anthony. In the years since the currency has gone out of circulation, the Quaker spinster has become a favorite of conservatives. In part, this is because her core issue (that women should have the right to vote) is no longer controversial, but it's also because of her purported anti-abortion views. While some scholars who have studied her life disagree that Anthony was against abortion, the right has seized on this as part of her narrative. They've even created an anti-choice group called the Susan B. Anthony List, which supported mandatory transvaginal ultrasounds and opposed fair pay legislation — facts that have not escaped Paul, who invoked her last night. I suppose Carter was right: Anthony is indeed a reminder that equality is a continuing struggle.
Scott Walker: Clara Barton
Barton, who worked on Civil War battlefields and cared for veterans, is known as America's most famous nurse. Walker, who is the governor of Wisconsin, is known for dismantling nurses' unions in his state with a sweeping union-busting law in 2011. Four years later, veterans' homes in Wisconsin report that they don't have enough nursing assistants to cover shifts. I'm sure Barton would be proud.
John Kasich: Mother Teresa
It makes sense that this notable nun, who devoted her life to serving people who lived in dire poverty, was named by Ohio governor Kasich as worthy of commemoration, given that Kasich has been trying to both appeal to Christian conservatives and make a name for himself as an anti-poverty crusader. But during his tenure as governor, the state's child-poverty rate has actually risen. And Christians don't love his anti-poverty talking points, anyway — which is probably something even a Mother Teresa shout-out can't fix. 
Chris Christie: Abigail Adams
If not for ingrained sexist ideas about women's roles in society, this is a woman who would have co-signed the Constitutional Convention, not merely influenced her husband's role in shaping it. Technically the second First Lady, she was the first to have opinions about politics and policy, and was not shy about letting her husband know. Decent choice, Chris Christie! An only slightly better selection than goth icon Wednesday Addams, which is where most of us thought he was going with his "Adams Family" intro. Alas, Wednesday's views on acknowledging the genocide of Native Americans probably make her too controversial a choice. 
Carly Fiorina: The dudes who are already there
Lest we think that standing onstage among men had turned her into a feminist crusader, Carly Fiorina assured us that she is cool with having men on all of our currency, and would not make an effort to have women represented on it. "I think, honestly, it's a gesture," she said. "I don't think it helps to change our history. What I would think is that we ought to recognize that women are not a special-interest group." Because only members of special-interest groups are represented on our money? Perhaps this was an unwittingly brilliant comment about demographic change in America. The white guys on all of our currency are, in fact, a minority group with special interests. And, as the answers to the currency question and the rest of the debate made clear, everyone onstage was there to pander to them.