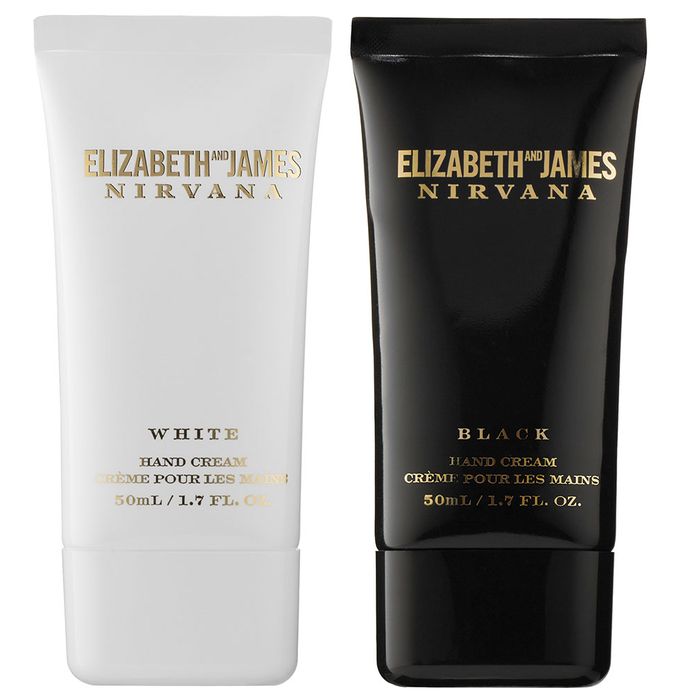 Nirvana White and Nirvana Black.
You could say that Mary Kate and Ashley Olsen are fashion's leading experts on great pairings. Their two womenswear lines, The Row and Elizabeth and James, are retail gems; their two fragrances, Nirvana White and Nirvana Black, are so wildly popular that they've spawned six subsequent variations; and they were born in a pair because a commitment to great twosomes is literally their birthright. But it's their latest launch, in the form of hand creams, that really exercises the twins' muscle at joining two fantastic ideas together.
Nirvana Black and Nirvana White hand creams are the newest iterations of the two scents that make up the Elizabeth and James beauty line. Like the other forms of the line's fragrances — the eau de parfums, oils, solid compacts, rollerballs, and dry shampoos — the hand cream carries on a tradition of two distinct scents that are able to stand alone or combine neatly for a floral and woody union.
But how it smells is just background noise. Where the hand cream really shines is in its ability to squash cracked skin and dry hands. A pea-size amount guarantees instantly soft hands that appear to glisten, as if aided by an oil. It's a surprising effect because the ingredient's list is wholly unimpressive, and lists vitamin E as the cream's sole moisturizing element.
The formula is thick but easy to spread, and it isn't sticky or slippery. The only downside is that initially, the cream is slightly greasy. Ten or 15 minutes after application the greasiness goes away and you can tap on your phone without leaving a shiny fingerprint. The peony scent of Nirvana White or the sandalwood-laden Nirvana Black lasts for hours. What can't the Olsen twins do well?
Nirvana Black and Nirvana White Hand Cream, $15 at Sephora.