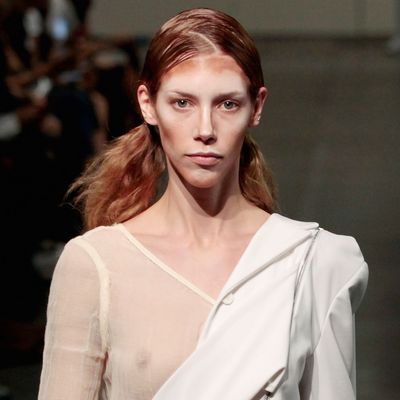 Photo: Joe Kohen/Getty Images
This season, Hood By Air explored the idea of artificial perfection by examining the most divisive hot topic in beauty right now: contouring. If you're one of the 9 million people who's watched this YouTube video explaining how to contour like Kim Kardashian, the look above should seem familiar. Models were given blunt, unblended stripes of stark brown foundation and white highlighter down the cheekbones and forehead. Contouring often uses these stripes as a "before" step — a laborious, unattractive job that you must do before furiously blending everything to emerge, phoenixlike, as chiseled and #flawless as a Kardashian.
Makeup artist Inge Grognard, from M.A.C Cosmetics, explained that designer Shayne Oliver specifically sent her images and YouTube videos of pre-blended contour as references. The collection was inspired by plastic surgery and bandages, and Oliver wanted to further explore the idea of self-alteration in the beauty looks. "Why do young people — who are already almost perfect — think they need that stuff to become even more beautiful? [This look] adds question marks and really fits the collection," Grognard said. Although some may see the look as a joke at the expense of the Kardashians, Grognard was careful to explain that it was not inspired by them. "It's a theater technique," she said.
The hair look, as created by Amy Farid by Bumble and Bumble, continued the scar theme metaphorically with zigzag hair parts, adding an unlikely nod to Friends and the '90s. "If you Google zigzag parts, Courteney Cox and Jennifer Aniston come up, so we decided to make that a reference," she told the Cut. Models were given cheerleader-high ponytails affixed with dazzlingly silver barrettes that said either 69 or HBA. Farid explained that the chrome finish of the barrettes was no accident. "It's a super-shine finish. It's actually super-expensive to make this. Some car-detailing place in Pennsylvania" does it.
The nail look featured literal bandages: Both male and female models were given almond-shaped tips with wrappings around each nails. Lead nail artist Mar y Soul explained, "This girl is fierce. Shayne had the idea for the Band-Aids. It was, 'She messed up her finger. How is she going to deal with it?' Well, she's not going to just wear one Band-Aid; that's ratchet. So she's going to wear Band-Aids on every single finger." Polishes came in white (Sephora's Formula X in White Matter) or a very specific beige (Sephora's Formula X in Acclaimed) to match the clothes.
It's important to note that Oliver and his beauty team aren't mocking or condemning the idea of radically changing your looks through makeup. Much like plastic surgery, our culture tends to discuss contouring with a mixture of shock and shame. Some decry it (along with the Kardashians) as artificial, worrying that the hours spent trying to look perfect can affect a young person's idea of "self-love." Others think it's fun and cite the party line that playing with beauty is a "personal choice," or even empowering.
It would have been easy for Oliver to give this look the Dove ad treatment, "raising awareness" of the work that goes into contouring (as if people aren't already aware) and implying that we should pity those who take it seriously. The models at his show looked strong, not sad, reflecting youth culture and its pursuit of perfection seriously and without judgment.