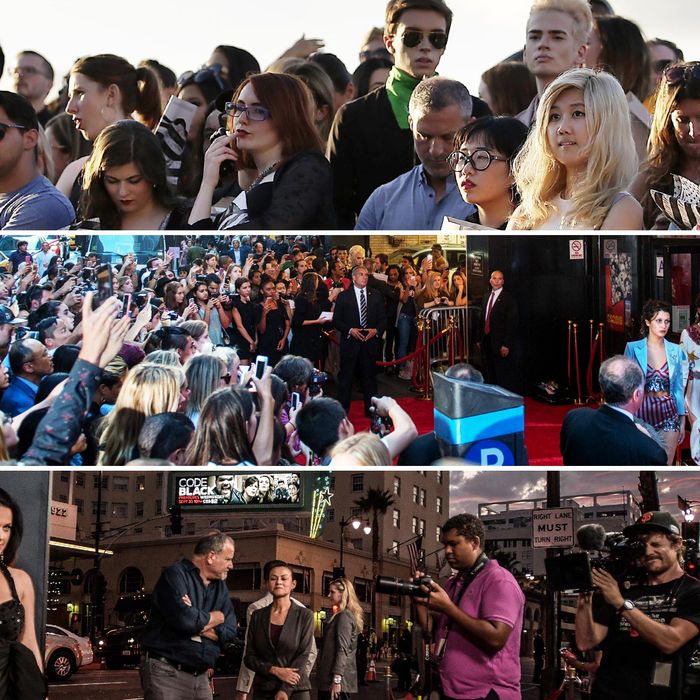 Photo: Joshua Lott/AFP/Getty Images; Bryan R. Smith/AP; Jason Kempin/Getty Images
Fashion has a reputation for being more than a little frosty toward outsiders, and this season of New York Fashion Week hardly marked a reversal of that age-old tradition. But it did introduce some cracks in the haute façade.
For his first-ever Givenchy show in New York, Riccardo Tisci distributed public tickets (including a few hundred that went to students and professors at local fashion schools). Marc Jacobs moved his show from its perennial setting at the Lexington Avenue Armory to midtown's Ziegfeld Theater, where sidewalk looky-loos, iPhones aloft, were essentially extras in the show's faux movie premiere. (On Instagram, photographer Phil Oh called it "kinda open to the public.") And Jeremy Scott, who always makes a point of mixing in some of his enthused fanboys and -girls with celebrities, buyers, and press, came to a theater near you with the wide release of his documentary, The People's Designer, which focuses on his reputation as a populist.
If you weren't interested in catching a Scott matinee, however, you could take in the latest show by Kanye West, who once again chose to livestream his much-talked-about Yeezy collection in multiplexes. Earlier this year, he told Ryan Seacrest, "This isn't about elitism, this isn't about separatism. This is about as many people being involved with this vision as possible."
While livestreams and Instagram-based shows have allowed fans an entrée into the world of Fashion Week for some time now, this season marked a more physical level of audience involvement, perhaps spurred by Valentino's choice to hold its couture show on the Spanish Steps in Rome, allowing onlookers to get a taste of the excitement. It's a savvy approach, one that recognizes that fashion isn't a closed loop reserved for the hyperwealthy.
High-school kids want to drop their allowances on Yeezy pieces or Scott's wacky Earth Girls Are Easy sunglasses. They might not be able to afford a Tisci-designed sweatshirt or one of Jacobs's Joan Crawford–print gowns, but someday, some of them will — and now the seed has been planted. The designers who are opening up their worlds to the young, eager fans around them aren't just being altruistic, but commercially savvy. They're playing the long game.