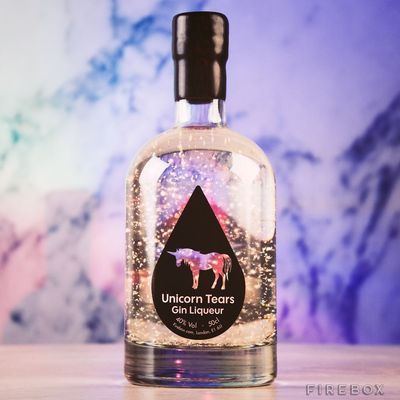 Drinks that will make you immortal.
Photo: Firebox
Calling all fantasy-beast scholars, adult Harry Potter fanatics, and hair-metal band members: Firebox, a British company, is marketing a silver-infused gin as "Unicorn Tears" — the only secretions of a mythical animal that will get you drunk.
Firebox has suggested a few cocktails to make with the gin, which contains notes of all sorts of magical things: "candied orange peels, flying saucer sweeties and a hint of maple syrup," says Wired U.K. You could try the Unicorn Fizz (mix with Prosecco) or a Tears Collins (gin + lemon juice + ice with a soda float). Or you could take our suggestions for some alternate mythical cocktails, below:
The Unicorn Blood: Blood-orange juice + Unicorn Tears. (sub: Cranberry juice or anything blood-colored.)
The Paris Hilton: Maraschino juice  + Unicorn Tears + a Champagne float. (Pink and bubbly, just the way she'd want it.) 
The Lisa Frank: Malibu + Unicorn Tears + a dash of Mountain Dew. (Bright, sweet, and for the young.)
The My Little Pony: A shot of Unicorn Tears with a blue curaçao floater. (Small and brightly colored.)
The Pegacorn: Unicorn Tears + Red Bull. (It gives you wings.)
The Last Unicorn: Unicorn Tears + Jägermeister + Coke. (Dark, just like the movie.)
And last but not least, the Never-Ending Story — like a Long Island Iced Tea but with Unicorn Tears gin instead of well gin. So named for the length of the hangover you'll get from drinking any of these.