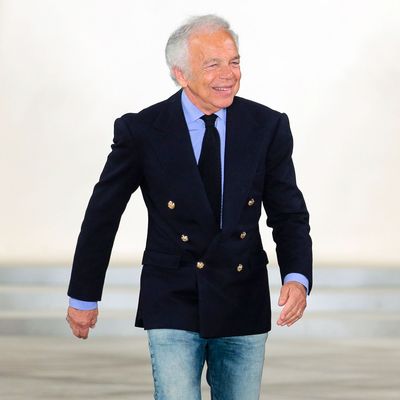 Ralph Lauren.
Photo: Randy Brooke/WireImage
Ralph Lauren's decision to step down as chief executive of his company was certainly a well-kept secret; the news that he will turn over the reins to Stefan Larsson, the president of Old Navy, jolted many fashion editors out of bed in Paris, where the shows have just started. In a way, though, there were hints of change in Lauren's own show on September 17. Gone were the chandeliers above the runway, as well as the huge flower arrangement that always caused guests to titter about his taste and wealth. Come to think of it, the evening clothes in the show were unusually subdued. Where were the gowns?
The news, and the hiring of Larsson, raises a lot of questions. With the company's share price down by almost half this year, will Larsson focus more on bread and butter — the Polo shirts and the department-store lines — rather than on the brand's juice — the Purple Label and the runway collections? Will Lauren, who is 75 and retains the title of chairman (Larsson will report to him), truly remain involved in creative decisions, as he suggested in the Times? Over the past decade or so he has invested heavily in making his company the premier American luxury label, or at least in giving that impression. He opened showcase stores on Madison Avenue and in Paris. He sunk money into his restaurant business, reaping publicity with the popular New York branch. And ever bedazzled by the movies and aristocrats, his ads on Masterpiece Theatre make his name seem as venerable as Downton Abbey. But what if Lauren finds he doesn't care for Larsson's creative choices? Lauren told the Times, "When they start designing things I can't understand, I'll quit."
Really?
Let's start with the most important decision that Lauren made — to hire an outsider, rather than promote from within. For years, Lauren resisted giving up the title of CEO, even to longtime, trusted executive Roger Farah, who retired as chief operating officer and president in 2013 (and later joined Tory Burch). Farah, according to a former Ralph Lauren executive, "always knew well enough not to get involved in the creative side." The former executive said, "As long as Ralph is breathing, he will be involved creatively" in the company.
The price of the company's shares has dropped by half this year, so it's likely that this move, announced with such fanfare, is partly about reassuring investors. Plainly, though, Lauren recognized that he probably wasn't the best person to lead his company in the coming years. The market challenges are simply too enormous, and they are changing at a pace that very few veteran retail and fashion executives can grasp. (I wouldn't get too hung up on the fact that Larsson, 41, comes from Gap and previously H&M. In 2003, Chanel hired Maureen Chiquet from Gap's subsidiary Banana Republic, and in 2007, the French house made her CEO.) This is as true for American brands as it is for LVMH, which owns houses like Louis Vuitton and Céline. Such brands obviously have tons of cachet — fueled by talented designers, and big marketing budgets — but their managers can scarcely afford to sit in luxury silos, when the global economy seems so fluid and technology continually presents new opportunities.
If anything, Lauren's decision to step aside is a reminder to executives and founders that maybe they don't know as much as they think they do — and maybe someone else knows more about what's relevant for today. During the New York shows, I heard of a plan by an American designer to close his wholesale operation — thus bypassing glacierlike department stores — and begin manufacturing with a partner in Asia, with consumers able to order stuff online on a "buy now, wear now" basis. Such a model might not work for every designer label, but surely it's the kind of creative 21st-century thinking that should intrigue every brand.
Lauren's decision represents something else, too — that the age of the individual founder-designer is ending. This type of business started, more or less, in the 1870s with Charles Frederick Worth on the Rue de la Paix in Paris, ran through the golden age of couture in the '20s, with Chanel, Vionnet, and the last lights of Poiret, found a new audience in the postwar era with Dior and Balenciaga, and then exploded with ready-to-wear in the '70s. That's a very abridged history of modern fashion, but the point is that, with the exception of Chanel, Hermès, Giorgio Armani, and Rei Kawakubo of Comme des Garçons, the great labels are no longer in the hands of individuals or families. Ralph Lauren has been a public company for years, but everybody knows that its driving force is Ralph.
Will that change when he steps aside? That depends on how active he is. But in time the company will evolve into something else, as Dior and Vuitton have under Bernard Arnault, and as Chanel will when Karl Lagerfeld calls it quits. It's not inevitable that great names go under, though obviously many do.
A challenge for Stefan Larsson will be how to interpret luxury in a wealthy but increasingly listless and informal world, and how to pick and choose among Lauren's fashions and symbols to find the real workhorses, in particular a kind of American exuberance. It will be a shame if it just ends up as a pretty pony on a shirt.