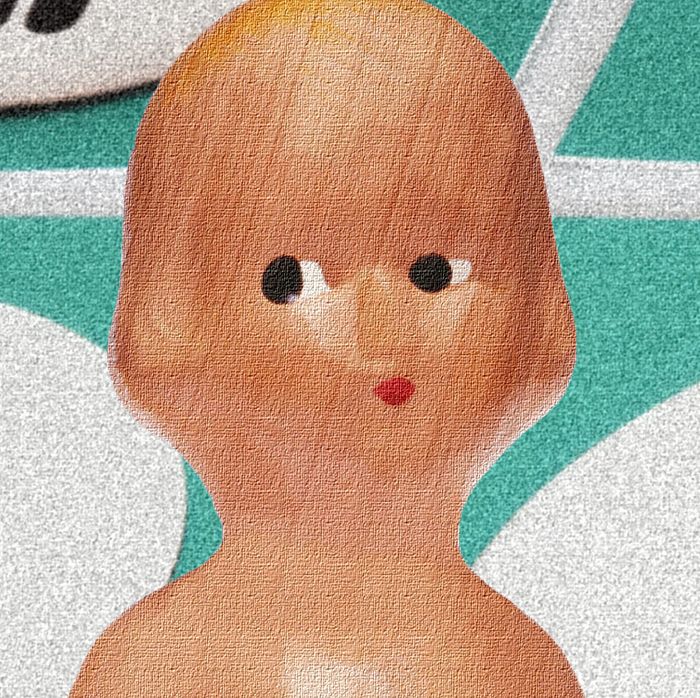 Photo: Photos: Tobi Seftel/Corbiis, Josh Westrich/Corbis
About 1.7 percent of the world's population is born intersex, according to the U.N., meaning their bodies do not fit binary medical notions of male or female. The word is an umbrella term, referring to a range of congenital variations. For example, females born with Turner syndrome have a partial or missing X chromosome and tend to have a short stature, broad chest, widely spaced nipples, low hairline, and an inability to reproduce. Much rarer is aphallia, which refers to people who are born with a set of male chromosomes but without a penis. Historically, intersex children have been operated on in infancy to "normalize" their bodies — a procedure whose most notable advocate was the renowned mid-20th-century psychologist John Money. But, in a 2006 consensus statement, the American Academy of Pediatrics stopped advocating this practice, though there are no laws restricting such activity in the United States. 
Nicky Chaleunphone, a 39-year-old student from Connecticut, spoke with Science of Us about life as an intersex person who also has a rare genetic condition called Kallmann syndrome, which impacts the onset of puberty.
I understand you look a lot younger than your biological age?
I'm 39 years old, but I don't look it. Most people think I'm in my early 20s. I always get asked for ID, and when they see my age there's always a shock. What do you do to make yourself look so young? What creams are you using? What potions are you taking? What foods are you eating? I want to try …
What do you tell them?
I stopped aging physically when I was somewhere between 9 and 13 years old. I was born with ambiguous genitals, an extra X chromosome, and I have Kallmann syndrome, a condition that impacts my body's production of sexual hormones, making me look much younger than my age. I'm deaf in one ear, I don't have a sense of smell, and if I hadn't been taking testosterone shots I wouldn't have gone through puberty.
Did those shots help?
I will always be looked at as someone who never developed properly and as someone who is neither a boy nor a girl. People assume I'm a young boy. But they don't know what I have down there, and when they find out they go, "Wow … "
So what is your body like?
I have a micropenis and testicles about the size of a pea; they are so small you have to be real good to find them. When doctors did bone-density scans they discovered that I have female hips. I have breasts, and I wear an A-cup bra. I have pubic hair, and I can grow a beard, but I don't want one so I shave a lot to get rid of it. I don't have chest hair. Both the Kallmann syndrome and my ethnicity put me at extra risk for osteoporosis, so I take testosterone. It gives me male energy, but it doesn't make me look like a man. As far as I am concerned it's just medicine that keeps my bones healthy.
Were you identified as intersex at birth?
I was born in 1976 in a Thai refugee camp. My pregnant mother escaped Laos just after the Vietnam War and fled to safety across the Mekong River. Genitals define you, but when I was delivered the doctors mistook my very small penis for an enlarged clitoris. They didn't know what intersex was. I was considered female, and my female name, Nialvong, is on my U.S. naturalization paperwork. We migrated to Connecticut later that fall when I was old enough to make the journey.
So your parents didn't know about any sexual ambiguity?
Not at first, but they found out. When I was a toddler I was rushed to the hospital with pneumonia. When the doctors examined me they saw my genitals and started doing tests. About five years later they decided to try and create testicles. The surgery was designed to make my folks happy.
What do you mean?
If I had somewhat functional male organs then I should be a man, right? I didn't know it at the time, but while I was growing up doctors always tried to force the maleness. So for most of my childhood I was raised as a boy. My name was changed to Nicky when I was in third grade. It was weird when I told my parents and told my teachers that's what I wanted to be called. They said it was more American and more masculine.
At the time did you think of yourself as male or female?
It's so hard to explain, and people have trouble understanding, but I really didn't see myself as either. I just saw myself as a person — I still do. I just didn't ever grasp the concept of men or women, or sex and gender. And you know how it is in Western society: External genitals define you. There's no room for gray area. I think everyone wanted me to identify as a boy when I was growing up because I had a penis.
What do you have internally?
When they did the ultrasound, they couldn't find any female reproductive organs — no womb, uterus, fallopian tubes. Nothing.
Do you remember the surgery?
I was about 9 years old and I can remember that it was very scary, but I didn't know anything about what was happening. They put needles in me, and I was kicking and screaming. I remember a mask and anesthetic, and then it goes dark. When I woke up I had a mark right at the top of my left leg — I still have the scar. I didn't want to be there; I wished I was with my friends riding my bike around in the woods, getting bumped and scraped and all that stuff.
They didn't tell you what the surgery was for?
I think they thought I just wouldn't be able to understand, so they kept it quiet.
I didn't find out about any of this until I had to get my medical records to play sports in high school. When I read them I was like, What the fuck did you do to me in the '80s? It had all been kept secret from me. In Asian culture a medical crisis is looked down upon. They think that it brings shame to the family. This was also an era where secrecy was paramount; everyone wanted to keep this kind of thing hidden.
What did you do when your found out?
I confronted my parents. I think they felt bad. They said they had to do what the doctors told them. They were shocked that I even brought it up: They said what happens in the past stays in the past. They were angry with me for even questioning it — it was hard to even have an open conversation. My mom was there when I got the results, so I approached her first. She couldn't give a straight answer because she didn't know exactly what happened. She just followed what the doctor told them to do. Their English was so bad I doubt they even understood. They should have had somebody explain it to them. Someone should have been able to explain it to me.
Did she deny that they operated on your genitals?
I was too embarrassed to discuss genitals, so it was hard to ask her in much detail. She tried to blow it off a bit. So I started researching What was this thing that I had? I searched online, and then I forced the doctor to sit me down and tell me everything that had happened. I always knew that I looked younger than most people my age, but I had no idea why.
Were you spending more time with girls or boys?
Most of my friends were boys, but some were female. I was a bit of a loner. I was befriended by a social worker who took care of me and let me do the things that the normal girls would do, like shopping, but really, I didn't fit in anywhere, so I didn't even try and pass. I wasn't into all the macho stuff, but I wasn't into the feminine stuff either. I thought technology was awesome, so I was glued to the computer. I learned to do programming, and I played video games. I liked freestyle R&B music, New Kids on the Block, and other boy bands like New Edition.
What about when you went through puberty?
When we had sex-ed I always wondered if I would ever be a normal guy, or maybe I would turn into a normal girl. I started growing breasts, but I still looked like a young kid, and my penis didn't grow. When I was in middle school I dreaded the locker room after gym class. I'd stand in the shower, look at myself, then look at the other boys, thinking, I'm not like them.
Is that when you really did start to feel different because sex and gender roles became more obvious and urgent during adolescence?
I always knew that I was different — I just didn't know why. Not only did I look so young for my age, but I was also in special ed because I have a learning disability and I'm deaf in one ear. I was never part of the normal group. But I didn't feel like I had anything in common with my special-ed classmates either. To add to matters, the town I grew up in was largely Hispanic. I really didn't fit in anywhere. If you weren't this specific type of macho man, you were nothing. It didn't help that people assumed I was like Bruce Lee, because I look like him. When I was about 12 I was walking through a bad neighborhood, on my way to a youth center, when a man jumped me. I was sexually assaulted. He may well have thought I was a young girl. I was knocked out, and when I woke up I ran to the center and told them what happened. The cops came and then a social worker. I can't remember much about the attack. I don't know exactly what happened when he realized I wasn't "really" a girl. The social worker looked into my medical records and discovered my conditions. She didn't tell me straight away, but from then on she started treating me like one of the girls because she thought it was safer for me.
How did you feel after that? I imagine it would make you feel vulnerable, and it must have been traumatic.
It made me bitter and very hostile. I started to think everybody wanted to attack me.
I couldn't take the bullying anymore. One time I stabbed someone to make him stop teasing me about my appearance. He was calling me names and trying to intimidate me, so I took a pen and pushed it into his arm. Then I stabbed the school principal and the security guard while they were trying to break up the fight. I was in huge trouble — four cops showed up. I was sent to a special-education school. But things were bad there. There was an incident in woodwork shop when I heard someone laughing about me. I grabbed a screwdriver, slammed it on the table, looked at him, and said, "You wanna say that again? Because I'll stab you." After my attack I wanted to be myself. I wanted to rebel. I was sick of trying to fit in.
Do you think the testosterone added to those outbursts?
I think it could have. Testosterone is a powerful drug, and if you don't control it you get angry episodes. I guess I didn't ever think to link the two.
How often do you take testosterone?
Before they developed patches, I was injected with five milligrams twice a week using an 18-gauge needle. I took the shots in my butt, thigh, or arm. It felt like I was getting shot with a nine-millimeter gun, and the hormone was as thick as cooking oil. I've grown so used to needles that when I have my blood taken I don't flinch. I just say, "Damn! You're faster than Dracula." Right after high school they introduced the testosterone patch, which lasts for about 24 hours, so I use that and switch it out every morning. When people see it they usually think I'm quitting smoking. Whenever I asked why I was being given this drug, I was told that it would bulk me up and make me look like a man. All these years later I think, Please, doc — that's not going to happen. Mother Nature dealt me the hand that I have to cope with. My penis stayed the same as it was when I was a kid. It's still very small — under three inches.
Does it … work … ?
I can pretty much get an erection, and I can ejaculate, but I have nonfunctioning testicles, so I don't produce semen —  it's just fluid.
What do you do when you're forced to declare a gender?
When I fill out forms, I prefer to leave the gender section blank — my school lets me, but on my military records (I'm an auxiliary member of the U.S. Coast Guard) I have to say I'm male. One of my neighbors works at the local YMCA, and when I go work out with her she lets me use the women's bathroom and locker room. When I was about 9 I had a bad experience after I was forced to use the guy's restroom at summer camp. When the other boys saw me use the urinal they freaked out over the micropenis. I ran to my cabin and didn't want to leave. From then on the counselors and the camp staff let me use the nurse's office.
Do you sleep with women or men?
I don't care for categories, and sex is the last thing on my list, but at the moment I'm attracted to women. However, if a girl wants to get close to me she has to get past five barriers. I'm deaf in one ear. I was born intersex. I have a micropenis. I can't ever have kids. I look much younger than my age.
But you slept with men when you were younger?
I experimented with guys, but I never liked it. I felt like they wanted to control and dominate me. It was always quick in, quick out. There wasn't as much intimacy and emotional involvement as when I was with women.
Have you ever been in a relationship?
I had one girlfriend a few years ago. She was in her 20s, but I looked the same age as her. We were in the same class at school. She knew about my gender ambiguity because she'd heard me give a presentation. She was very understanding, but her hardline Jewish grandmother didn't approve of the relationship. So we had to break up after about a year. In the beginning I felt lost because she was the first person who I felt I connected with. I was sad but never showed it. After that I stopped looking into relationships because I didn't want to feel like that ever again.
At the moment I stay busy with school because I figure relationships are just not going to come easily for me. Most girls have trouble seeing me as a person. I've decided that if the right woman walks into my life, that's great. But if not I have more time to enjoy my life alone. My sex drive is normal, and I have had a normal sex life in the past, but I haven't had sex since 2011. Sometimes I meet people at bars. A few summers ago I went camping for a weekend at a nudist resort, and I met some girls there.
Why did you go to a nudist resort?
Oh, I'm a nudist.
Oh, wow.
Nudism has helped me accept my body. I was introduced to it during my senior year in high school when I went skinny-dipping with a group of friends. Nobody laughed at the size of anyone's penis or the shape of your vagina. We were just having fun, we didn't care.
If everyone walked around naked, people wouldn't be so caught up with the sex [and] gender crap. Gender is so fluid that one day you could be a man, and five minutes later you are something else. Nudism allows me to feel comfortable with my unusual body. I have tiny testicles. I have wide hips. I have a longer-than-usual arm span. From revealing it I have learned that I just have to make the most of it. I know so many male-to-female trans who say that they are not comfortable in the body they were born in and they need surgery to survive, but surgery is not an option for me.
How do you decide who you'll tell?
In general most guys can't really handle what I have. Sometimes men ask a lot of questions, and when I tell them or show them what my body is like they are shocked that a penis can be that small. But it really depends on the guys, so I go case by case: If he's a jock or seems to be an idiot then I avoid the conversation. I can never see myself as a normal boy, but it doesn't bother me. It's other people who need to see me as male or female. I tell people the straight-up truth — what I have and what my genitals look like — but I know that the picture they get in their mind freaks them out. Then I explain that I have never had a sex or a gender.
Do you work at the moment?
I'm studying biology. I want to become a physician's assistant or nurse practitioner. I have a dorm room to myself because it would be too hard to share, given my ambiguous genitalia. I have an assistant who comes with me to lectures so I don't miss anything because of my hearing. Kallmann's impacts your sense of smell: If you put a cooked beefsteak right in front of me I wouldn't be able to smell it. So I have special sensors in the house to tell me if there's a gas leak, and I keep a calendar next to the refrigerator and label all my food when I open it because I can't smell it to check if it's fresh. I really have to stay on top of my personal hygiene; I don't want to smell and not know about it.
What has your working life been like?
I was an EMT, then I got my firefighter certification, and then I joined the U.S. Coast Guard Auxiliary. I think I wanted to create a sense of identity for myself by doing something different from the Asian stereotype. I wanted to prove that I could do the things that people thought I couldn't do. When I became a firefighter I had to get used to male jokes and the whole male mentality. It was the first time I was around so many men (there were a few girls, too, though), and I tried to fit in, but I got left out. In the Coast Guard I enjoyed the traveling; I focused on what I enjoyed about it, and when I got home I'd be relieved that I don't have to see these guys again. We were trained with weapons, but we hardly ever used them. I did enjoy learning how to shoot a gun: It was like my fun switch turned on. It made me feel alive.
The main thing people notice is that I look so young. When I was working with one of the ambulance companies and I had to go pick up a patient at a hospital, which was always the most difficult, they would use me to sweet-talk the nurses — I looked young, and they were always nice to me because I didn't seem threatening.
What's your position on gender-reassignment surgery?
The only surgery I believe in is that which will save your life. I have to deal with what I was born with. I can't change it. I know I won't ever be able to reproduce normally as a woman or a man. What's important to know is that neither sex nor gender are easily defined for intersex people, and no matter how hard people try to pin sex and gender on us, it's never going to happen. And I don't know what I would want to be, anyway. After seeing what men and women go through, I would probably say 80 percent of the time I would want to be female, 20 percent of the time I want to be male. I think the men are much harder on each other. But you know, I'm glad I'm not male, and I'm glad I'm not female. I don't have to deal with the politics of sex and gender and men and women. You guys are welcome to all that crap.