Dressing for Fashion Week means different things for different people. In the case of the street-stylers, it's beg, borrow, and steal (a.k.a. call your fancy designer friends and have them lend you next season's best). For the Cut, it's more about assembling a series of looks that can withstand long days, late nights, and subway rides, as we work to bring you breaking news and funny scenes from the front row.

We try to dress with style in mind while remaining ready to hop on a Citi Bike if the need arises. (After all, you never know when Bieber will show up somewhere to play ping-pong, or Alexander Wang will arrive at his own party dressed like a flying nun.)
Inevitably, a pattern arises: On Day One, we're energetic and excited to see the new clothes, so we get all dressed up. By Day Three, we've got a nasty set of blisters and must default to sneakers or flat sandals. Somewhere around Day Five, we hate everything we own and make a panic purchase that feels great in the moment but we will later regret. By Day Seven, we're practically wearing bathrobes and pool slides, and can only rally for Marc Jacobs's end-of-the-week show.
The slideshow below is more about Day One than Day Seven. Click through to find out what we'll be wearing before Fashion Week flu overtakes us all.

Photographer: Ben Ritter. Photographer's Assistant: Natalia Mantini. Hair by Aaron Grenia and Yanni Boyiatzis/IGK. Makeup: Dana Rae Ashburn.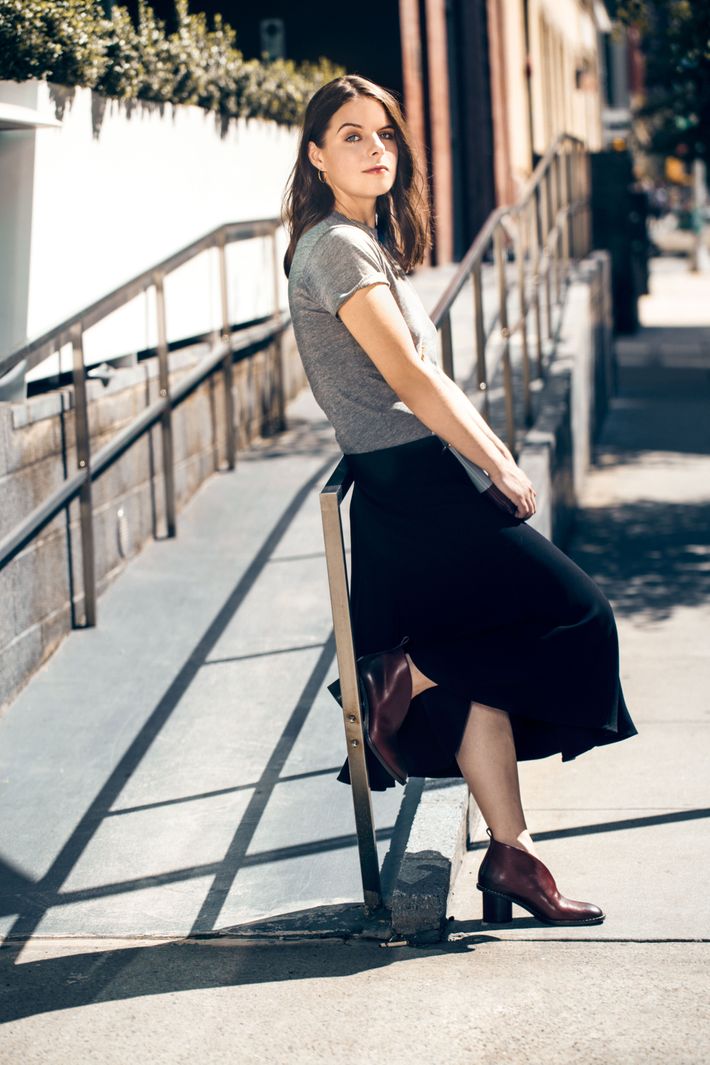 Rebecca Ramsey, Senior Fashion Editor
New York feels a little more casual and is still hot and summery in comparison to Europe. I plan to wear a palette of neutrals — think trusty cotton tees with a swingy skirt, and brand-new flats or chunky-heeled shoes to get me through the busy schedule of shows.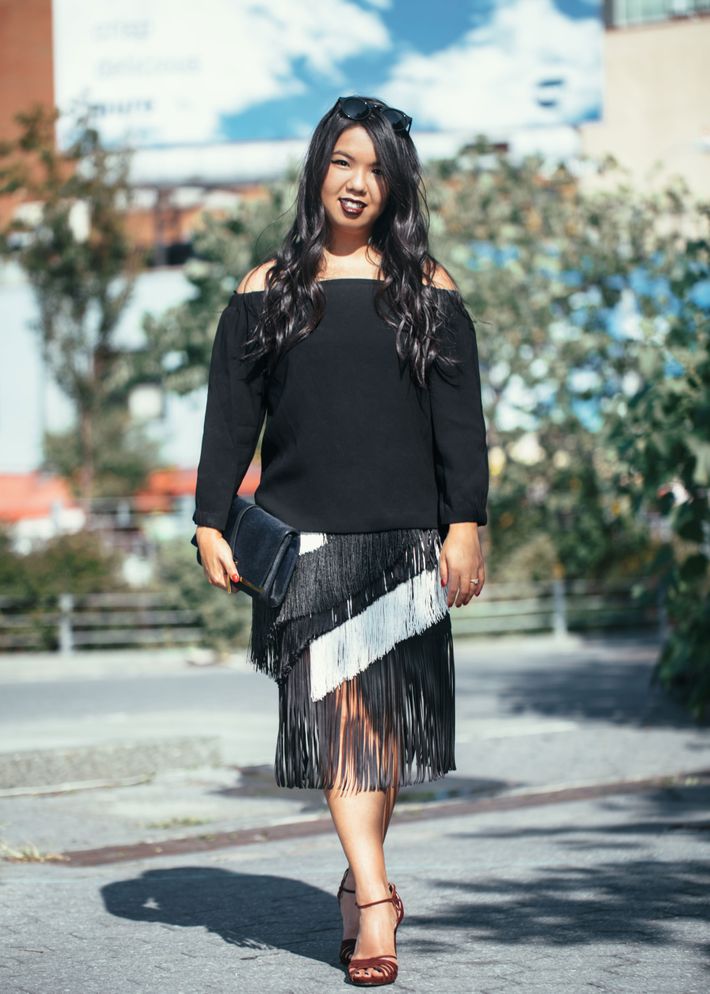 Diana Tsui, Senior Market Editor
The fringe skirt is definitely something I wouldn't normally wear, but since it's navy, black, and white, I feel like it's not too attention-seeking. And I love a good dark lip as well as a black top because I am a total summer goth.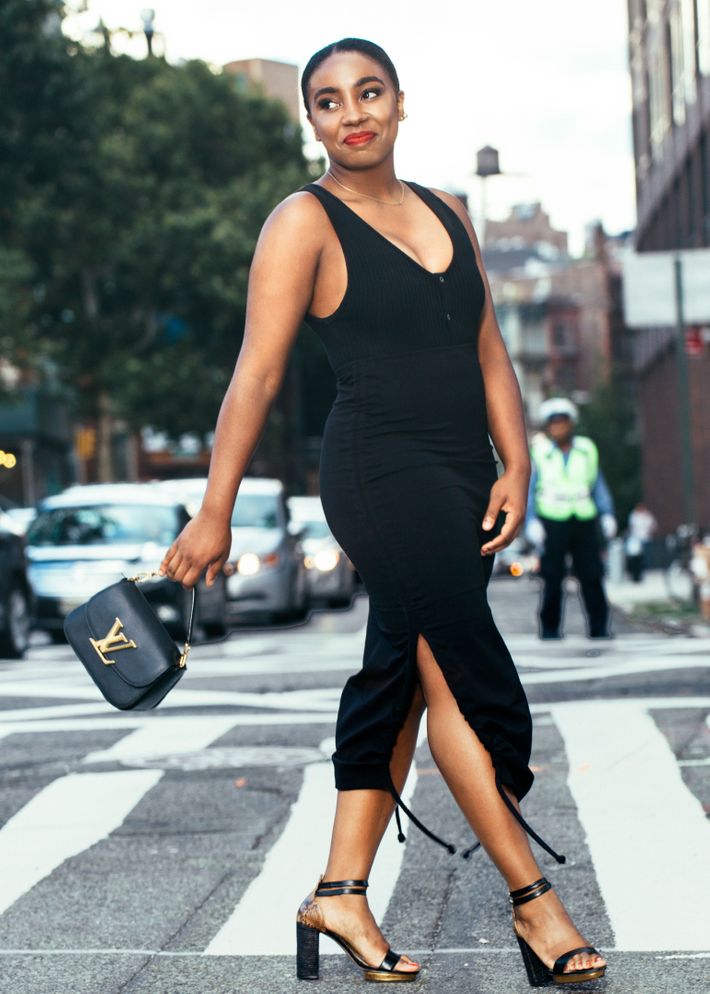 Lindsay Peoples, Associate Market Editor 
I'm a firm believer that Fashion Week is a great time to try new things that you normally wouldn't wear — but don't overdo it. This bodysuit is super comfortable since it's extremely humid out, and pairing it with a simple black skirt with slits on the sides gives it a little edge. My go-to is to always to add a red lip when I'm wearing lots of black, just to brighten it up a bit, and I added the gold accent of the bag and shoes for a little shine.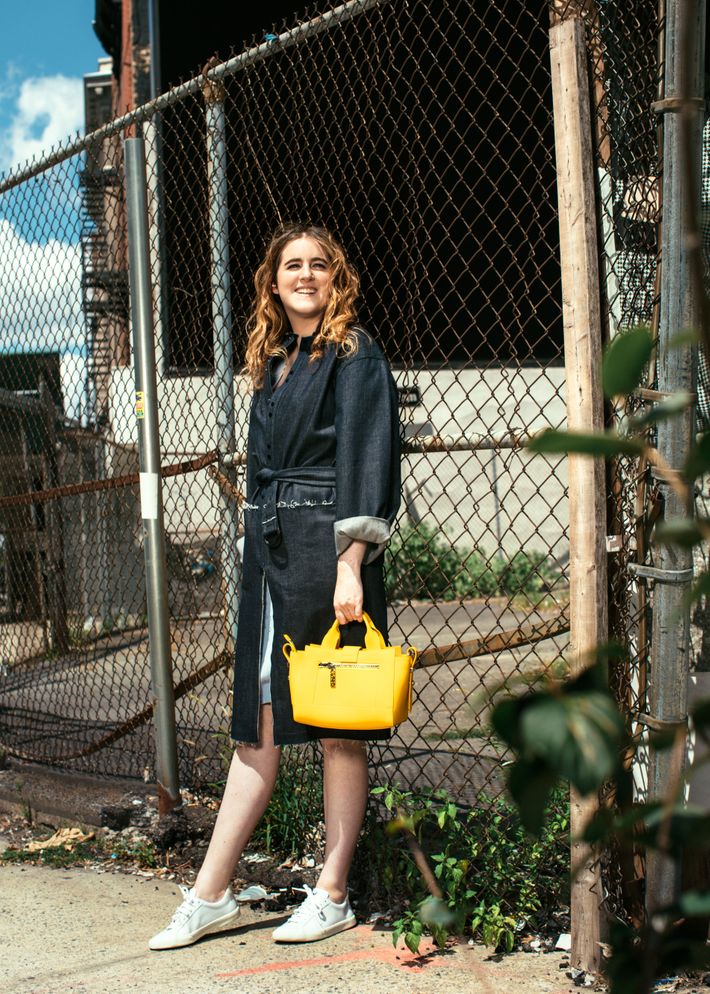 Véronique Hyland,  Fashion News Editor
I love using my tiny platform to rep my favorite up-and-coming designers, like Kahle, whose jacket combines two things I love: frayed denim and a trench shape. Since I'm literally running from venue to venue, sneakers are the sane choice — I will be putting a lot of mileage on this Veja pair. Clothes that are comfortable, bright, and make me laugh (with a funny message or dotty print) are pretty much ideal.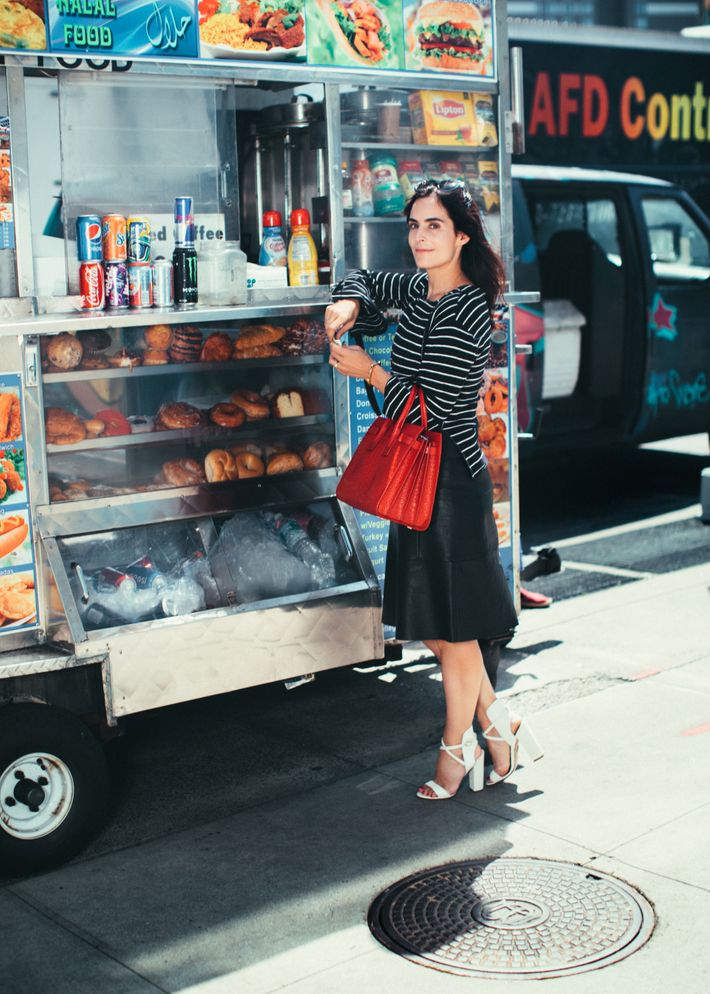 Stella Bugbee, Editorial Director
Above all else I like to look and feel like "myself," regardless of what week it is or what event I am attending, which means clean, classic pieces with great details. I don't change my look or do anything different during Fashion Week. But I do find that adding bits of red always cheers me up.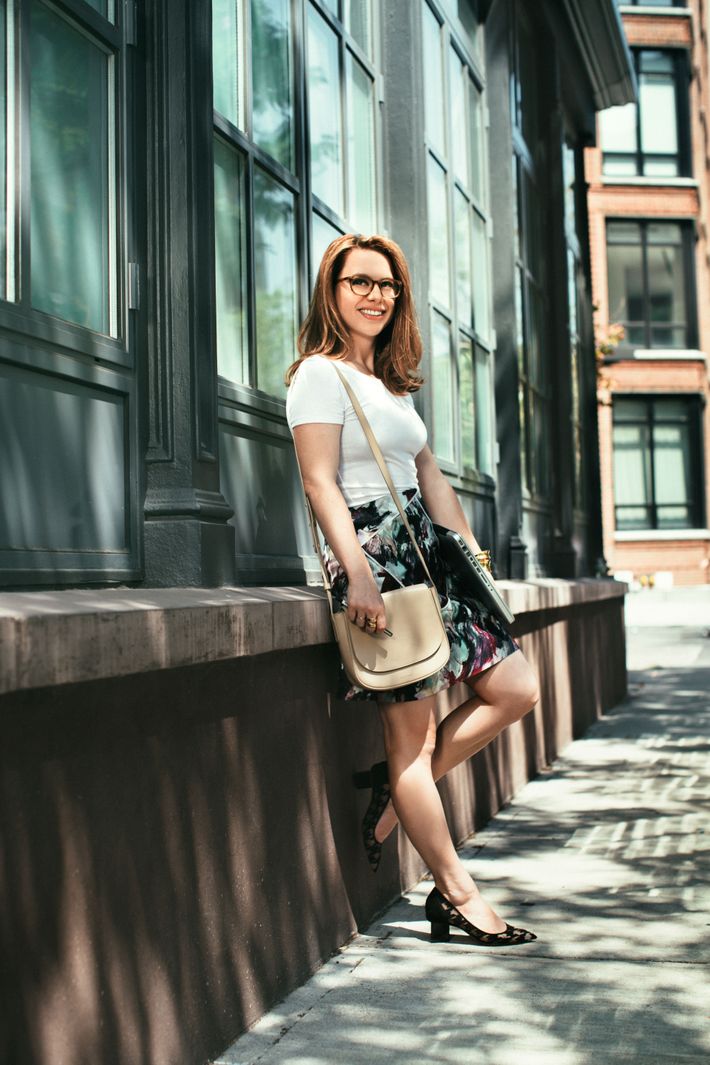 Izzy Grinspan, Senior Editor
My Fashion Weeks are usually pretty frantic, so I like an outfit that projects more chill than I am actually feeling. The easy white shirt, the pattern-clashing, the low-heeled shoes: All of it says, "I'm just having fun taking in the scene," even if I am accessorizing with an enormous laptop.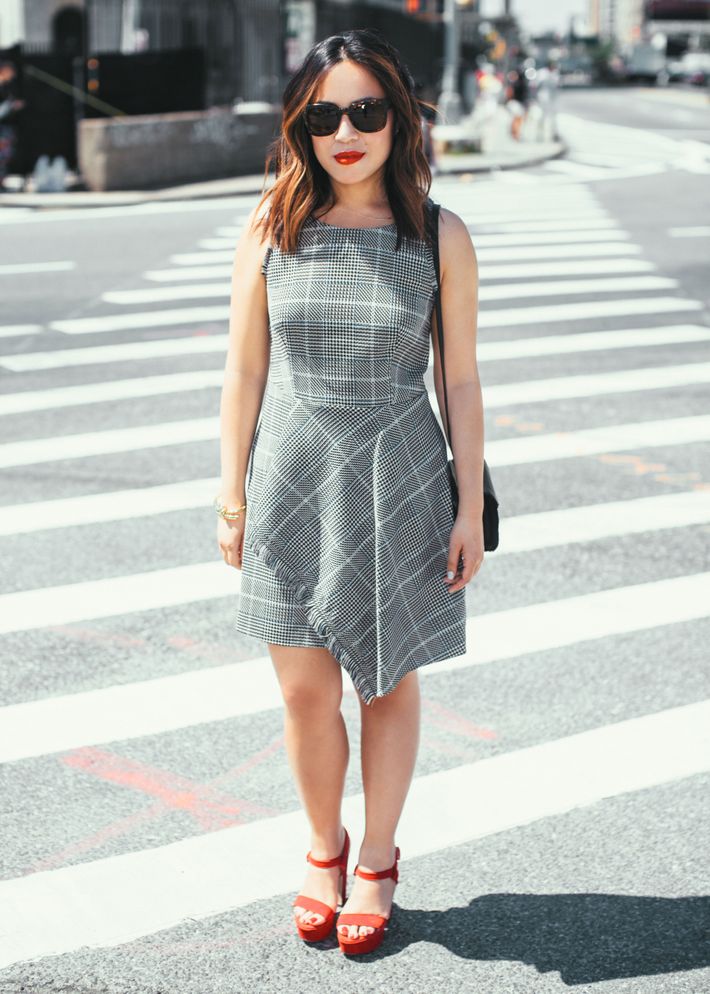 Kathleen Hou, Senior Beauty Editor
I have to keep things simple. For me, that means an easy red lipstick, a light bag I can stuff my recorder and phone into, and a non-fussy dress that's comfortable and easy yet has slight stylistic details to keep it special.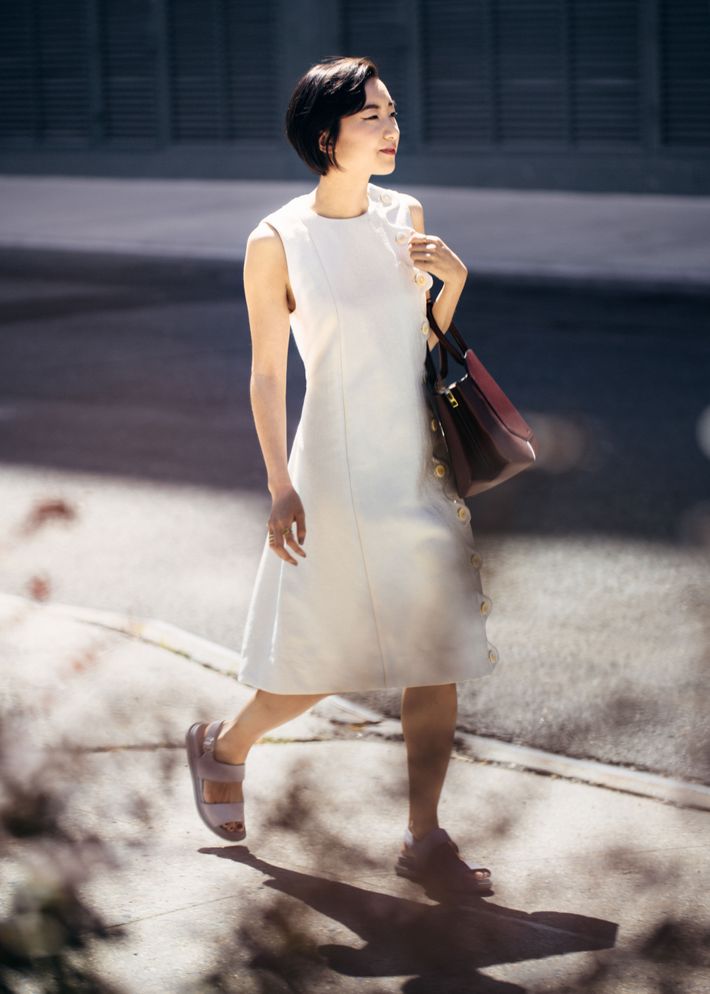 Lori Keong,  Fashion Assistant
I'm not someone you'll see regularly teetering in heels at Fashion Week. I want to feel comfortable if I'm hopping to and from work to shows yet also look fresh and pulled-together. This Trademark shiftdress paired with lilac sandals and light jewelry looks modern, feminine, and pared-down: just the way I'd dress for a regular day, except a little more polished.