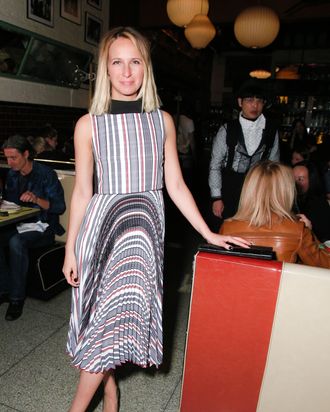 Misha Nonoo.
Photo: Matteo Prandoni/BFA.com/BFA NYC
Could this be the most populist Fashion Week yet? It's certainly shaping up that way, with Givenchy opening up a significant block of tickets to the common man and a Jeremy Scott documentary hitting a multiplex near you. While livestreaming is now old hat, designers are turning to ever-shinier, newer technological tools to open their worlds up to a wider audience — for example, Ralph Lauren will be Periscoping his event.
New York–based designer Misha Nonoo was inspired to forgo a show entirely and do the whole thing on Instagram after an encounter with Sheryl Sandberg. She attended a dinner at the Lean In boss's house in Palo Alto in April, and ended up meeting with some of the Instagram team at their headquarters. "I went there for a tour," she recalls, "and two and a half hours later, ended up literally redesigning the format of how I did a show."
"We haven't figured out a way to really, truly show a collection digitally that isn't livestream," the designer told the Cut. She's hoping to change that with her Insta-show, which takes place on the platform today. While it isn't done through a formal partnership with Instagram, "they've been super-helpful in kind of guiding us through best practices and things like that," Nonoo says.
The label set up a dedicated Instagram, @mishanonoo_show, which will host the images in a horizontal format. When you turn your phone to landscape mode, "it kind of becomes like one long runway," says Nonoo. Lena Dunham, Linda Rodin, Audrey Gelman, and artist Shantell Martin are among the influencers posting images of the collection; Nonoo wanted to include not only "that cast of fashion characters" but people "from different aspects and areas of life." With all the big names involved, she points out that her combined audience will consist of about 9 or 10 million people, as opposed to the 400 or so who usually attend her shows.
When putting together the project, Nonoo found herself mulling an offhand comment her husband, Paddle 8 co-founder Alexander Gilkes, had made. "He always says it's so crazy that [Fashion Week] is so site-specific," she says. "I'd have so many occasions where I'd have a buyer who would miss my show because they were running five minutes late from another show, and there's traffic in the city and it's crazy." With an Instagram-based show, "there's this inclusive nature, and I'm very much a person who is inclusive in general. I just thought, Why don't we try and do something that moves the needle forward for a potential customer of mine in Asia being able to see this at the same time as the fashion director of Neiman Marcus?"
Click through the slideshow to see all the looks from Misha Nonoo spring 2016.