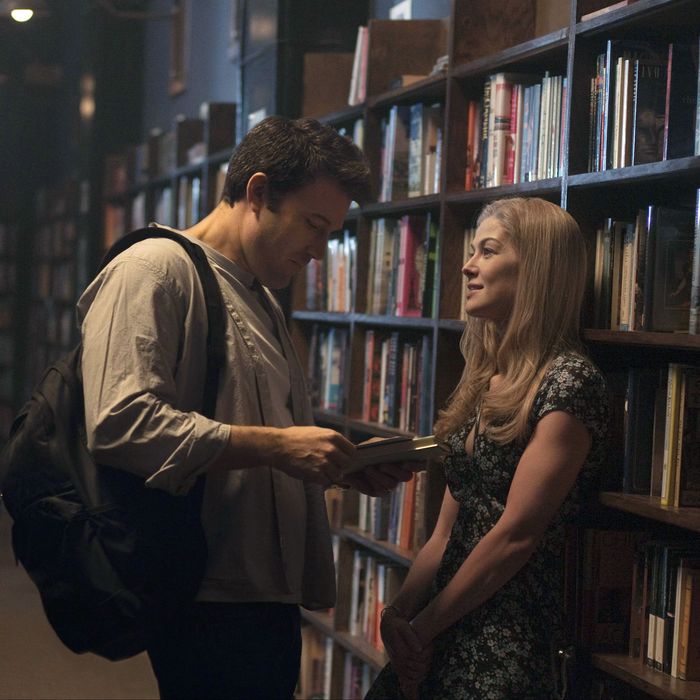 A scene from Gone Girl.
Photo: Merrick Morton/Twentieth Century Fox and Regency Enterprises
Women are the primary readers of crime fiction. The perennial question is why — a question loaded with judgment, suggesting that women should favor softer, more delicate subjects. It's also a question that often yields answers even more loaded: that women savor the victim role; that women are masochists, unable to rise above the roles assigned them by the patriarchy.
In the wake of the blockbuster success of Gone Girl and its "girl" spawn, Girl on a Train and Luckiest Girl Alive — thrillers consumed by women, written by women, and with women at the center of the story — a new spate of think pieces has emerged, in The Guardian and elsewhere, pondering the phenomenon anew, but with no new answers. Perhaps something approaching an answer lies not in the present, but in the past: the eternals of the genre that reveal its enduring appeal.
This month marks the publication of the Library of America's extraordinary two-volume set Women Crime Writers: Eight Suspense Novels From the 1940s & 50s edited by Sarah Weinman, one of the leading champions of female crime fiction. Among the eight authors represented only Patricia Highsmith (author of the famous Ripley novels) is a household name. Cineasts, however, will recognize many of the novels from the movies they became, such as the glamorous films noir Laura (1944) or In a Lonely Place (1950), or The Blank Wall, which has been adapted twice, most recently as The Deep End (2001) with Tilda Swinton as a wealthy mother who will do anything for her son, including cover up a crime.
Whether it's a twisty tale of the murder of a sophisticated Manhattan striver (Laura), a bone-chilling dangerous babysitter nightmare (Mischief), or a campus murder tale rife with sexual neurosis (The Horizontal Man), the stories in the anthology are page-turners, every one. Many are psychologically dense, others are rough and ready, but all are filled with a delicious mid-century sheen: pointed magenta nails curving over gold cigarette cases, Brandy Alexanders and lavender-tinted moire gowns, Spanish bungalows and eucalyptus groves and kicking off one's gold mules.
But all these novels offer pleasures that go beyond compulsive readability. While on the surface, the premises may appear fodder for Lifetime movies or Dateline NBC, these writers refuse to slick over or flatten out their complexities. The mother who fears the sloe-eyed young babysitter has reason to, and before long, her daughter is bound and gagged. The quintessential "beautiful dead woman" in Laura has plenty of secrets of her own. These novels instead go to that darker place and stay there. But never in a way that imprisons its female characters, that limits them to victims or corpses or aestheticizes their abasement.
On the contrary, in fact. Consider one of the most radical crime novels in the collection: Dorothy B. Hughes's In a Lonely Place (1946). While not the first serial-killer tale, it is nearly so — decades before Hannibal, before Patrick Bateman, before Dexter and The Fall. And yet it somehow seems smarter than all the ones to follow, more penetrating, as if Hughes had somehow read all the books, seen all the movies and TV shows, to follow and said: Listen, it's not about slick jokes and sexual gore, nor antler-fused bodies and gourmet dining. It's about sex and power, about anxiety and impotency. It's about Fear of the Smart Woman. And there are two of them in In a Lonely Place — the wife of the police detective on the case and the killer's cynical love interest, a woman on the make. While we remain in the mind of the killer (winkingly named Dix Steele), he becomes increasingly panicked as both women seem to be able to see the very thing he seeks to hide: himself, his true self. Instead of watching a killer circle women and watching those women be terrorized, assaulted, filleted, and trussed like a suckling pig, we see the women circling Dix, ensnaring him — and it's powerful.
These novels are not classic whodunits or straightforward Law & Order–type procedurals. They are neither Agatha Christie nor Mickey Spillane. Mostly big sellers in their day and criminally out of print in recent years, they demonstrate the extent to which crime fiction — and perhaps more acutely crime fiction by women — has always been about more than solving a mystery. Instead, it has been a means by which writers (and readers) can explore the shocks and anxieties of the day. The guilt-stricken mothers, ambitious career women, single women both endangered and dangerous in these novels would likely feel very at home in the culture of Lean In and Tiger Moms, of slut-shaming and Tinder hysteria. These novels understand — as Gone Girl understands — that the darkest and most resonant tales are the ones that hit closest to home.
Maybe more than any other genre, crime fiction is a place that takes deadly seriously the things that the larger culture doesn't always: ambivalent motherhood, the trickiness of negotiating power at home, in the bedroom, the price of ambition and ambitionlessness, sexual identity, the murderous corners of marriage, the way our own vanities and desires can still send us down the rabbit hole, and how love-gone-wrong too many times can harden us all. In crime fiction, these are issues of utmost importance and urgency. Of life and death. In this way, women read crime fiction because, in many cases, they're reading themselves.
Megan Abbott is the Edgar-winning author of seven novels, including Dare Me and The Fever. Her next novel, You Will Know Me, comes out in July 2016.