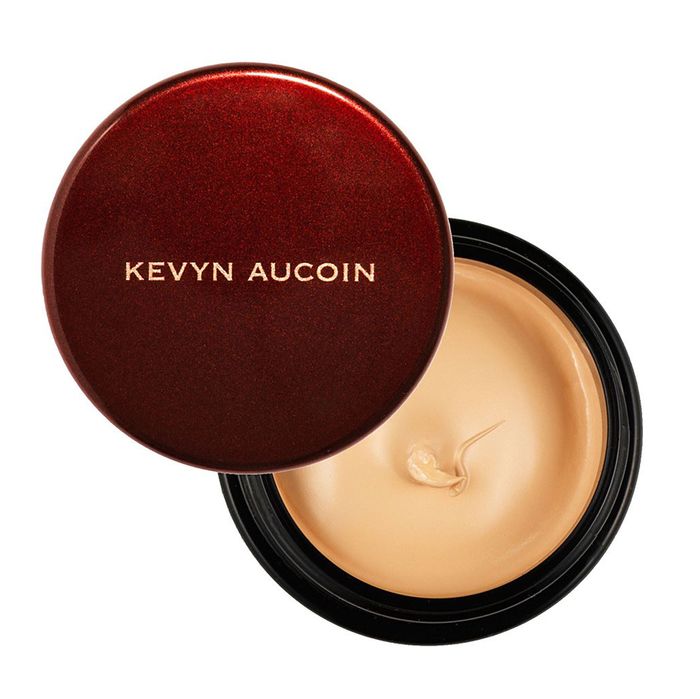 Kevyn Aucoin Skin Enhancer.
Photo: Kevyn Aucoin
Heeding makeup advice from a teenager is, in general, a very bad idea. But celebrity teenagers are not ordinary teenagers: They age quickly, like a golden retriever or Robin Williams in Jack. So it didn't take much convincing for me to try Kevyn Aucoin's Sensual Skin Enhancer, a favorite lauded by the Kardashian-Jenner clan, especially Kylie and Kim. The complexion cure-all is available in 16 shades and just this month expanded into the custom shade market with a new partnership with Bergdorf Goodman.
The Sensual Skin Enhancer is essentially four products in one. Packaged in a tiny tub, the creamy formula is remarkably pigmented. Used alone, it acts as a concealer, masking both under-eye circles and discolorations around the face. Half of a pea-size amount mixed with moisturizer transforms the enhancer into a tinted hydrator, while an undiluted portion forges the enhancer into a full-coverage foundation. Finally, you can also pat the enhancer atop cheekbones for a radiant and dewy highlight.
Since I'm new to the product, one of the makeup artists at the Kevyn Aucoin counter at Bergdorf Goodman created two custom shade-blends of the enhancer for me: a foundation version, and a slightly lighter formula that she said would lighten the darkened crevices around my eyes. Though I was strictly instructed to apply the formulas with a Kevyn Aucoin brush at home, I found that my fingers worked best. Mixed with a dollop of Philosophy's Renewed Hope in a Jar, the enhancer made my skin look like it had been given the FaceTune treatment. It was the perfect balance of coverage, leaving a "no makeup" effect. The concealer worked just as well, too, making my dark circles completely disappear. They were, in a sense, perfect. An intended effect of the Sensual Skin Enhancer is that it leaves a dewy, moisture-rich finish. It's a little too dewy for my oily skin, but nothing that a splotch of finishing powder along the T-zone couldn't fix.
It's worth mentioning that two weeks of wearing Kevyn Aucoin's skin enhancer have elicited the most unsolicited compliments on my skin, ever. Just yesterday, my neighborhood bodega owner shouted: "Your skin! Your skin!" Is this what it feels like to be a Kardashian? I took a selfie when I left the store, if only to really find out.
Kevyn Aucoin Sensual Skin Enhancer, $48 at Bergdorf Goodman, $105 for a custom shade.