Like It or Not, Blue Eye Shadow Is Happening This Spring
Remember your nascent makeup years, when bright-blue eye shadow reigned supreme? If this season's Fashion Week is any indication, those radiant blue makeup hues will be on tap again next spring. At Diane von Furstenberg, shimmery blue-green shadow placed both above and under the eye anchored a mermaid tone, made all the more whimsical with a backdrop of feathery '70s-inspired hair. At Jill Stuart, too, makeup artist Aaron de Mey hallowed eyes in shadow. His interpretation was more stark, using matte shadows from M.A.C in either a baby blue or kelly green.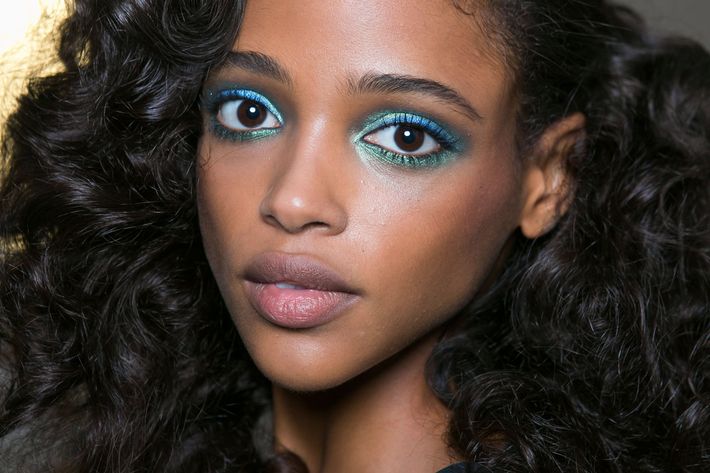 Perhaps the most wearable interpretation of the trend was seen, surprisingly, at two formalwear megahouses: Monique Lhuillier and Jenny Packham. The former brand, led by makeup artist Val Garland, drew a fat line of M.A.C eyeliner, in either blue or green, to keep eyes in concert with the jewel tones featured in the spring collection. It was a similar story at Jenny Packham, where Laura Mercier makeup artist Talia Sparrow applied shadow halfway to the lid's crease, and finished with a winged flick at the corner of each eye.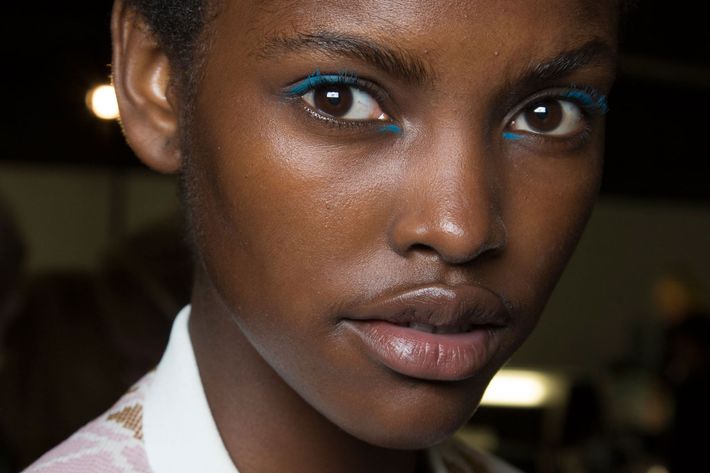 You could say the gnarly liner at 3.1 Phillip Lim was the most fun. There, eyeliner was given the split treatment, where a thin line began at the upper corner of the eye, only to abruptly stop halfway, and continue under the eye and stop at the tear duct. On the final night of Fashion Week, the NARS team at Marc Jacobs also played with a half-painted eye, where turquoise was dabbed only on the inner corners. But no matter the variation of blue eye treatment, one thing remained consistent at all of the shows: The rest of the makeup — lips, cheeks, and skin — was always given the backseat. Click through the slideshow for the best blue eye makeup from the spring shows.