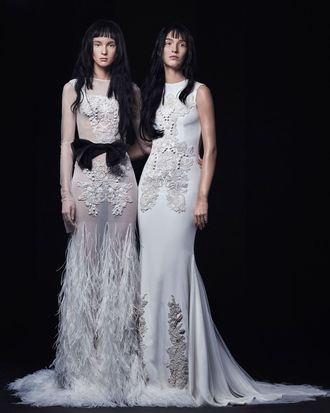 Vera Wang Bride fall 2016.
Photo: Courtesy photo
"Where are all the jumpsuits?" a guest wondered after a show at New York Bridal Week, mid-October's weddings extravaganza, which capped last week. It was a fitting question for a relatively traditional winter bridal season that saw a lapse in the separates, masculine suiting, and '70s accents that were de rigueur in past seasons. Though boundary-pushing designers like Angel Sanchez and Houghton continued to chip away at the concept of the staid white bridal gown — showing sequined tracksuits and undulating pink-ribbon-adorned gowns — many designers opted for the middle ground instead, sending updates on tried-and-true romantic silhouettes down the runway.

The blueprint for bridal elegance this season came in the form of fairy-tale opulence. There were plenty of pearls, ornate headpieces, 3-D florals, and tiered princess ball gowns. Dolce & Gabbana appeared to play muse to a few designers, with ornate gold jewelry and headpieces from Julie Vino nodding to the Italian brand's signature gilded aesthetic. There were even Dolce-inspired selfie sticks and bejeweled headphones at Reem Acra. Trickling over from spring, the color black continued to edge its way into the bridal palette with lacy black shawls, dark ribbons, and even a crop of graphic black-and-white gowns at Mark Zunino for Kleinfeld. The best looks this season, though, were the ones that offered unique updates to bridal staples, from detachable lace collars to detailed beadwork.
1. Vera Wang Bride's fall collection continued the movement toward the darker, gothic styles we saw last season, when she experimented with black-bow accents, deconstructed chiffon, and floor-length feathers. My favorite look was one that kept it clean and modern (pictured above): a white sheath dress with minimal embroidery and a flowing train.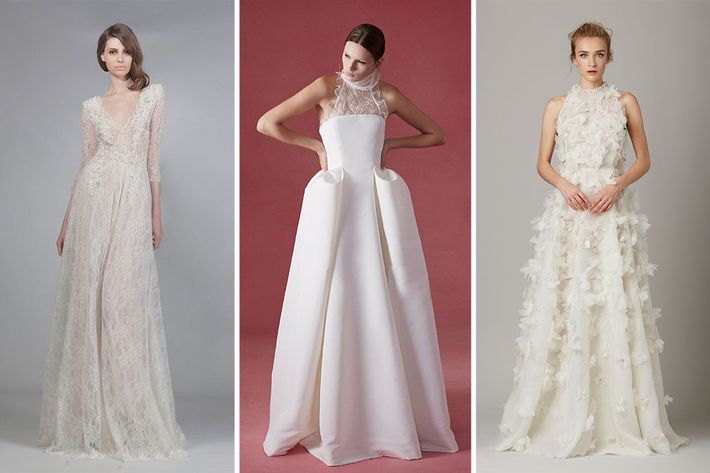 2. I love a bridal dress with sleeves for winter, and Victoria Kyriakides's haute couture gown with a gossamer threadlike bodice — embroidered with ostrich feather details — was one of my favorites this season. Kyriakides drew inspiration from constellations for the lightweight construction in the collection.
3. Peter Copping's second collection for Oscar de la Renta's bridal line offered a fresh selection of classically elegant gowns. (Bridal bikinis may be strictly a thing of the past at Oscar, with no complaints here.) Copping added a few great wedding accessories this season, from lacy shawls to star-studded veils, but the best piece from the collection was a Grace Kelly–esque strapless gown with a detachable lace collar. The gown is wonderfully refined and structured — a departure from the late trend of slinkier, sliplike bridal gowns.
4. The dresses at Lela Rose were light and airy, but standout looks were two gowns adorned with featherlike organza petals. One was floor-length and the other a mini-dress: an ideal pair to transition from ceremony to reception. The high-neck long version is whimsical and girly, and the jewel details on the collar add an extra feminine touch.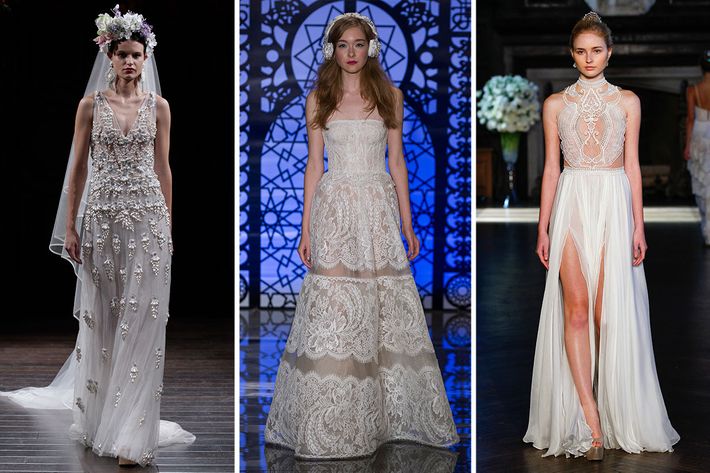 5. Naeem Khan's fall show was Frida Kahlo–inspired, with haughty models wearing long earrings and flower crowns with cathedral veils. There were pink 3-D florals and even a lacy bridal caftan, but the intricate pearl beadwork on this gown made for an especially visionary runway look.
6. Reem Acra's sweetly seductive fall line included plenty of scrollwork illusion necklines, corseted bodices, and sheer accents. My favorite look was a strapless corset gown with tiered panels of lace and a very subtle lace peplum waist.
7. The Alon Livné White fall collection portrayed regal elegance, from high-necked lace gowns to crystal bun cages on the models. The details on this pearl-embellished chiffon gown reminded me of the handiwork on Pat McGrath's stunning pearl face mask at the latest Givenchy show. Definitely a sexier piece, the sheer skirt with high slits allows for plenty of movement.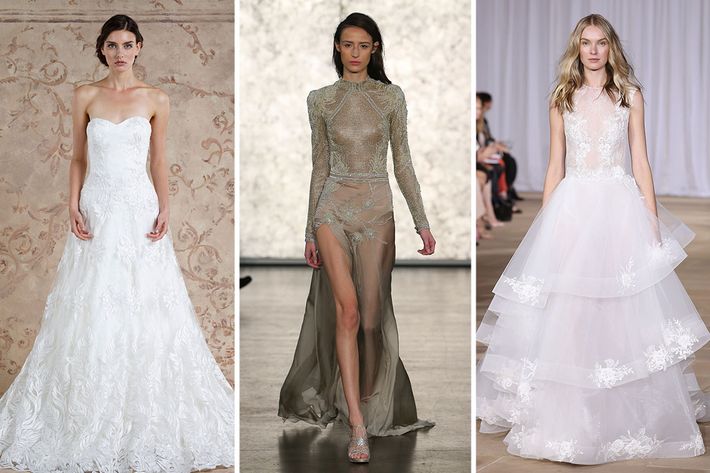 8. Sareh Nouri plays with lace this season to wonderful effect. She kept her silhouettes simple with sweetheart necklines and ball-gown skirts, but featured lace with distinctive designs, in the form of laurel-leaf crests, trees, and this beautiful understated feather pattern.
9.  A refreshing departure from traditional lace and chiffon, this long-sleeved gold-lamé gown with a sheer skirt from Inbal Dror was a bold metallic take on bridal.
10. Early in the week, Ines Di Santo's collection claimed a sweet spot for bridal: The line was fresh and elegant without appearing hypertrendy. Notable looks included a sequined high-low gown and shorts worn beneath lacy tights, but my favorite was a romantic variation on this season's popular tiered ball gown. The beauty looks were also refreshingly modern. Models wore golden-yellow eye shadow and loose, tousled hair: a perfect look for the bride daring to try a brighter, yet still refined palette.