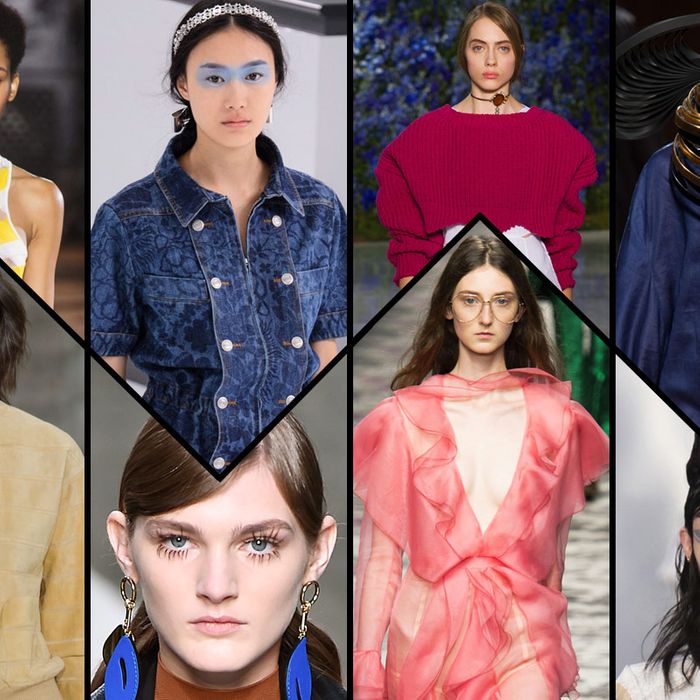 Now that fashion month has come to an end, what do we make of the hundreds of shows and presentations we've seen? It was a maximalist's heaven, where no sparkle was too excessive, no frills too frilly, and even denim got the luxe treatment (embellishment, prints, sequins!). Romantic notions of lingerie and ruffles were everywhere, and shoulders will be the erogenous zone of the season.
Not feeling the softness that wafted over the runway? Sporty stripes and tracksuits are there for you. Click the slideshow ahead to get a grasp on the season's ten biggest trends and start to fantasize about what you'll be wearing next spring.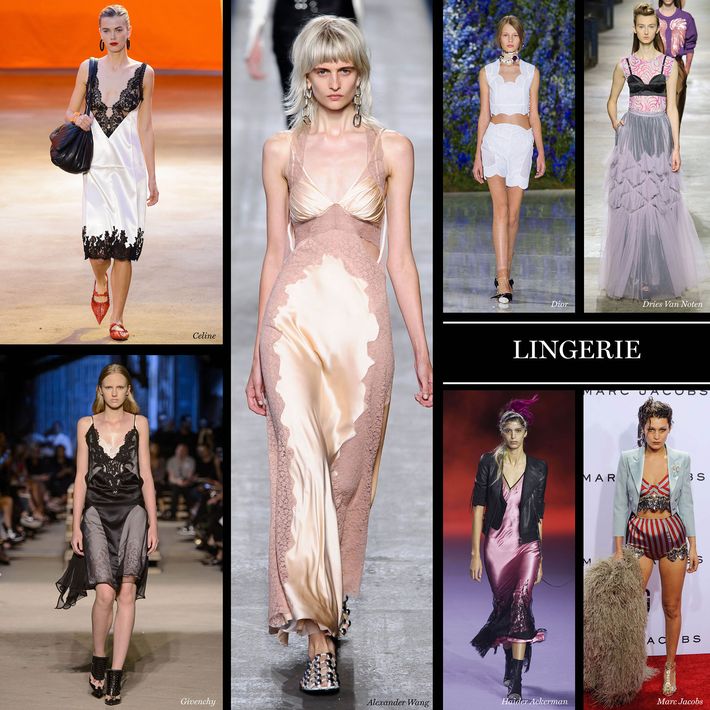 Lingerie
Unanimously, the biggest look of spring comes from the boudoir. This sexier aesthetic appeared as silk negligee-style dresses, many in gleaming satin trimmed in lace, at Céline and Givenchy, while at Dior it took the form of more chaste (but still alluring) cotton underpinnings.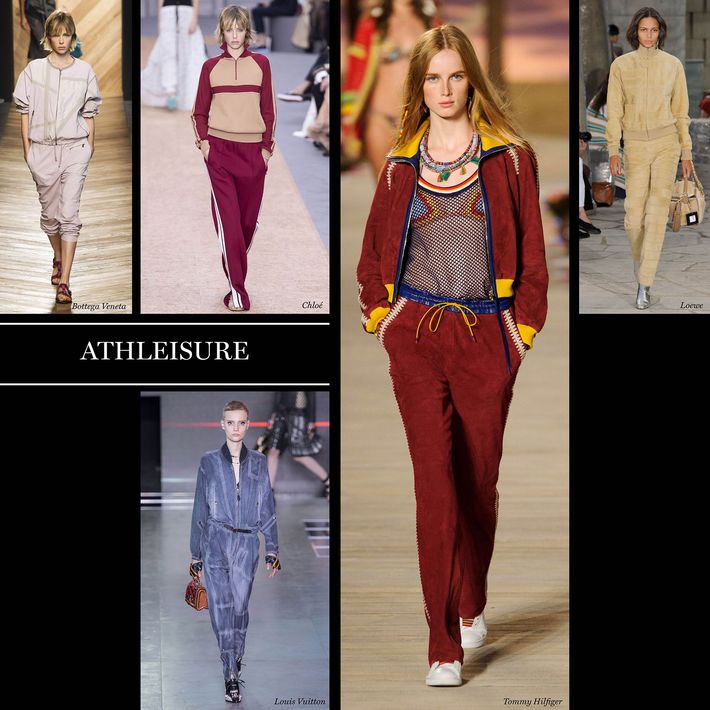 Athleisure
Never has fashion seemed so relaxed. Tracksuits, track pants, and other easy pieces appeared at runway shows like Loewe, Bottega Veneta, and Chloé. The tracksuit has made a strong case for uniform dressing of the most comfortable kind.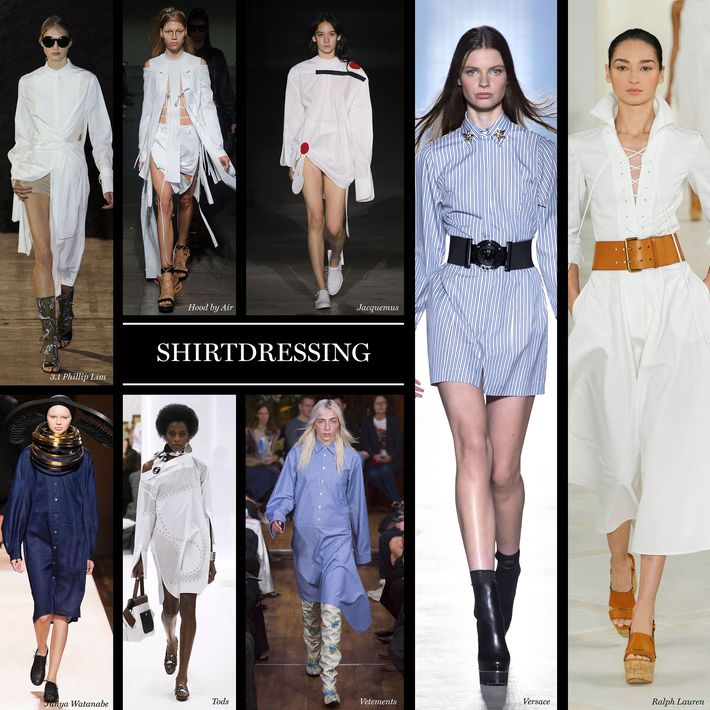 Shirtdressing
The no-brainer shirtdress came in many iterations, offering something for both conservatives and exhibitionists. From super-short in banker-blue stripes at Versace, to twisted with extra-long cuffs at 3.1 Phillip Lim, to shredded, to collar popped and laced up the front at Ralph Lauren Collection, there were many takes on the closet staple.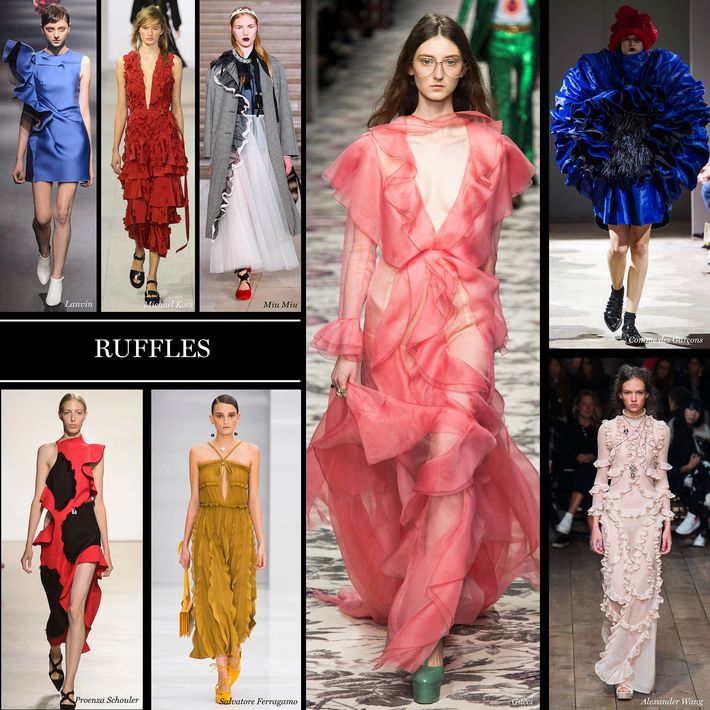 Ruffles
This was one of the more romantic seasons we've seen in years, with a strong sense of femininity wafting over the runways. While fall's Victorian trend was still apparent in the spring shows, we now have boudoir inspirations, ribbons worn in the hair, and ruffles — lots of them. Tiers of ruffles trimmed bodices at Proenza Schouler, ran over and under outerwear at Miu Miu, and decadently bloomed into an allover flounce at Comme des Garçons.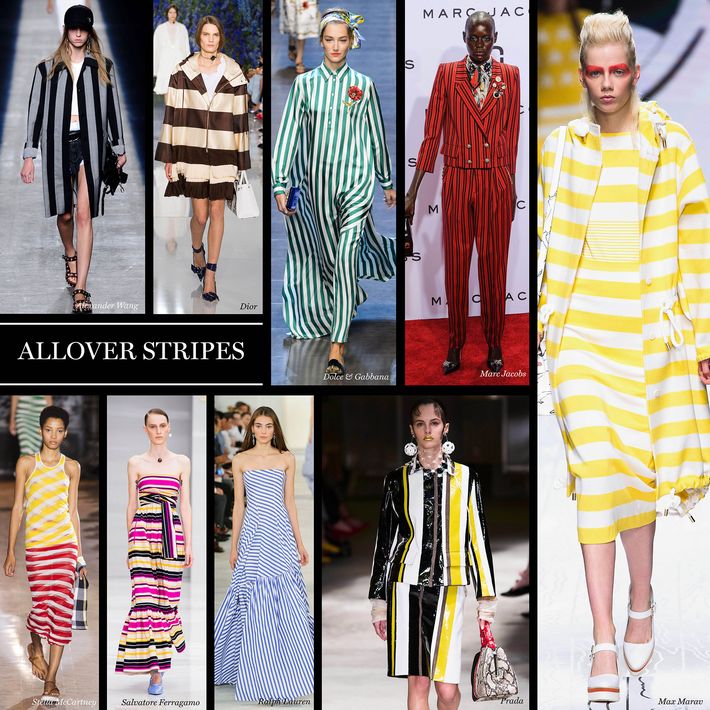 Allover Stripes
Stripes were everywhere (though particularly popular in Milan), covering suits, sundresses, and coats, and appearing both vertically and horizontally. A nod to a sportier look, and in bold, bright colors, some of our favorites were at Prada, Dolce & Gabbana, and Salvatore Ferragamo.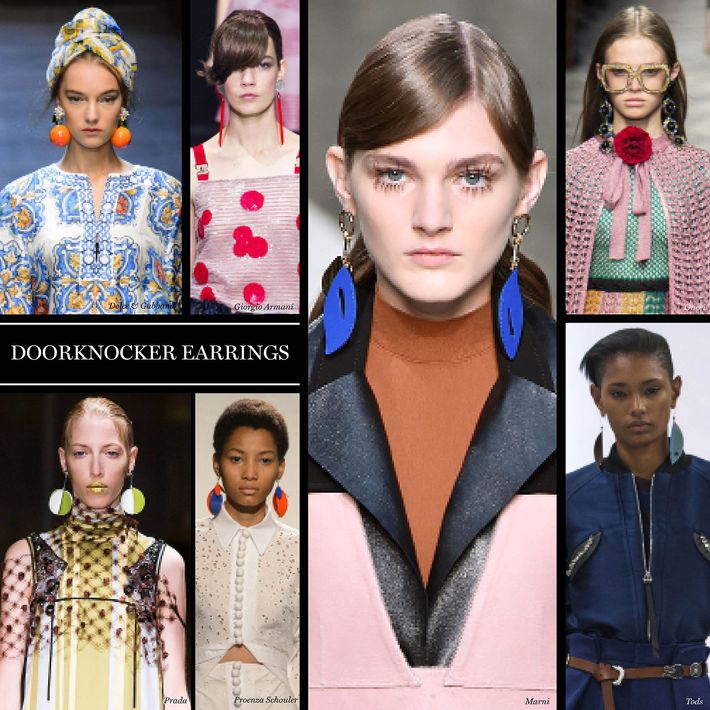 Door-Knocker Earrings
If you're going to invest in any piece of jewelry come spring, make it a pair of standout oversize earrings. It's the easiest way to dress up an outfit using an accessory. As nice complements to all the focus on shoulders (which also elongates the neck — it's a sexy season), they provided whimsy and attitude at shows such as Proenza Schouler, Marni, and Gucci.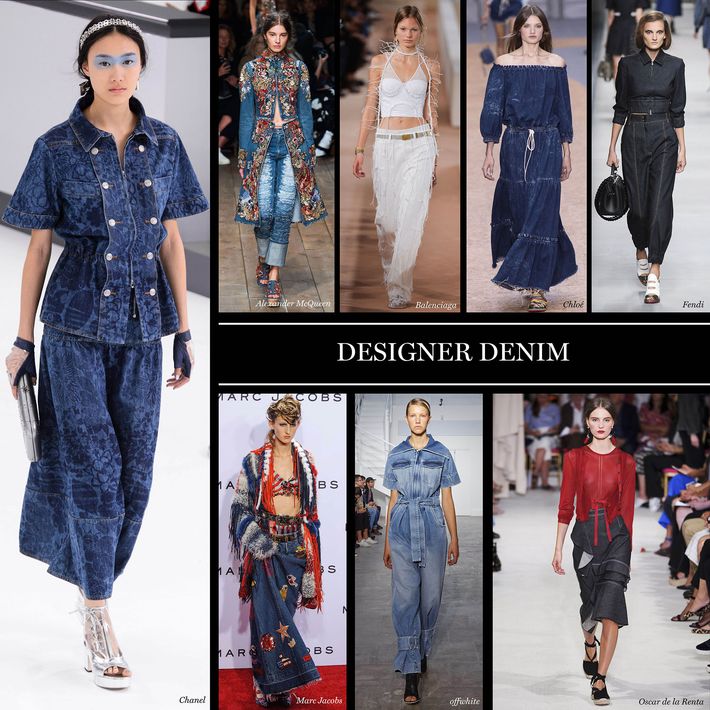 Designer Denim
After an upswing of all things jean last spring, designers manipulated denim even more wildly for the coming season. At Alexander McQueen, Sarah Burton embellished jean jackets with jaw-dropping embroiderey. Marc Jacobs sprinkled a long denim skirt with sequined Americana patches. And at Alexander Wang's final collection for Balenciaga, low-rise, wide-leg jeans were artfully shredded, looking straight out of the '90s.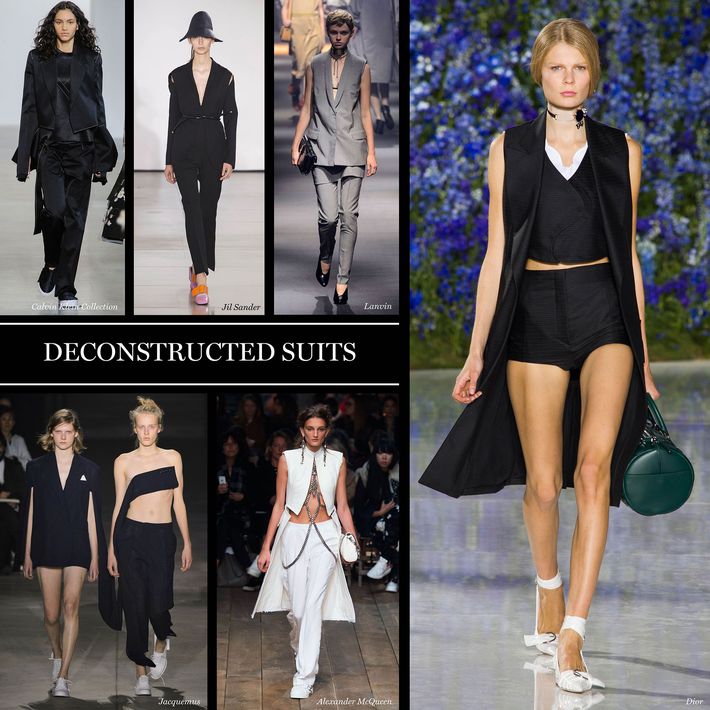 Deconstructed Suits
The new suit is anything but traditional. Twisted takes on tailoring were a more conceptual idea during the shows, but one we think will build into next fall as well. Whether it was a sexier version of a three-piece suit at Dior, double-faced satin with cutaway blazers gloriously layered at Calvin Klein Collection, or a skirted pant worn with a sleeveless jacket with frayed sleeves at Lanvin, these suits look more at home on the runway than behind a podium at the next presidential debate.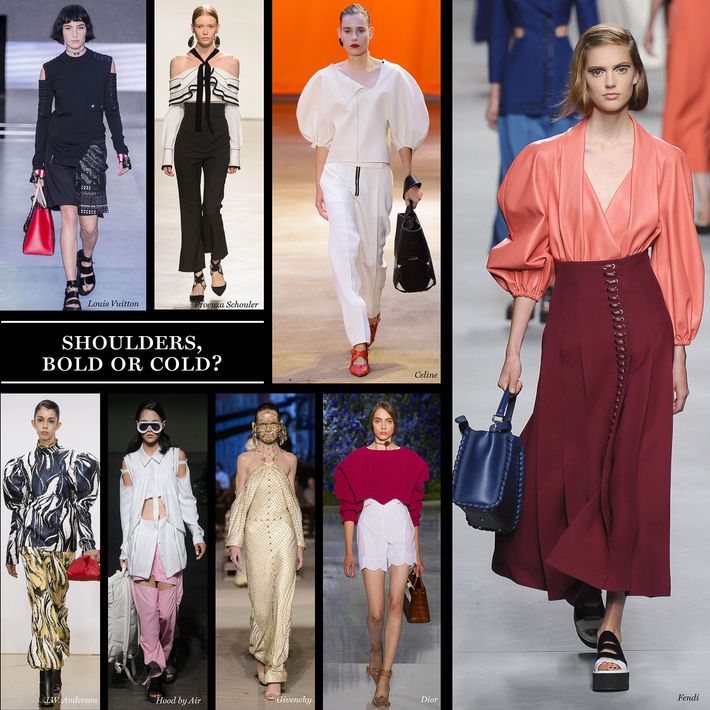 Shoulders: Bold or Cold
The ever-popular off-the-shoulder tops that won summer are already a thing of the past. Shoulders for spring are either largely exaggerated (see: J.W. Anderson's leg-'o'-mutton sleeves) or come with cutouts (peekaboo cutaways at Louis Vuitton, mid-level ventilation at Hood by Air, or full exposure at Proenza Schouler). Whether they're puffed or public, you'll be paying attention to your shoulders like never before.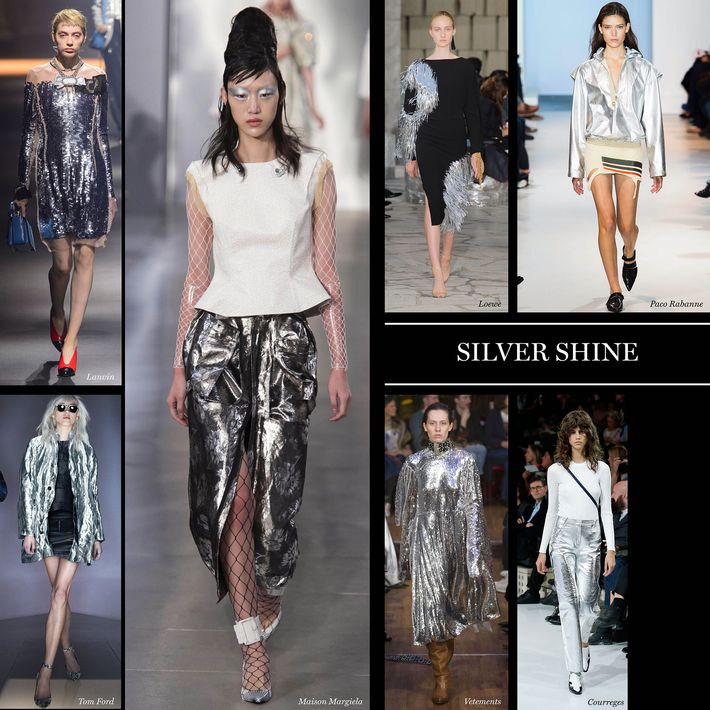 Silver Shine
Sequins, Lurex, patents, and lamé dominated fall's shiny leanings, but spring has calmed down — a bit. The metallic of the season is silver, with mercury rising anywhere from sequined dresses at Vetements and Lanvin to tinsel-trimmed pieces at Loewe to a slick leather jacket appearing in Tom Ford's music video show.