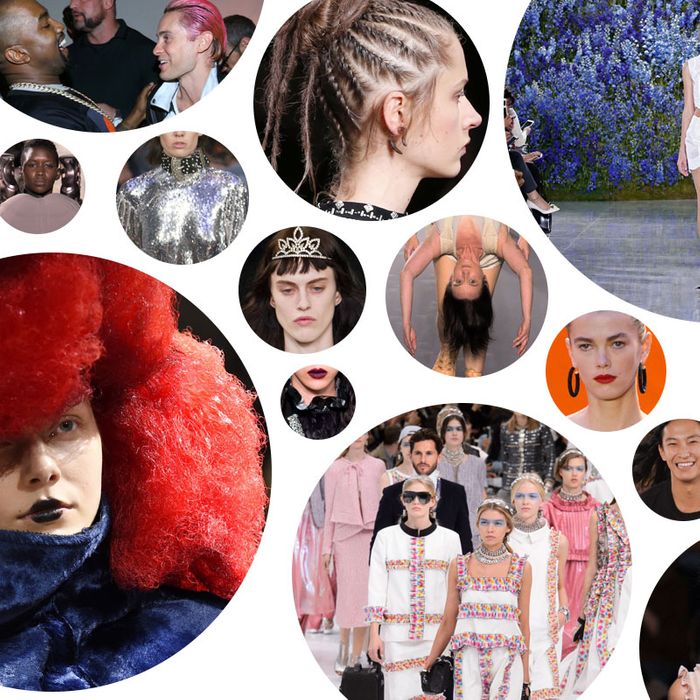 Photo: Getty Images, Corbis
Spend enough time in Europe for the runway collections, and you start to feel like it's your home. You begin wondering if you could afford a dove-gray apartment with 15-foot ceilings in the Seventh Arrondissement. When you see Julia Nobis on your flight home, you want to greet her like she's your best friend, because you've seen her multiple times a day for the last 15 days. You sip Champagne on the regular and start trying out a more polished hairstyle because c'est la vie. You briefly lose all contact with reality, and it's okay, because the fashion was amazing and you can't help but be inspired.

Read on for our favorite moments in Paris, from designer gossip to silvery dresses.
1. Balenciaga occupied all the buzz. The air of excitement surrounding Balenciaga was one of the hottest topics of the week. Everyone was guessing who would succeed Alexander Wang, even before he showed his all-ivory farewell collection. Then, at 7 a.m. Wednesday morning, the last day of Fashion Week, word spread that Demna Gvasalia of underground label Vetements was to be named artistic director of the esteemed brand. Vetements is crazy popular among the street-stylers. We cannot wait to see Demna's first collection for the house in March.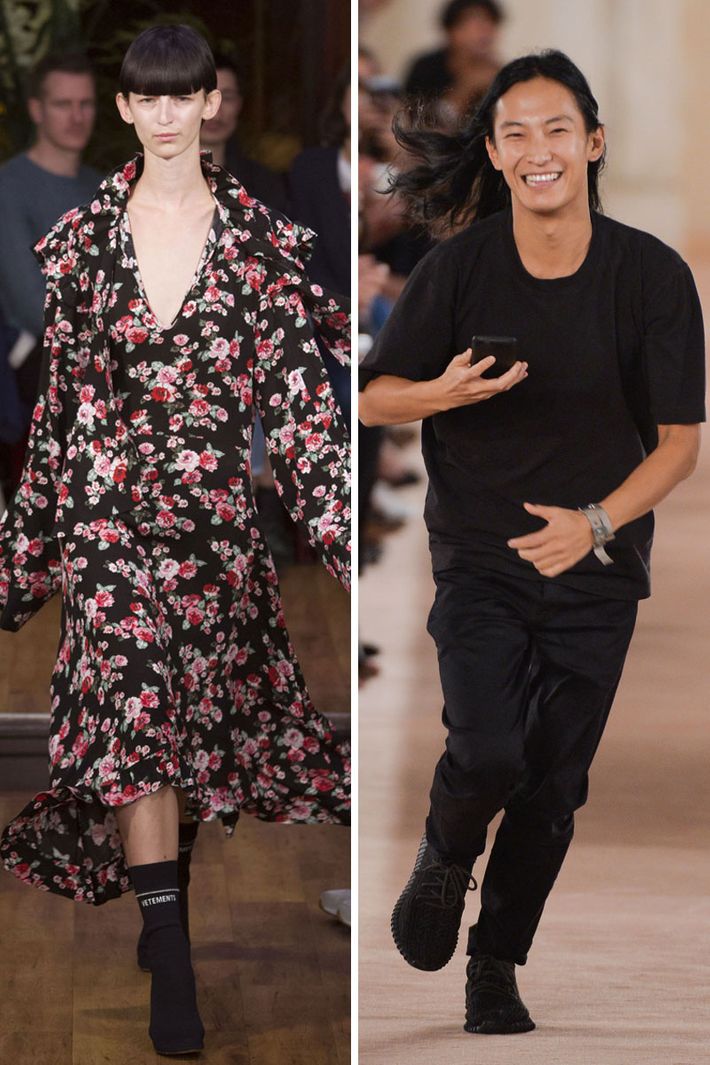 2. Chanel Airlines took flight. Chanel constructed a spacious, streamlined airport inside the Grand Palais. Despite the Air France drama the day before, and the fact that showgoers badly wanted to get home after the slog of traveling, it was a welcome blast of humor after a long week. Droves of models, some with tweed wheelie bags, some with printed neck pillows, walked throughout the terminal past special "waiting-area seats" for jet-setters like Jefferson Hack, Lily-Rose Depp, Katie Grand, and Cara Delevingne.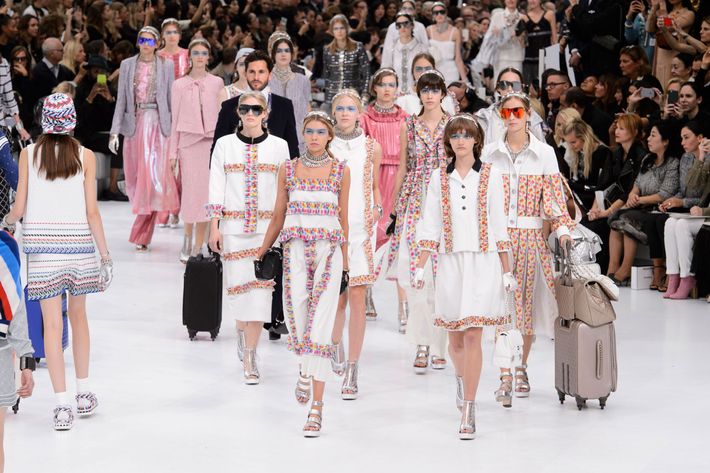 3. Vogue Paris turned 95. The biggest soirée of Paris Fashion Week was the 95th birthday of Vogue Paris. Held at a private home with a marble staircase that doubled as a de facto red carpet and rooms that were lit up in violet and pink, it was the best place to spot celebs like Kanye, a pink-haired Jared Leto, Kendall Jenner, Rihanna, Anna Dello Russo, the Hadid sisters, and Emmanuelle Alt crushed in an on-trend silver lamé jumpsuit. Many hobnobbed while others let loose on the dance floor in one big sweaty party.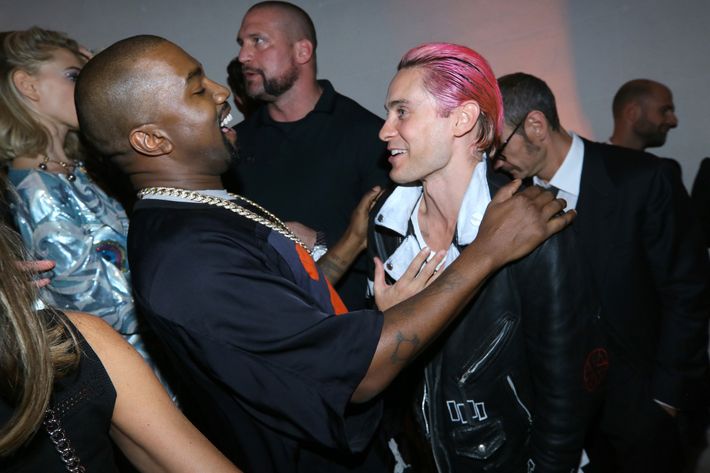 4. It's going to be a silver spring. Last season was shiny in Paris, with gleaming patents, Lurex, and sparkle. This time around, we counted so many shimmering silver sequins and metallic fabrics that we wondered if the cost of lamé was at an all-time low. No matter — these high-shine looks will certainly find themselves in plenty of magazine editorials and red-carpet appearances, as well as on the street next season. Our favorite looks were from Chanel, Loewe, and Vetements.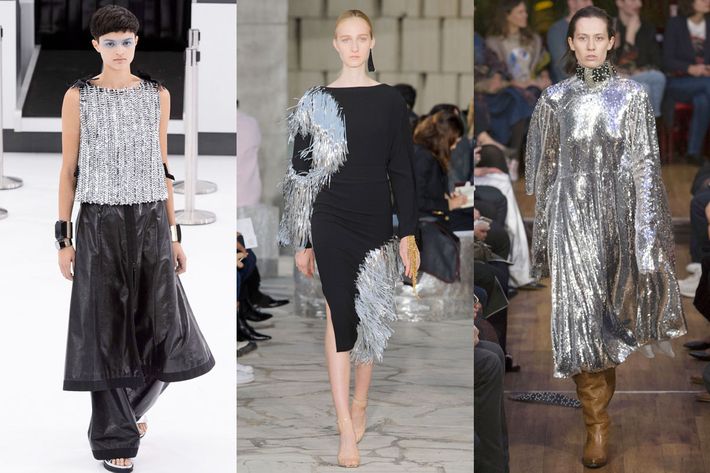 5. Phoebe Philo still gets us. Nearly everything at Céline made us excited. Philo said that she was inspired by pastural settings and mentioned the pieces were all something you could pack into a bag to escape the city. There were great crinkly dresses for every day (intentionally rumpled, since who has time to iron?) and perfect coats you could throw on over anything and still look smashing. The shoes — red leather boots, ankle-skimming boots profiled in studs, and, yes, more flats for all — were terrific and made us crave a rural getaway.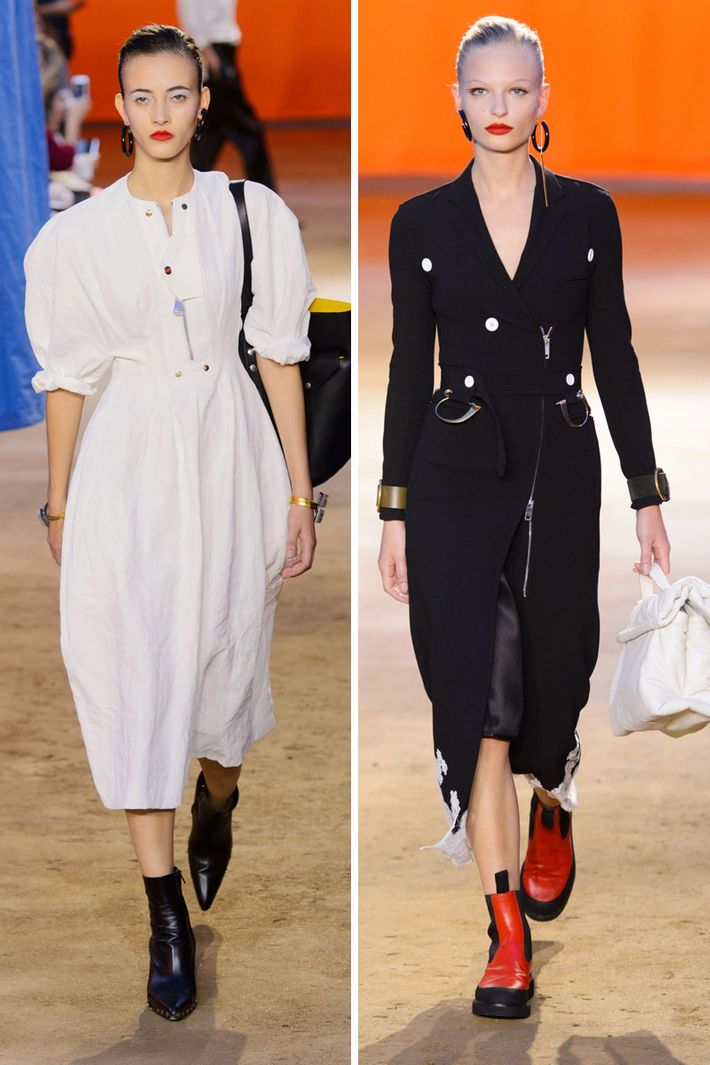 6. The designs of the hair rivaled those of the clothes. Although individuality permeated throughout the manes of Paris, some top hairstylists still managed to showcase the most intricate, artful hairstyles of the montht. The brilliant red wigs at Comme des Garçons were like bright clouds of cotton candy spun up by hair wizard Julien Dys. At Valentino, hairstylist Guido Palau worked complicated braids into each updo — a look so labor-intensive that people were gossiping about the models' early call times. And, at Alexander McQueen, Palau sewed threads into the manes to create romantic, twisted nests.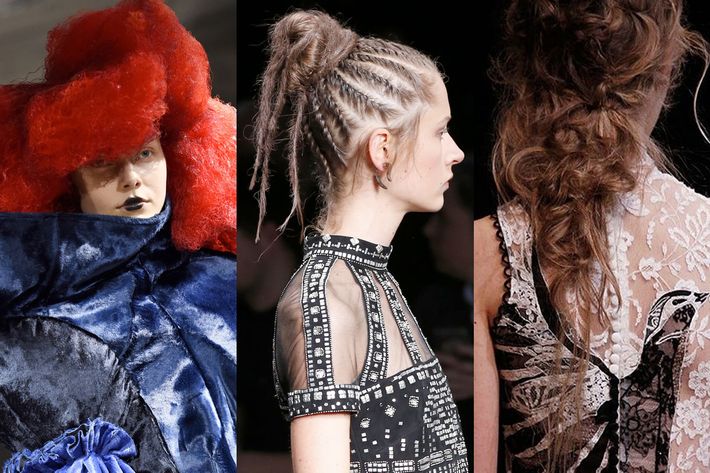 7. Underwear is coming out this spring. While the boudoir look first appeared in New York at Givenchy (the Parisian house that kicked off fashion month Stateside), the look really hit its stride in Paris at Céline, Dior, Dries Van Noten, and Giambattista Valli, among others. Some styles were more overt, while others more innocent or worn under a big coat.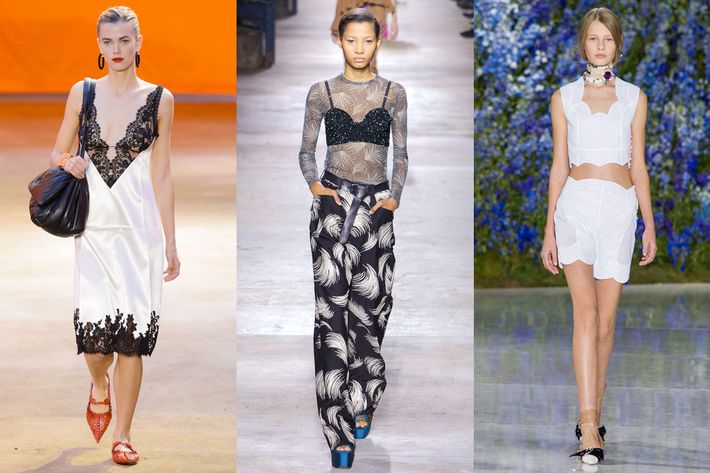 8. The staging was worthy of Broadway. The Chanel airport was impressive, but then so was Dior. Not to be outdone by previous successes (floral walls, greenhouses, Zaha Hadid–like silver clouds), Raf Simons and company built a giant floral mound at the Cour Carrée du Louvre. Made up of 300,000 delphinium stems and green turf, it was an organic, living set and a prime zone for selfies or Snapchat.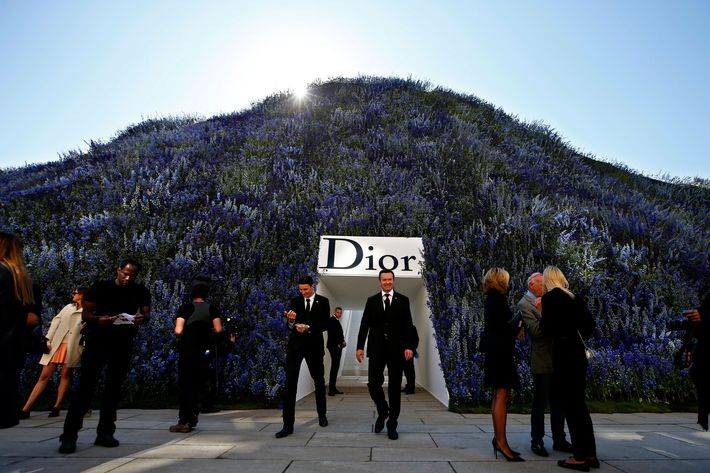 But the award for best interior goes to Louis Vuitton, where they constructed a slick black room full of LED screens and flashing bulbs. The vibe was techno-gamer tough girl, and the show was fully stocked with amazing leather jackets and chunky shoes.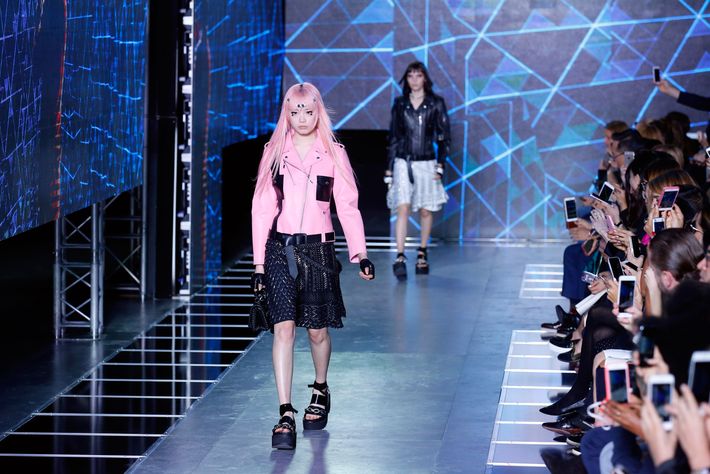 9. Chanel and Vetements stalked the streets. No one brand dominated full ensembles or stores in Paris as much as Gucci did in Milan, but you could argue that the très chic Chanel slingback from fall was the counterpart to Gucci's fur-lined loafer here. They were everywhere, matched with ladylike sheaths or tattered jeans, and seemed to look great on everyone. And the floral Vetements prairie dress continued to dominate street style, especially as the news of Demna Gvasalia's appointment at Balenciaga was confirmed.
10. Rick Owens was one of the most moving shows of the season. The Rick Owens show was held in a stark basement setting. Gymnasts mixed in with the models, and carried other women in a number of impossible-looking sculptural positions. The show notes explained that the theme was "women becoming women and women supporting women," and a powerful live-music performance by the incredible Eska (with Connie Bidouzo and Audrey Gbaguidi) accompanied the experience. The clothes looked pretty great, too.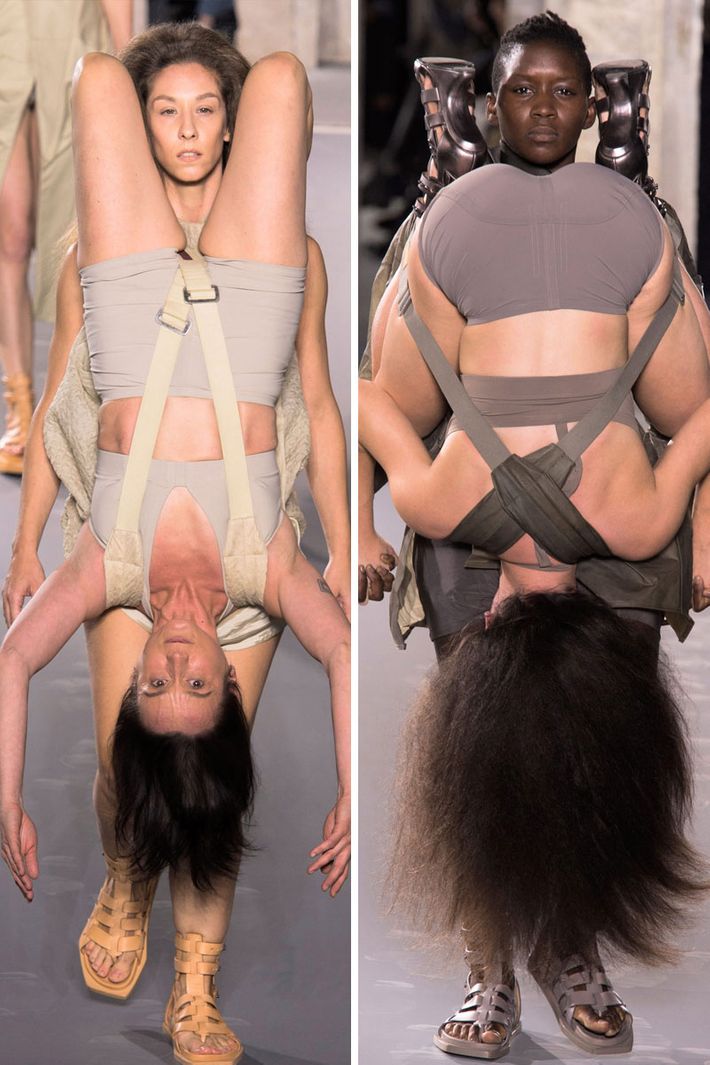 11. Ruffles are going to be everywhere. A spring trend that crops up every few years, ruffles are inescapable this go-round, appearing in all four cities this month. The options are so beautiful they warrant consideration. Sarah Burton's gorgeous chiffon tiered dresses for Alexander McQueen captured a sense of romance, while Lanvin offered cocktail dresses adorned with a single large ruff. And at Comme des Garçons, each look was an elaborate shape of rich fabrics (blue velvet, feathers), and the ruffles were big, mad, and sensational.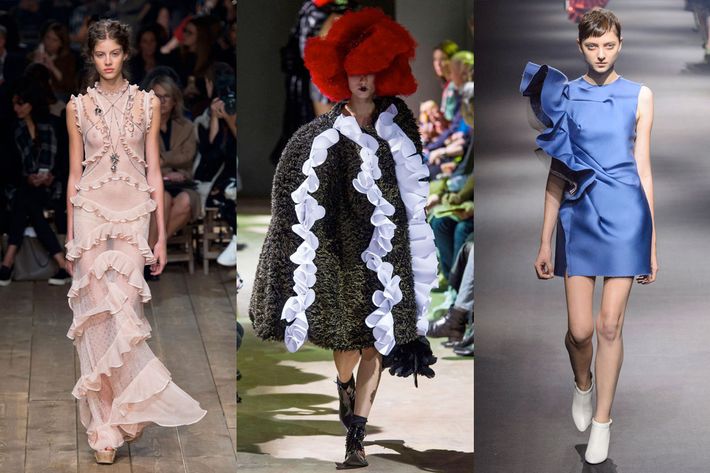 12. Paris has a lot of very serious design, but sometimes it makes you laugh. The opening look at the Vetements show included a DHL courier tee and made all of the editors in the crowd giggle — we all recognized that logo from our assistant days tracking packages.