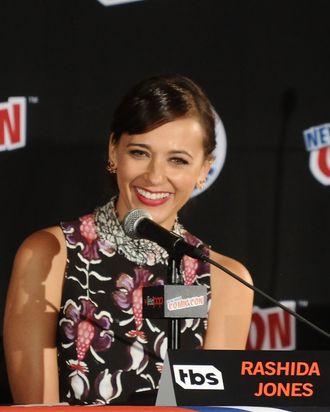 Photo: Daniel Zuchnik/Getty Images
Created by Nancy and Steve Carrel and starring Rashida Jones, Angie Tribeca is a high-concept TV comedy that's so simple it's amazing it doesn't already exist. A straight-faced slapstick spoof of police procedurals in the vein of Naked Gun and Airplane!, Angie Tribeca looks promising in its absurdity, full of sight gags and non sequiturs. The cast and crew of the upcoming TBS series came to New York Comic-Con to dish on some of the most ridiculous things in store when the show arrives midseason. Chris Hansen, the host of To Catch A Predator, moderated the panel, and even took a few jabs from Angie show runner Ira Ungerleider. "What you do is important" he said, "but what we do is more important … catching fake people!" Here's what we can look forward to:
Pooping moles
When asked how much of Angie Tribeca was improvised, Jones and her cast mates revealed that much of it really wasn't — thanks to its signature Leslie Nielsen-esque humor. Which, naturally, often ends in the absurd. "It's so technical, there are so many visual jokes," said Jones. "There's a scene where I go to the doctor and say doctor can you take a look at my mole and then an animal trainer hands me a mole and I pick it up and it poops on me and I hand it back."
Curse words
Want to know why Angie Tribeca is on TBS as opposed to any other network? According to Ungerleider, it's because they were the network that simply was the most excited about the project. Jones, however, had a different answer: "We got to say shit twice!"
True Detective parodies
"There's this new crop of procedural crime dramas, and there's all these new kind of cliches and tropes" said Ungerleider, referring to prestige dramas like True Detective and Justified. "It would be cool if our show could [effectively] satirize that."
Parks and Rec cast members
As previously announced, Rashida Jones will be reuniting with Parks and Recreation co-star Adam Scott for at least one episode of Angie Tribeca. Will any others appear? "I hope so, I've been hounding them!" says Jones. "I will say for the record they are welcome anytime they want."
Angie Tribeca is scheduled to debut on TBS in January.