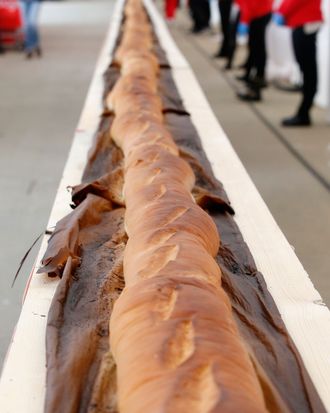 A delicious breakfast.
Photo: Antonio Calanni/AP/Corbis
At the Milan Expo 2015 World's Fair on Sunday, some 60 French and Italian bakers worked for seven hours to create the Guinness Book of World Records–breaking world's largest baguette. At its completion, it was measured to be 400 feet, breaking the previous record of a 364-foot baguette created by a French supermarket chain. Bakers worked at a rate of about 66 feet an hour, striving to get the perfect, unbreakable, crusty bread loaf just right as it cooked under a specially designed portable oven.
Dominique Anract, one of the baguette's bakers, told the AP, "It's very difficult to do a big baguette because we are outside, you know, the temperature, it's cold and we are outside so for the dough it's not easy." The result looked too good to eat: browned, crispy, and with no end in sight. In short, a carbo-loader's dream. To top off the masterpiece, the baguette was "cut and smeared with Nutella to share with the hundreds of Expo goers who celebrated the record." And now I shall spend all day trying to imagine a better breakfast.
What else are we overcompensating for today?